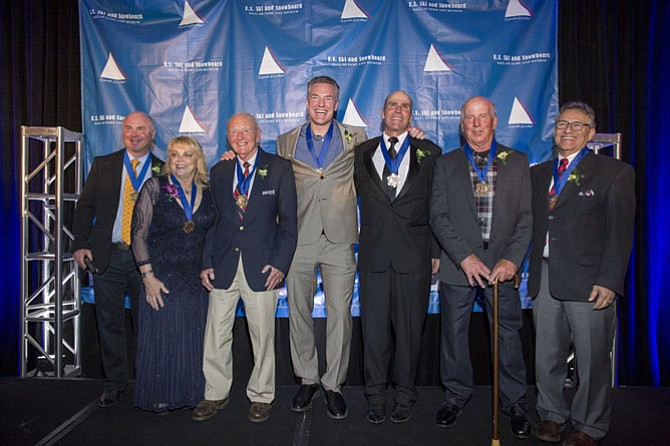 The U.S. Ski and Snowboard Hall of Fame officially inducted the Class of 2015 in Aspen, Colorado on Saturday, April 9. Seven athletes and snowsport pioneers were inducted; Genia Fuller (Simi Valley, Calif.), David Ingemie (McLean, Va.), Henry Kaiser (Captiva Island, Fla.), Jim Martinson (Puyallup, Wash.), Bob Salerno (Ogden, Utah), Edger Stern, deceased (Park City, Utah) and local Chris Klug (Aspen, Colo.).
The Class of 2015 will be honored again and ultimately enshrined this Sept. 16 at the U.S. Ski and Snowboard Hall of Fame and Museum in Ishpeming, Mich. They will be joining over 400 other legends and pioneers by hanging their plaques in the museum's Honored Member Court. This year marks the 60th anniversary for the Hall of Fame.
The Ski Hall announced the class of 2016's Induction Ceremony venue will be Stowe, Vermont on April 1, 2017.
David Ingemie (originally from Fitchburg, Mass., now McLean) has been involved with the marketing of skiing and snowboarding for over 45 years, serving as the president and CEO of SnowSports Industries America (SIA) since 1981, and retired from his position in January 2016. "His boundless energy, enthusiasm and intelligence was monumental for building a healthy national snowsports trade association, garnering high regard for his work throughout the industry," official statement said.