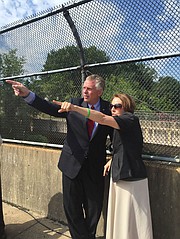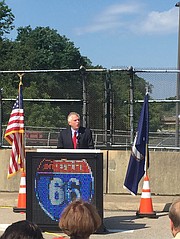 After 30 years of talking and planning, work is finally starting on the Transform I-66 project. Eight toll gantries will be installed along I-66 inside the beltway with tolling operations expected to begin in summer 2017. The I-66 plans also include an additional eastbound lane between the Dulles Connector Road and Ballston. On Aug. 1, at the parking deck for Washington-Lee High School built over the highway, Gov. Terry McAuliffe spoke to local elected officials and government staff about the new I-66 project.
"This is the most congested road in the United States," said McAuliffe. This has to be our top priority. The gridlock and bottlenecks have gone on for too long. It was time for action."
According to McAuliffe, the revenues collected from the tolling will directly fund local rideshare and public transit alternatives.
Virginia Secretary of Transportation Aubrey Layne said drivers should expect periodic lane and ramp closures while the gantries are installed. However, Layne said gantry installations and associated lane closures will take place overnight, when traffic is lightest. Layne also said that local governments will have to decide on what soundproofing measures are required for local residents as a result of the increased traffic.
"There is money in this project to fund [mitigation measures]," said Layne.
Dennis Leach, deputy director of Transportation, said that funding for sound mitigation will have to come from the state.
"We do not have any plans to fund elements related to this road with local funding," said Leach.
County Board Chair Libby Garvey has a more ambitious vision for the future I-66. Garvey never been fond of the highway. In February, Garvey referred to I-66 as a gash through heart of the county. But pulling McAuliffe aside after the ceremony, she pitched her idea of a highway concealed with parks overhead. It's ambitious and potentially costly, but Garvey said it's not without precedent.
"Where we're standing is over I-66," said Garvey. "Imagine this, but with parks and trees. This at least has us talking to the state about it."
In the more immediate future, Garvey noted that the sound walls protecting neighborhoods from the ambient noises of I-66 have deteriorated with time and need repair.