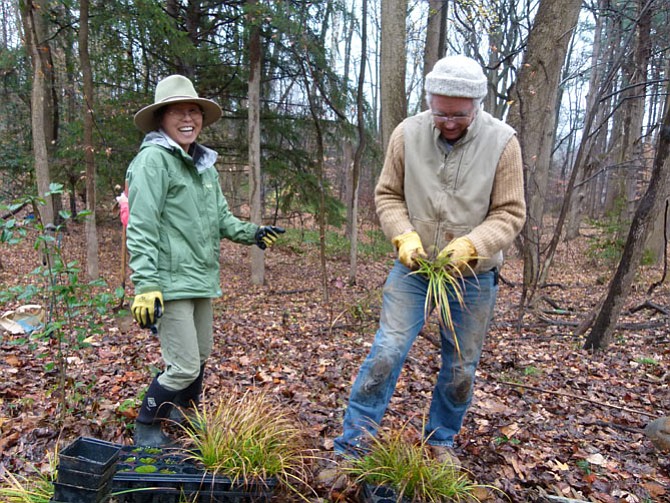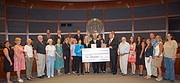 Dranesville Supervisor John W. Foust has watched many of the thousands of hours McLean's Alan Ford has worked in Dranesville and federal parks.
"I don't know where you find the time," said Foust, "but we are glad that you do."
Ford was honored by the Fairfax County Board of Supervisors and Cox Communications at the Board's meeting on July 26, 2016.
"He has volunteered more than 12 years in Fairfax County and Northern Virginia to saving native plants, removing invasive species and enlightening residents about the importance of environmental stewardship and watershed management," said Board of Supervisor Chair Sharon Bulova.
The Potowmack Chapter of the Virginia Native Plant Society, Ford's nonprofit beneficiary, will receive $10,000. See http://vnps.org/.
"He is a committed volunteer, hard working, and has spent more than 12 years improving Fairfax County," said Kathryn Falk, of Cox Communications.
Cox and The Trust for Public Land named Ford as Virginia's 2016 Cox Conserves Hero earlier this year.
"I'm deeply honored. I have been glad to participate with so many wonderful volunteers in many opportunities throughout the county for many years," said Ford, of McLean. "It is an opportunity to educate, to work with people and help encourage them to pay attention to our natural heritage."
The computer science professor at American University has devoted thousands of hours in service to outdoor parks in Northern Virginia and the District of Columbia and uses technology to support environmental stewardship.
The importance of clearing non-natives is obvious but endless.
"If we didn't do this kind of work," he said, "there would be more damage and more loss to the habitat in our parks and wild places.
"Your own property probably has invasive plants on it. It takes a few minutes finding out about invasive plants or getting somebody to show you," said Ford. "You can start making a difference."
The Virginia Native Plant Society educates and inspires and was founded in 1982 as The Virginia Wildflower Preservation Society.
"The Society's programs emphasize public education, protection of endangered species, habitat preservation, and encouragement of appropriate landscape use of native plants," according to its website. "The Potowmack chapter is the largest VNPS chapter, representing over 400 members in the counties of Arlington and Fairfax; cities of Alexandria, Fairfax, and Falls Church."
Ford got to hear words Nancy Vehrs wrote in support of his being honored.
"His tremendous knowledge and passion for the environment, and calm manner and gracious people skills make him an ambassador for environmental resources and a model for others," said Vehrs.