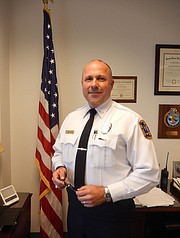 The current firearms training center for the City's Police Department was built in 1985 of cinderblock and wood. It has six firing lanes, a small classroom, a weapons-cleaning area and a office that doubles as an armory.
But it doesn't meet the needs of the police in future years. The air-ventilation system limiting officers' exposure to airborne lead is nearing the end of its life, and acoustical treatments are necessary to limit hearing loss at the firing range.
Furthermore, two more firing lanes are needed to provide more training for live-fire drills and tactical team-movement exercises. So a new training center is being built and is now in the design process.
However, when the Fairfax City Council originally gave the go-ahead for the project in April 2014, the plan was to renovate and expand the existing facility into a modern, two-story affair, and a design to that effect was drawn up. But further examination determined that the building is unsuitable for renovation and can't support the additional weight needed for expansion.
"The walls cannot be reused and built on," said Sonya Shields, project architect and design consultant with HGA, the architects designing the facility. "So we should demolish it." She was speaking during a Council work session in June during which she updated the members on the project's changes.
AS THINGS TURNED OUT, a single-story building with an expanded footprint will cost an estimated $850,000 less than a two-story facility. It'll be constructed of masonry, concrete and reinforced steel. And, said Shields, "We're excited about this project and are glad the City picked us."
There'll be a place for cleaning weapons and storing ammunition, as well as two classrooms – one to be used for simulations. "Officers will look at moving targets, up and down tracks across the range, and can stop and turn," explained Shields. "Plus the simulator training-graphics will make them feel like they're in public and have decisions to make when they're in dangerous situations."
Fairfax City Police Chief Carl Pardiny added that having a larger simulations training room will enable more than one officer to confer on tactical decisions.
The City of Falls Church is interested in a partnership in the new facility, and GMU is considering it. If they become reality, these entities will share in the center's construction and operating costs.
"We've been in partnership with this [existing] range for 30 years," said Falls Church Police Chief Mary Gavin. "It's an important, vital aspect of our public safety, and we're working with Chief Pardiny to get GMU to the table."
Councilman David Meyer asked if the new building will meet the needs of Fairfax, Falls Church and GMU in 2030, 2040 and 2050. "We now have 66 sworn officers, and a simulation system not only simulates live fire, but does it using the most modern technology," replied Pardiny. "And right now, this is the size footprint we can afford to put in this location without reducing the size of the operational space."
In April 2014, the City approved $3.4 million for the firearms facility; it also received $591,000 from the state. But now, two years later, costs have risen and the total price tag is estimated to be $4.9 million.
"The City's portion of the funding has already been taken care of, and we're looking to our partners to close the gap," said City Manager Bob Sisson.
"They could either pay capital or operating costs up front, or the debt service on the loan," added Finance Director David Hodgkins. "We're really asking them to help with the $4.9 million total."
Councilwoman Ellie Schmidt asked Pardiny what the City's police officers would do after their building is demolished. He said they would "work with surrounding jurisdictions to see if we can find space during the year or longer it would take to tear down the old building and construct the new one."
THE DESIGN for a new, one-story, 7,000-square-foot facility still has to be completed, and Councilwoman Janice Miller asked how long it would take. Shields said it'll take nine months to a year to get the necessary permits, while the final design is being done. "We hope to be ready for construction in June 2017," she said.
Miller also asked how the operating costs will be divided between the partners, once the center is up and running. And Pardiny said it'll be "proportional, based on the number of sworn staff and officers using the building."
Meanwhile, he asked for the Council's approval to go ahead with the negotiations with the other potential partners. He also asked the City to approve a contract with HGA for $400,000 for the facility's final design. The Council did so at its June 14 regular meeting; this money was already appropriated in April 2014 when the project was originally financed and funded.
More like this story