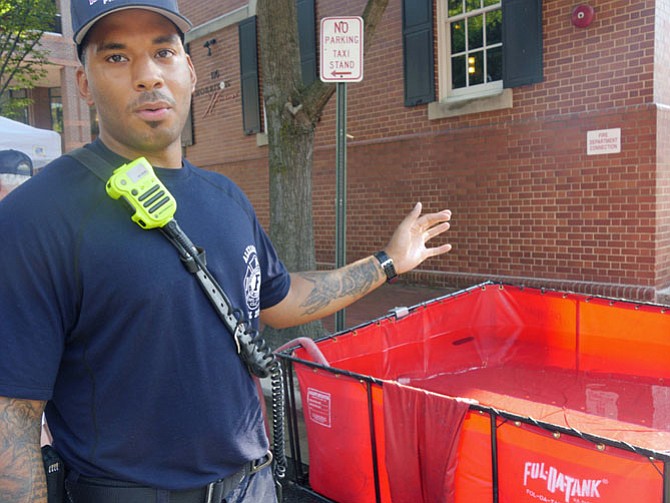 On a normal day Durant Cephers would be working at Firehouse 206 on Seminary Road. But it is Aug. 6 and he is on S. Albert Street at the Friendship Firehouse 150th anniversary event. "Today it's public outreach. Over there she is demonstrating CPR and we're answering all the questions people have about our operations," he said.
Cephers stands in front of a portable, folding tank that has been filled with water. "These would be used in rural operations," he said. "The tank is stored flat in the fire truck until ready to be deployed and then it would be inflated and filled with water from a river or reservoir."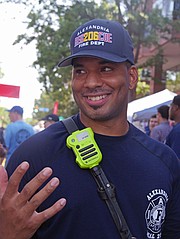 He adds that this is the same way they fought fires when he served as a firefighter in Iraq. They had no fire hydrants. "We had several 600-gallon bladders lined up with one hooked up to the engine. And the engines have 750 gallons of water on them as the tanks get set up."
Although Cephers' firefighting experiences have been different, he says one prepares for them in the same way. Cephers was fighting fires overseas in Iraq from 2008-2011. He says a lot of what they did was medical response to a sprained ankle or cuts in a metal shop or an IED injury. Most fires were small and uneventful.
Now he works in the City of Alexandria municipal system with fire hydrants and modern equipment. And there are challenges from high-rise buildings to regular residential, from Metro to elevator emergencies. Cephers says his dad was a firefighter overseas and when Cephers turned 16 he started thinking about responsibility. "What should I do, other then being a jock?" He hung around the firehouses in Baltimore where he grew up and in Montana with his father. "Then when I was in college, I volunteered for the U.S. Forest Service in Montana. We had big wildfires there," he said.
Now he works a rotating schedule where he is on duty 24 hours every other day for five days followed by four days off.
So what do firefighters do when they aren't out on call for an emergency or a fire?
"We have a routine," he said. "We usually bring our own breakfast and eat together, then have a morning conference call with the department to get details on what is happening that day." They check out the lights and fire equipment to make sure everything is working well. "We go to the grocery store to buy food for dinner and work out in the gym in the firehouse." He says after lunch they have drills. "Since we are a rescue company, we drill on things like what happens if a car runs into a building, what if a window washer gets stuck up on the side of a building and you have to use ropes. Maybe someone is stuck in an open trench at a construction site or trapped in the sewer system."
Some days are harder than others with long, drawn-out operations, hours of investigating, a lot of hard labor. "But the days you can help somebody and see the impact, it is satisfying," he said, "It can be something as simple as a flooded basement and keeping it from taking over the house."