It is always exciting to announce a new season of plays and musicals, and this season will include a world premiere musical, a brand new show for the holidays, and two classic American plays, all featuring the great actors you expect to see on our stage.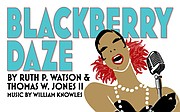 We open with "Blackberry Daze," a world premiere musical adapted from a bestselling novel by Ruth P. Watson. Our own Thomas W. Jones II has collaborated with her to adapt her romantic mystery thriller for our stage. William Knowles' original score will add yet another dimension to these fascinating characters and Watson's intriguing story. You all know Roz White from her many appearances on our stage. Also returning are Yvette Spears, the stunning singer who portrayed Sarah Vaughan in "Ladies Swing the Blues," and Duyen Washington, one of the Award-winning actors in "Gee's Bend." We are especially excited to be bringing TC Carson back to D.C. He was last seen here in "Bessie's Blues" and is most famous for his role in the TV series "Living Single" with Queen Latifah. The lovely young dancer from "Bessie's Blues," Nia Harris, returns, and we will be introducing two new young talents, Ayana Reed and Duane Richards.
Before, during and after the holidays we will be presenting "Fully Committed," by Becky Mode, featuring the incomparable Tom Story. A one man tour de force with an actor playing all 40 characters is just now completing a very successful run on Broadway. New York may have Jesse Tyler Ferguson, but D.C. has the irrepressible Tom Story. I have been trying for a while to get Tom and director Alan Paul (associate artistic director at the Shakespeare Theatre and the award-winning director of their recent musicals) across the river so this will be a great opportunity to see an acclaimed talent and a great play.
We begin the New Year with "The Gin Game," by D. L. Coburn with an exciting cast of two MetroStage favorites. Ever since Roz White and Doug Brown played opposite each other in "Uprising," I had been looking for a play for the two of them. "The Gin Game" is an American classic and made theatre history recently with its Broadway cast of James Earl Jones and Cicely Tyson. Our very own Roz and Doug are up to the challenge, and we are looking forward to a rematch over gin rummy.
"Master Class," by Terrence McNally, also a classic award-winning play , will close the season with a stunning expose of the life of the artist, in this case one of the most famous divas in the 20th century, opera singer Maria Callas as she gives students a master class in opera and also in life. A thrilling play with its opera arias, and fascinating insights into the arts on stage and off.
All four plays this season are available with our Flex Pass so that there is maximum flexibility and maximum savings. You can come to every play, pick and choose, bring friends, even come back for a return viewing. It has never been easier, to see great plays, amazing talent and support one of your favorite theatres. We look forward to seeing you at the theatre.