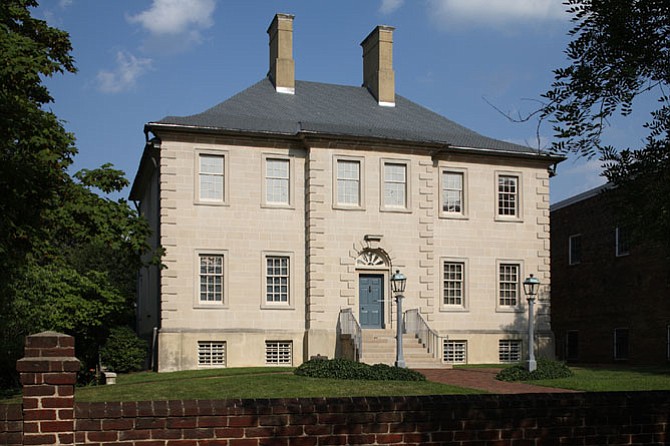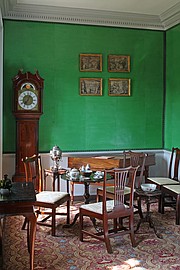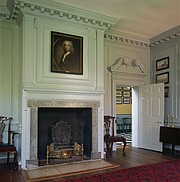 The Carlyle House, located at 121 North Fairfax Street, opened as a museum in 1976, and was the first historic house to open during the Bicentennial year. Recently, it celebrated its 40th anniversary of that event this July with an open house at no cost to the public. With that, Alexandria also celebrated its founding in 1749.
So begins the tale of Carlyle House.
Carlyle House is an 18th Century mansion built by John Carlyle, a wealthy British merchant and a founder of Alexandria. He completed his stone residence in 1753, built with the labor of slaves. His mansion is an example of fine Georgian residential architecture.
In addition to building a grand home to host social and political events, Carlyle raised Arabian horses for racing purposes. "Carlyle was a Renaissance man and wanted to say he's a big shot in the community," said Jeff Ouellette, docent and weekend supervisor.
Carlyle's mansion attracted the likes of British General Edward Braddock in 1755 when Braddock made Carlyle's home his headquarters to plan out the French and Indian War with other colonial governors. "But when Braddock came to visit, he was not a good guest," said Susan Hellman, historic site manager. He took over Carlyle's house, broke furniture and showed no respect for the colonialists, Hellman added.
PBS picked up on the Carlyle House's intrigue with its historical fiction series "Mercy Street." Here Carlyle House served as a hospital for Union soldiers. And in the 1970s, Carlyle House functioned as low-income housing. Later, it was acquired by the Northern Virginia Regional Park Authority and underwent a six-year restoration.
Fee is$5 for persons over 13 years of age. See www.carlylehouse.org.