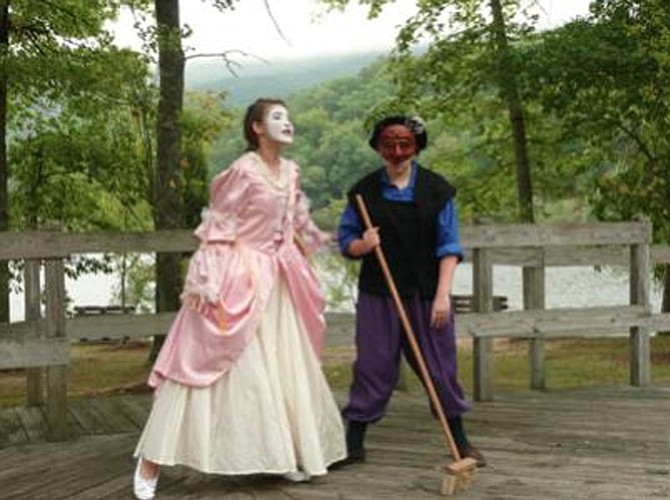 Traveling Players Ensemble performs "Snow White and the Seven Dwarfs," an original adaptation of the classic fairytale, at Riverbend Park on Thursday, Aug. 25 at 7:30 p.m.. Check out Traveling Players' Commedia Troupe as they take this classic tale of miners, stepmothers, mirrors and apples and infuse it with the hilarious improvisational tradition of Commedia dell'Arte.
The company has mounted many performances at Riverbend over the years, ranging from Shakespeare's "Macbeth" and "Romeo & Juliet" to the Commedia dell'Arte comedies "The Tragic Events" and "The Picture."
Traveling Players Ensemble is a summer theater camp for teens whose mission is to bring great theatre into the great outdoors. "Snow White" is presented by the camp's advanced Commedia Troupe, which rehearses for four weeks, then hits the road for a nine-day tour throughout Virginia, camping, hiking and performing outside.
Other stops on the tour include the Skyland Amphitheater [Luray, Virginia], The Madeira School, [McLean, Virginia], and the Playbooth Theatre [Colonial Williamsburg, Virginia].
Traveling Players Ensemble was founded in 2003 with the mission to enhance problem-solving skills, self-reliance, self-expression, and a heightened appreciation of both challenges and beauty by bringing great theatre into the great outdoors.
The program reflects the origins of theatre, when troupes of actors roamed the ancient and medieval countryside, relying on the barest props and boldest imagination to convey their art. Traveling Players performers follow this tradition in touring by bus and backpack, performing Shakespeare outdoors in beautiful and historic places.
Traveling Players was selected by the National Endowment for the Arts [NEA] as a Summer School in the Arts, one of only 25 in the nation to receive this honor. Traveling Players has also performed at the Kennedy Center's Millennium Stage. Traveling Players has also been honored as one of the best community-based nonprofits in the DC Metropolitan area in the Greater Washington Catalogue for Philanthropy.
Traveling Players is supported in part by the Arts Council of Fairfax County, the Virginia Commission for the Arts, and the National Endowment for the Arts.
Traveling Players has Cityline Partners, LLC as a corporate sponsor for 2016.
Traveling Players Ensemble is in residence at Lake Fairfax Park in Reston. Throughout the school year, the company offers weekend classes in classical acting, improvisation, mask, and movement.
Running time 75 minutes. Free and open to the public. Appropriate for children age 8 and up. For more information, visit www.travelingplayers.org or call 703-987-1712.