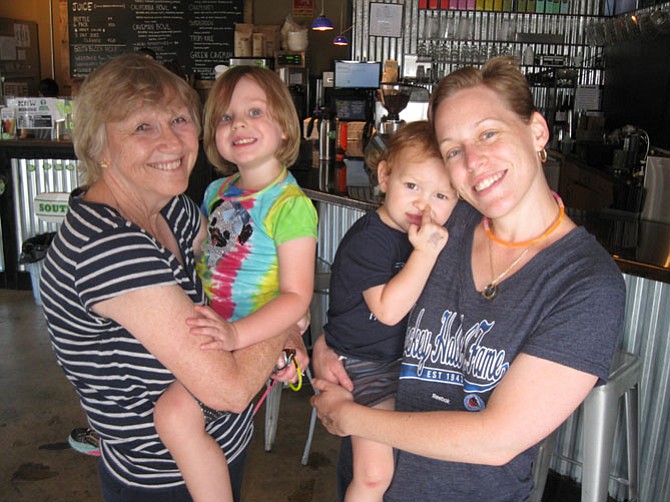 See more Family Fun Jam photos on Facebook.
On Saturday, Jammin Java of Vienna hosted the Family Fun Jam, a fundraiser for the Growing Hope Foundation, which raises money for children with cancer and their families. The event included music by the Donaldsons' Run Band, and games including Twist and Shout, Limbo, Freeze Dances and a raffle. It was the idea of Terry Donaldson of Donaldsons' Run Band to host the fundraiser, and the Vienna Optimist Club of Greater Vienna contributed as the main sponsor.
"The Growing Hope Foundation of Fairfax helps raise money for children with cancer and their families," said Anna Ryjik, who organized the event with Susan Bauer. "They provide social and educational counseling and try to stick to local families in Northern Virginia."
She added: "We hope to raise a large amount of funds to support Growing Hope for all the work they do in the community for families affected by cancer."
Margy Jost, Director of the Board of the Growing Hope Foundation, said: "The Optimist Club of Greater Virginia has been supporting Growing Hope since 2006, including this event today with overall support of the entire organization. We provide nonmedical supportive care for children's treatment for cancer."

There will be another Family Fun Day for Growing Hope, sponsored by the Optimist Club of Greater Vienna, on Saturday, Sept. 24, from 10 a.m. to 1 p.m. at The Vienna Town Green, 144 Maple Avenue East, Vienna. It will include live musical entertainment, fun activities for the whole family, free food, a balloon artist, face painting and a free T-shirt for those who donate. Combined with corporate donations, proceeds from the two events are expected to raise between $30,000 to $35,000 for Growing Hope.