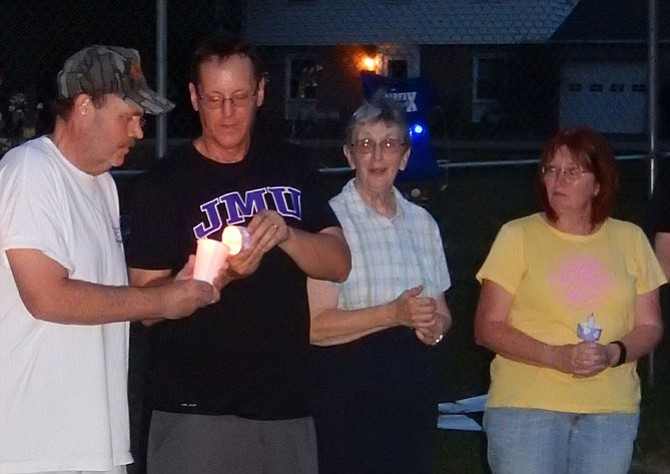 Some 60 people gathered Sunday night on the basketball court in Fairfax's Ratcliffe Park for a candlelight vigil in memory of Harold Skeins. They chose that spot because, regardless of his 78 years, he spent as much time as possible there playing pickup games with whoever showed up.
He also enjoyed having breakfast each morning with friends at the Courthouse Plaza McDonald's. And he was there last Monday, Aug. 8, eating and chatting with a buddy when he lost his life.
According to City of Fairfax police, around 6:45 a.m., a 69-year-old man trying to pull into a parking space there instead crashed into the north-side wall of the restaurant, pinning Skeins and his friend between their tables and the wall of the building.
The impact killed Skeins, and his friend was rushed to the hospital in critical condition. Police are investigating and have not released the driver's name, nor placed any charges against him. The thinking is that he mistakenly hit his vehicle's gas pedal, instead of the brake.
THE TRAGEDY stunned and devastated all who knew and loved Skeins, especially his family. "We're still in shock and trying to deal with it," said son-in-law Carey Cole. "He was healthy and in good condition; we all thought he'd live a long time."
He said Skeins was a "great guy. He was a generous, loving husband, father and grandfather with a wonderful sense of humor. Family was extremely important to him."
Skeins and his wife Pat were married 50 years and were the parents of two children, Becky, Cole's wife, and Harold Jr., who died two years ago. They also have four grandchildren and lived in the City of Fairfax for more than half a century.
Skeins was retired after working for the C&P and Bell Atlantic, later Verizon, phone companies for more than 30 years. He was a telephone-installation supervisor and an aficionado of all things phone-related. He collected old phones and insulators and even had an old phone booth in his basement.
He retired two decades ago, but kept himself active with friends, family, swimming and basketball. "He might have been 78, but he was young at heart," said Cole. "In fact, I think if someone called him elderly he would have been insulted. He was a lot of fun to be around, and he had a quick wit and a unique sense of humor that made everyone laugh."
A fixture at the basketball court, every nice day, Skeins was particularly passionate about the game. Calling him "a tremendous basketball player and an incredible shooter," Cole said his father-in-law didn't like the wind because he loved taking long shots at the net. "The wind and my oldest son blocking his shot – he's 6 foot 2 inches with really long arms – were the only things that could stop him from making a basket."
In fact, when word spread about Skeins's death, some of the students he played ball with put plastic cups through the chain-link fence at the court's edge, spelling out the words, "Harold's House." They also brought flowers and hung up an American flag and a Fairfax High basketball jersey.
Both of Skeins's children, his wife and two of his grandchildren graduated from Fairfax. So naturally, he drove a blue PT Cruiser with a "FX REBEL" license plate. And, said Cole, "He was a big fan of the Fairfax Rebels girls' basketball team and rarely missed a home game. He attended his granddaughters' basketball games and, when my two sons played high-school and AAU basketball in Harrisonburg, he'd travel all the way out there to see them play."
Friendly and outgoing, Skeins had many friends. He also loved Fairfax City and never missed its Fourth of July parade. And he and his wife were longtime and active members of Fairfax Baptist Church. His funeral services were held there Tuesday morning, with burial at Fairfax Memorial Park. In lieu of flowers, donations may be made to the church.
"I'll always think of him smiling; he loved to laugh," said Cole. "And you could see in his eyes how much he loved his wife, children and grandchildren."
On a Fairfax Facebook page, Sen. Chap Petersen [D-34] wrote, "Harold was a fine man. I remember playing basketball against him at the Ratcliffe Park basketball courts 20-plus years ago. Stunned to hear [that he died]; can't believe it."
PEOPLE ATTENDING Sunday night's vigil held lighted candles, stood in a circle around the basketball court and shared fond memories of Skeins. City Councilman David Meyer said a friend of his called Skeins "the kind of outstanding citizen every community needs."
"We knew Harold's family for many years, and his granddaughter Megan was a close friend of my son Elliot," said Meyer. "For decades, Harold was always present in the City at events large and small, and especially those involving our youth."
"He was the self-appointed caretaker of the basketball courts at Ratcliffe Park," continued Meyer. "He'd clean it every day and replace the nets when needed. When he saw kids playing basketball, he'd come out and join them. He had an awesome, 3-point shot and he'd teach the kids how to do it; he loved young people."
"As a parent, you're concerned about the type of people your children hang out with," he added. "But he and his wife are people of faith and raised a family with strong values. They were affirming and loving, and their priorities were always the next generation."
Kim Luckabaugh said Skeins was ever-present in Fairfax. "We saw him at the pool, goofing around with the teenagers, and then we saw him at City events," she said. "He was everywhere – friendly, funny and endearing. And when we started going to Fairfax Baptist Church, he was there, too. My family was blessed to know him."
Basically, she said, "He was a big kid at heart, but equally comfortable with adults. He also worked with the young people at Vacation Bible School; he had a real servant's heart. His death was a shock; we're just crushed."
Agreeing, Gerri Buroker said, "He was important to us at church and all the kids loved him." And Councilman Jeff Greenfield said, "He always told me whenever I did something wrong on the dais. I'll certainly miss his good counsel."
"I was a longtime employee of his, and I grew to love and respect him," said Jay Quade. "He'll be greatly missed by everyone who knew him."
Kris Kay knew Skeins for years. "I've come out to this park since fifth grade, and he'd drive up and join in our basketball games," said Kay. "He always made me laugh, and he was a great shooter who rarely missed. I'm really sad; his death was tragic."
Robert Hicks played basketball with Skeins, too. "He was hilarious," said Hicks. "There was never a dull moment when you were with him. I still can't believe he's gone; Ratcliffe won't be the same without him."
"Harold was an institution here," added Brian Drummond. "He was a wonderful guy."
Overwhelmed by and appreciative of everyone's comments, Skeins's wife Pat told the crowd, "We are amazed at the outpouring of love. We had no idea how many people knew him and cared for him."