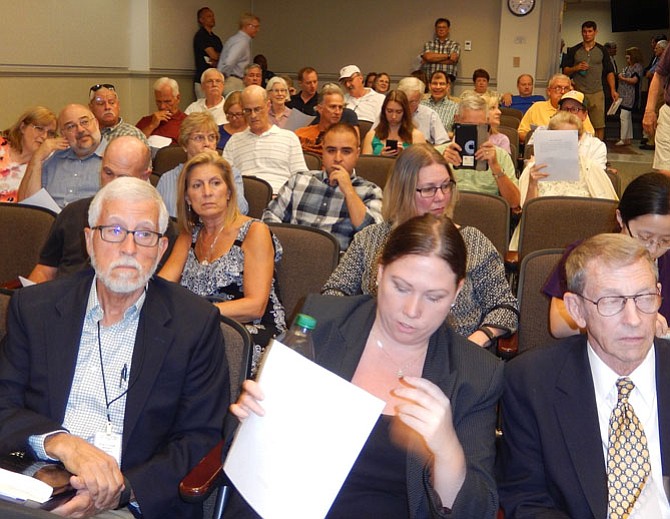 Before an overflow crowd Tuesday night, the Fairfax City Council named former City Councilman Steve Stombres to serve as interim mayor. The members also chose Feb. 7, 2017 as the date of the special election for a new mayor.
"It'll take a little while to get up to speed," he said. "But my intent is to work with the Council to set about the daily work of running this City and providing the first-class services and open, transparent government that the residents have known and come to expect."
Furthermore, said Stombres, "I'll work with the Council, City staff and residents to promote a dialogue about where the City is, where we're headed and who should lead us as our mayor. I will not be a candidate, but I'm happy to serve in this transition time."
Appointing an interim mayor and planning an election for a new one became necessary after former Mayor Scott Silverthorne was arrested on drug charges Aug. 4 and resigned a week later. City Councilman Jeff Greenfield served as temporary mayor for six days, but that stint ended Aug. 11 when Silverthorne's resignation took effect.
That left the City without a mayor until Tuesday night, Aug. 16, when the Council appointed Stombres. First, though, came a two-hour public hearing where residents got to speak their minds and also weigh in on the potential date for the special-election.
At the outset, Rick Herrington, secretary of the City's Electoral Board, told the Council, "We'll support whatever date you choose." He also prepared a list of the Tuesdays between November 2016 and November 2017, with reasons why some were better than others.
THE EARLIEST DATES which didn't overlap with November's presidential election or its recount period, or have other conflicts – such as proximity to another election, school testing or federal holidays – were in February 2017.
The City's been buzzing since Silverthorne's arrest, with some residents even arguing among themselves. So before they spoke, Greenfield said, "I know we all have a lot of emotions. But remember that we're all human beings and we're supposed to care about one another, so please be respectful."
Agreeing, resident Laura Hills said, "I ask my fellow citizens to consider very carefully the impact of their words. This night is an opportunity for us to come together and heal."
Happy he and his family moved to Fairfax, Matt Rice called its government and School Board very responsive. "I'm proud of the City and the Council members," he said. "I trust and respect you all, and I look forward to a city that'll continue on an upward ascendance."
"Now is the time for cohesive leadership and a spirit of collegiality," said Ken Curtis. "People were surprised and saddened by the mayor's arrest. But I'm here to remind you of the nearly 30 years of public service Scott Silverthorne gave to the City he loved. It's hard to go through the City without seeing the good work done by him and our City Council preserving our history and open space and improving our economy."
Curtis said people should thank Silverthorne for all he has done for Fairfax and "not criticize him for his personal failing. A famous book says, 'Let he who is without sin cast the first stone.'"
Similarly, Jeannie Winslow said, "This isn't the time to attack a man who's fallen and needs our help. We shouldn't forget the contributions he's made over the past three decades. We must move forward with grace, maturity and thoughtfulness as a community."
Requesting a quick election, Mary McDaniel said, "I'm sad we have to have a special election, and for the reasons behind it, but that's the reality we face." Gioia Egan said Fairfax is a wonderful city because of the people serving it. She also advised the city not to hold the special election during spring break from school when many people travel.
Robert Matthews said Fairfax has always been well-run, thanks to Silverthorne and the City Council. He then suggested Feb. 7 or 14 as election dates. Tim Parmalee said, the sooner, the better, so the City can return to business as usual.
"I'm delighted to see this room full because it shows how many people care about this City," said Catherine Read. "We're shocked, angry and disappointed [about what happened] and we all have feelings to work through. We need to make a place for dissenters, but they need to be positive, respectful and part of the solution. At the end of the day, everybody wants what's in the City's best interests."
Kim Luckabaugh commended the Council for how it's conducted itself in "unexpected circumstances. Thank you for being the leaders in the City that our children need to see."
John Norce and some others wanted the special election to coincide with the presidential election to save the cost of one on a different date and ensure a higher turnout. Herrington said a special election could cost $12,000 to $15,000, depending on the number of paper ballots used. He also noted that the election office is already "stretched thin" just dealing with one election on Nov. 8.
Requesting the election as soon as possible, Lisette McNair said it's "demoralizing" for City employees, as well as residents, to be in limbo without an elected mayor. Brian Cute asked the Council to communicate with residents and be transparent as the process goes forward. "I have faith in this City," added Cornell Hills. "I know that, somehow, we'll pull through."
Noting that she's run for office five times, School Board Chairman Tobey Sorensen said, "It takes time to run for office, and we shouldn't hold the election until March. There have to be candidates' nights, and January and February could have bad weather."
"I'm grateful everyone came here tonight to share their opinions and show our solidarity for the City of Fairfax," said Gail Lyon. "Thank you to the Council; you were blindsided on your vacation and had to come back and work." She also thanked Greenfield for stepping in as acting mayor.
The Council then considered Feb. 7 or 21 or March 7 as election dates. "Candidates need an opportunity to file and campaign," said Councilman David Meyer. "And we want the greatest amount of citizens available to vote on Election Day."
He favored Feb. 7, as did Councilman Jon Stehle, saying he wants the new mayor in on the City's next budget discussions from the start. After discussion, Feb. 7 was chosen unanimously. The winner will take office once the results are certified by the Election Board.
THE COUNCIL then held a brief closed meeting to appoint Stombres interim mayor, reconvened the public meeting and voted him in unanimously. He was sworn in Wednesday morning. "He's a former, three-term City Council member," said Councilwoman Janice Miller. "He's smart, hardworking, candid and direct and will work collaboratively with the Council and City staff."