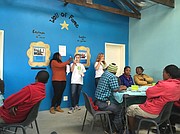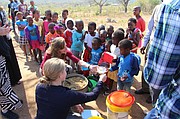 Girl Scout sisters, Taylor and Samantha Lane, both went beyond their Girl Scout Gold Awards this summer through their volunteer work in Swaziland. Their goal was to use all they had learned from their Girl Scout gold award projects to continue to advance the UN Sustainable Development Goal (3) of promoting global health and well-being. Taylor earned her Gold Award in 2014 through a project titled "Healthy Kids, Healthy Futures." She taught healthy hygiene habits to more than 250 children in a poor community in Bosencheve, Mexico and provided them hygiene kits to practice the new skills she taught them. Samantha earned her Gold Award in 2015 through her project entitled "Bright Smiles, Brighter Futures." She taught the importance of dental hygiene to more than 1,500 children in the poor communities surrounding Santo Domingo in the Dominican Republic. As sisters and fellow Girl Scouts, they supported each other in earning their Gold Awards and even went on to both earn the Congressional Gold Medal for their volunteer service. Neither wanted to stop after having earned Gold.
So, both teamed up together this summer to take their health education projects to a new continent, this time Africa to the country of Swaziland. Swaziland is a country that faces many challenges today. The country has the highest HIV rate in the world, leaving many children HIV positive themselves and orphaned because their parents die from the virus. Swaziland also has the highest rate of TB in the world. The combination of being co-infected with TB and HIV, as is common in Swaziland, leaves people at a high risk of mortality given the body's inability to fight infections of all types. Providing basic education on the importance of healthy hygiene, including handwashing and teeth-brushing, can help prevent the spread of disease.
Knowing that, they traveled to Swaziland to help provide this type of education. Through their community outreach, they taught Swazis about the importance of healthy hygiene. Swaziland, like several other countries in sub-Saharan Africa, is also grappling with one of the worst droughts in history. Consequently, many Swazis have been unable to farm in order to sustain themselves. Hunger is a very real problem in communities across Swaziland, with 69 percent of the population living below the poverty line and most depending on international food programs to survive. Given that good nutrition is essential to good health, they also went out into various communities to provide food.
Women and girls do not have equal rights under the law in Swaziland and are therefore often hardest hit in terms of their access to food and medicine. As both Taylor and Samantha said, "Our whole experience in Swaziland was eye-opening in terms of the suffering that exists and the basic inequalities that make life even harder for women and girls." That said, "we both came away empowered in that we were able to engage, albeit in little ways when compared to the magnitude of the problems, as Girl Scouts to try to show that girls like us can help to change the world for the better."
For both Taylor and Samantha, being a Girl Scout didn't end when they earned the Gold Award. Earning the award for them was only the beginning in terms of applying all they have learned from scouting to make a positive difference. They plan to continue their efforts whenever and wherever they can, as they'll tell you " Once a Gold Award Girl Scout, Always a Girl Scout."

Taylor graduated from George C. Marshall High school this June and is headed to Dartmouth College this fall and Samantha is a junior at James Madison High School in Vienna.