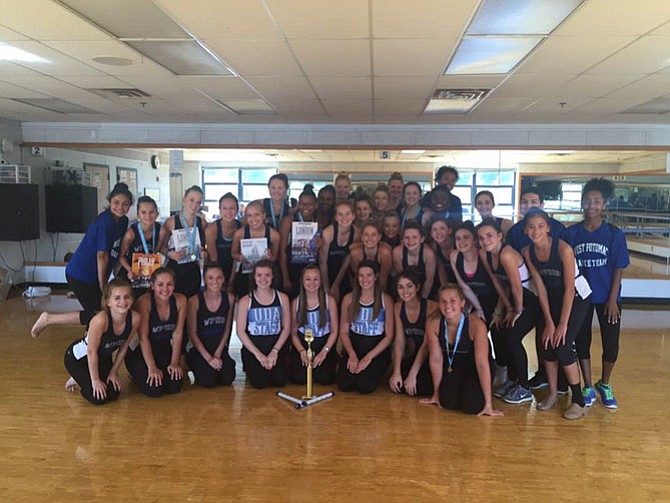 The West Potomac High School Varsity and JV Dance Teams engaged in a three-day, nine-hour-per-day audition with the Universal Dance Association (UDA) that culminated on Aug. 10 with the Varsity team being awarded an invitation to attend UDA's Nationals Competition at Disney World Resort in Orlando, Fla. in February 2017.
Additionally, Varsity team members Madison Harden, Victoria Rulapaugh, Hannah Nobles, Vera Abankwa, and Lauren Williams and JV team members Hannah Roverse, Grace Merkli, and Anna Rizzi won UDA All American titles. The Varsity All Americans were awarded the opportunity to dance at a New Year's Parade in London and the JV All Americans were awarded the opportunity to perform in a Thanksgiving parade in Philadelphia.
Dance Team Captains Madison Harden, Helen Kitrosser, Vera Abankwa, Victoria Rulapaugh, Katie Martineau, Hannah Nobles, Bela Starinchak, Anna Ustun, and Jenni Wheaton won the Leadership Award and an opportunity to perform in a Christmas Parade in Orlando, Fla. Both the Varsity and JV teams won Spirit Awards for their teamwork and spirit.
Both teams had to learn three dances in two days then perform them for evaluation on the third day. The Varsity team received a Superior rating for their efforts.

Both Varsity and JV dance teams are supported through their own fundraising, which this year will include Varsity efforts to raise the funds necessary to get to Orlando for Nationals. Both teams are practicing 20 to 30 hours per week in August to prepare for Nationals and for their performances for West Potomac football game halftime shows.