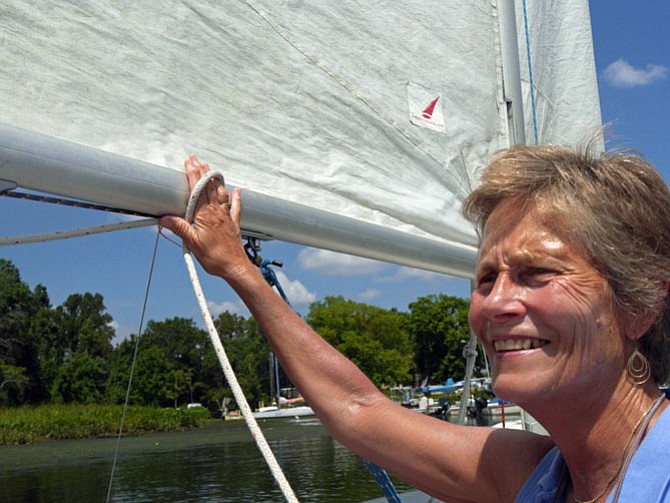 Joan Darrah walks down the wooden pier to the Flying Scot. "Hold on to the mast while you step on the boat," she says to Sarah White, a summer employee who is out for a refresher. Darrach is a senior sail instructor at the Mariner Sailing School at Belle Haven Marina.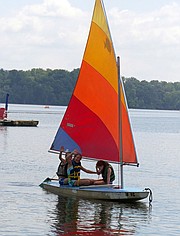 "We use Flying Scots. I can't say enough about this boat. It is so stable. In reality it is hard to tip over. It's perfect." Darrah picks a spot to sit on the boat and pulls out the chart of the local area from the Wilson Bridge to Fort Washington. "See — 4 feet here and 6 feet here. The markers tell you where to stay. This year is a particular challenge due to the heavy growth of grass."
White adds, "It's a mat of thick hydrilla."
Darrah says it is a perfect sailing day for children, a light breeze. "It's all about the wind." Belle Haven offers a 15-hour basic sailing camp for youth from 8-15 years old who sail on a Sunfish. "In fact three of my neighbors are taking the youth course this week. See these kids. To me it's fabulous.There there are now." She waves, and arms shoot into the air, waving enthusiastically back.
Darrah says she mostly teaches the adult course on the weekends which is 2.5 hours on Saturday morning with a repeat in the afternoon and the same on Sunday. "There are few activities that in 10 hours can give a person the ability to do something. It's pretty magical, just you and the wind." Darrah says as long as a person wants to be there and has a sense of humor she is willing to teach anyone.
Darrah said she takes three adults out on the 19-foot Flying Scot and she may have a person who is an expert sailor who just wants a refresher, a person who wants to know all of the technical details about sailing and a person who has never sailed before. "The challenge is to reach everyone by keeping the experienced sailor interested while still teaching the basics to the beginner. Sometimes at the end of the weekend I have no voice left." She says, "I try not to be too technical; get the concept first and the terms will come."
Darrah says the marina requires that you wear a life jacket. "The whole marina strategy is safety first but also you have to have fun." But she adds that personally she likes to have a person be able to dog paddle or tread water before they go sailing. The Flying Scot is headed out to deeper water toward three orange cone markers, nicknamed Bob. Darrah said she finally figured out that Bob got the name because the cones bob up and down in the water.
The blue sky is dotted with puffy cumulus clouds. Darrah looks up. "The sail is luffing, not quite full of wind." Sarah pulls in the sail. "Being able to get out on the water — see there is the Washington Monument. I mean what a skill." She continues, "We are in the middle of the city but out here we are so far away. No cell phones. It is so peaceful."
The wind has shifted again. "Whoops the wind is being tricky." Push the tiller way over; now Sarah pull in. Yah, yah yah — perfect. "Our challenge is the wind is coming from where we want to be. We'll have to do some ziggy zagging to get back. She tells Sarah, "Now let go of that one. Pull in this jib sheet. We've got to get enough of an angle to get the wind. It was easier going out than coming in. The tide may be going out, too."
Darrah says she grew up in Massachusetts with the water right outside her front door. "I probably gave my first sailing lesson when I was 12 years old." She taught sailing for the YMCA while she was in high school and taught later in college. "Then I went into the Navy for three years and stayed for 30 as a naval intelligence officer. She has been teaching at Belle Haven Marina since 2002. "I've been recreating myself."