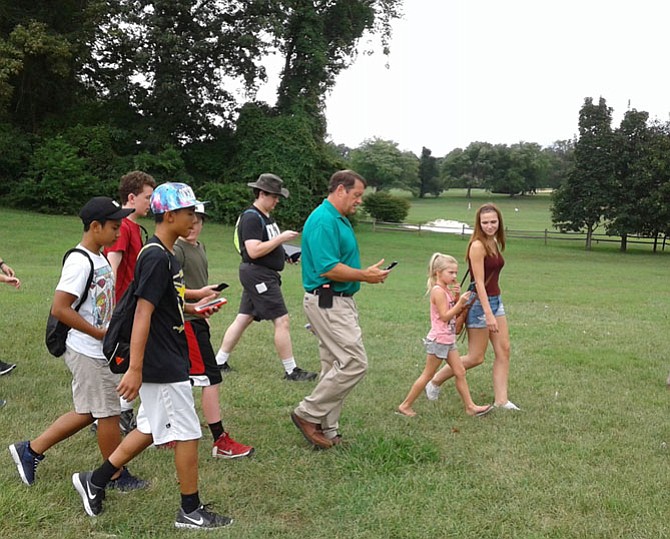 There are so many quality places to visit in the Springfield District, it is hard to pick the "top ones." Here is my attempt.
Burke Lake Park is the most visited park in Fairfax County's Park system, and after going there you will see why. The park contains a trail that goes around the lake and is great for walking, with or without your dog, running and cycling. There is also fishing, boat rentals, camping, disc golf, mini-golf, an 18 hole golf course, a driving range, volleyball courts, a miniature carousel, and miniature train. There's something for everyone. Burke Lake Park is located at 7315 Ox Rd, Fairfax Station, VA 22039
Make sure to catch your fill of Friday Night Lights! The Springfield District has some of the best high schools both academically and athletically in the country. As a West Springfield High School alumnus, there's few things I enjoy more than getting to a football game in the fall where there's a buzz in the air and a little snap of cold from the changing seasons. So cheer on your local high school team at West Springfield, Lake Braddock, South County, or Robinson.
The newly opened Children's Science Center Lab in Fair Oaks Mall is a fantastic museum that allows children, and their parents, to get hands on experience with STEM concepts (Science, Technology, Engineering and Math). Education is so important, and this museum which is designed for kids between 2 and 12 years old does an excellent job of challenging and shaping young minds. Be sure to stay and shop and/ or eat at one of the best malls in the area. The Fair Oaks Mall is located at 11948 Fair Oaks Mall, Fairfax, VA 22033.
Attention history buffs: Ox Hill Battlefield Park is the site of the only major Civil War engagement in Fairfax County. Interpretive kiosks at the park present information about the battle and its significance and offer insights into some of the men who were wounded on this land. The park does a great job quickly orienting visitors and explaining where they stand in relation to the events that occurred on the battlefield. Ox Hill Battlefield Park is located at 4134 West Ox Rd, Fairfax, VA 22033.
Perfect for a cyclist, kayaker, hiker, or mini-golf enthusiast, Fountainhead Regional Park is the best place to escape from the hustle and bustle of Northern Virginia. Bikers at all ability levels will enjoy the loops and features of the mountain bike trail and kayak, power boat, and canoe rentals are available. Don't forget your fishing pole! The reservoir is regularly stocked and is home to largemouth bass, catfish, crappie, perch, and bluegill. Fountainhead Regional Park is located at 10875 Hampton Rd, Fairfax Station, VA 22039.
One of our most visited "one-stop shops" is South Run RECenter. Not only does it feature a two-story fitness center with heated indoor pool and pool side spa, but the surrounding park offers soccer and baseball/softball fields, two tennis courts, two outdoor basketball courts, a field house with newly installed athletic turf playing surface, accessible playground, and an off-leash dog area. South Run RECenter is located at 7550 Reservation Dr, Springfield, VA 22153.
Peterson's Ice Cream Depot is a family owned and operated business in Historic Clifton. And, let me tell you, they serve some of the best gourmet ice cream in Northern Virginia. While you're there, make sure to pick up a Pat Herrity Root Beer Soda Shake – it's not your usual ice cream float! Peterson's Ice Cream Depot is located at 7150 Main St, Clifton, VA 20124.
Acres of undisturbed woodland, quiet trails, splashing streams and a tranquil pond are just a few of the reasons to visit Hidden Pond Nature Center. The nature center, which is accessible to everyone, features exhibits and live displays which orient you to the park and the natural world of Fairfax County. In addition, the center has a small sales area featuring books and other items for the nature enthusiast and nature study areas for group visitors. Hidden Pond Nature Center is located at 8511 Greeley Blvd., Springfield, VA 22152.
Don't miss Fairfax's own little slice of paradise: the award-winning Paradise Springs Winery. The land the winery was built on has remained in the same family since Lord Fairfax granted it to them in 1716. Head down on Friday nights between 5 and 9 pm to hear live music and best wine in Fairfax County. Paradise Springs Winery 13219 Yates Ford Rd, Clifton, VA 20124.
One of the region's largest shopping destinations in Fairfax, Fair Oaks Mall features a collection of 200 shops, services and dining establishments in an enclosed, two-story retail center. The mall offers one of the most diverse and compelling retail and dining collections under one roof and is the perfect destination on a sweltering or rainy weekend afternoon. Fair Oaks Mall is located at 11750 Fair Oaks Mall, Fairfax, VA 22033.
Fairfax Station Railroad Museum is Fairfax County's "Little Gem". It was the last operating railroad station in Fairfax County, closing in 1973. It was built primarily to transport farm products to the Potomac River area. Museum displays and events help preserve the local history. Come and explore the fascinating story of our local community. The Museum may also be rented out to hold special events. Fairfax Station Railroad Museum is located at 11200 Fairfax Station Rd, Fairfax Station, VA 22039.
Learn valuable collaboration skills at Hemlock Overlook Regional Park, a fully equipped Outdoor Education Center. Take your family, friends, or co-workers to navigate the challenging rope course and zip line. Designed to bring school groups, office teams and community groups alike together to collaborate and solve real life challenges in the outdoors. Hemlock Overlook Regional Park is located at 13220 Yates Ford Rd, Clifton, VA 20124.
Any golfers in your family? Twin Lakes Golf Course offers golfers the opportunity of a full day of golf with two 18-hole courses. The Oaks' par 71 and 6,715 yards challenge all golfers with multiple tees to ensure a fair test for all playing abilities. Every hole except one is tree-lined on both sides of the fairway, making accuracy the primary goal off the tee. The Lakes Course features a par-72 and 6,695-yard experience that requires more distance off the tee, but is much more forgiving than the Oaks Course. Twin Lakes Golf Course is located at 6201 Union Mill Rd, Clifton, VA 20124.
Most importantly, if there is ever anything my office can do for you, do not hesitate to ask. I have always agreed with Thomas Jefferson's notion that government closest to the people is best, and you cannot get much closer to the people than being a Supervisor. Our jobs are multi-faceted; I would go as far to say that somewhere around 80 percent of an individual's contact with government at any level is at our level. Whether it's land use, transportation, public safety, or taxation related, my staff and I are always here to answer your questions.
Contact
Office of Supervisor Pat Herrity, Springfield District , Fairfax County Board of Supervisors is located at 6140 Rolling Road, Springfield, VA 22152, Phone 703-451-8873,

Springfield@fairfaxcounty.gov
www.fairfaxcounty.gov/springfield