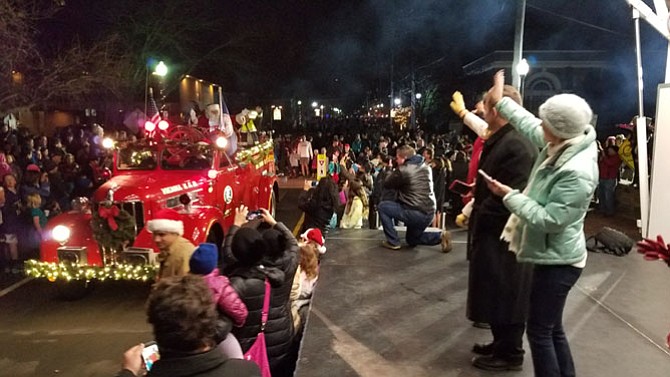 Vienna — Not much beats a 50-degree post-Thanksgiving evening to bring the community together outdoors in a festive event. The annual Church Street Holiday Stroll on Nov. 28 drew together hundreds of families, teens, adults, and leashed dogs to celebrate the holiday season small-town style.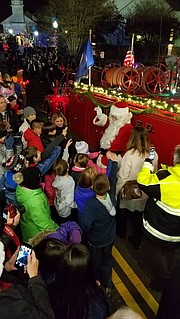 Church Street closed down between Mill and Center streets, creating a pedestrian thoroughfare brightened by live music on a stage, open fire pits for roasting marshmallows, the welcoming open caboose, a complimentary spaghetti elf dinner at Vienna Presbyterian Church, and, the main-man, Santa Claus himself holding court on the front porch of Freeman House where he listened to Christmas lists for three hours.
The Vienna Volunteer Fire Department's antique fire truck carried Santa along Center Street and onto Church Street, its siren blaring as it made its way to the Christmas tree at the corner of Church and Mill streets. Santa, Mayor Laurie DiRocco, State Senator Chap Petersen, and Del. Mark Keam joined together to light the tree as milling guests applauded.
Inside Freeman Store, families were buying old-time gifts and choosing candy from the glass-enclosed candy selection. The Town Green, with its decorative lighting, enticed children to run around, making the noises of childhood fun.
Merchants along Church Street stayed open, many offering special discounts or treats to kids. A bounce house on the caboose lawn had a long line of kids waiting to get in. Even a fake head on remotely-operated wheels attracted kids to it. The line for Santa amassed immediately after he climbed off the fire truck, but Santa stayed his post until the last child left.
Until next year …