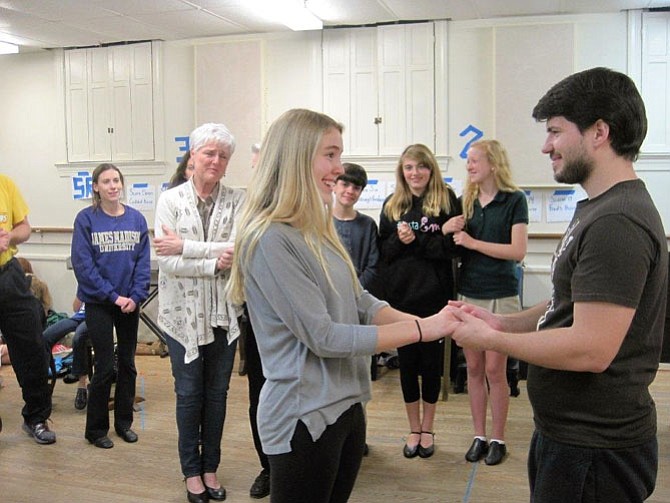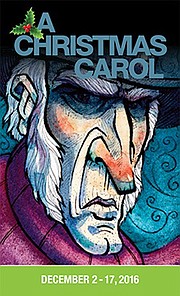 The Little Theatre of Alexandria (LTA) is staging the Charles Dickens' classic, "A Christmas Carol," just in time for the holidays — from Dec. 2-17. Watch as Ebenezer Scrooge, a miserly Victorian humbug, travels with ghostly guides through Christmas past, present, and future to find the true meaning of the season. The show has a cast of 32 actors, 16 of whom are under the age of 18, some as young as age 6.
Lloyd Bittinger, who produced the show in 2012 and 2015, said "A Christmas Carol" has become an Alexandria tradition during the holidays. "There are hundreds of people who come to see the show every year, year after year. We try to put enough fun elements into the show, like music, singing, dancing, and special effects (fog, snow, lightning, etc.) to make it a warm and fun experience, in spite of Scrooge himself. We want the audience to leave the theatre feeling happy, singing a song, and loving having been there. We want this to be the start of their holiday period."
Director Michael J. Baker Jr. said LTA's team of producers, designers, actors, and volunteers have fashioned the stage in the mold of an 1843 Dickens Village. Baker, who portrayed Scrooge five times with different directors, said, "My journey as Scrooge has given me an everted view of 'A Christmas Carol' and the Dickensian terrain as a whole. I have endeavored to sculpt a portion of the tale from the actor's perspective — how Scrooge perceives the world and his audience, instead of the reverse."
In addition, he said: "Things discussed but never seen come to life in this latest LTA rendition. The chapel, the schoolhouse, Scrooge's bed chambers, Marley's underworld and Scrooge's own funeral procession are but a few of the new revelations. Each serves to enrich Scrooge's metamorphosis and highlight the play's overall themes of gratitude, generosity, and hope."
Co-producer Russell Wyland, who has been involved with LTA's productions of "A Christmas Carol" for about 15 years, said: "People tend to think of 'A Christmas Carol' as an easy show because LTA does it every year. But in many respects, the show actually become harder each year, as we try to make it new for the audience." In addition to co-producing, he's served as costume designer, set designer, set builder, rigger, and set decorator through the years.
Away from the theater, he is a Victorianist who studies and writes about 19th-century England. "Doing The Christmas Carol means I am always thinking about how to make it more authentic," he said.
Tony Gilbert, who plays the role of Scrooge, said: "This is an 'on the stage all the time' role so it takes sustained concentration and little chance for water. Plus, many, many of our beloved actors have 'Bah! Humbugged!' this part, and even though the actors I have seen as Scrooge have schooled me, at the end of the play, I try to bring myself into the role. I hope to tell Dickens' timeless story and deep lessons with my castmates as best as I can."
Clare Baker plays the role of the Ghost of Christmas Past. "This year, we are trying to establish a stronger connection between Christmas Past and Scrooge's younger sister Fan. I have been working to play her as a youthful and yet wise character," she said.
As far as challenges, she said: "There have been many different portrayals of Christmas Past, so it was difficult at first to make the part my own. Additionally, it was hard to find a way to find a way to play a spirit and yet maintain the youthfulness that Fan had. I observed the young actress who plays Fan, Vika, and tried to bring some of the youth she has to my part."
Nic Barta plays the role of Dick Wilkins, a kind-hearted, cheerful guy. "He loves the Christmas season and celebrating it with a lot of people. He and Scrooge were friends in school and when they worked for Mr. Fezziwig when they were young. After Scrooge becomes obsessed with money, he and Dick drift apart and don't really talk to each other anymore," he said.
Avery Evans plays the role of Boy Dick Wilkins, Belle's Child #3, who was Ebenezer's friend when he was a boy away at school. He said the challenge was working on his projection. "It feels funny being loud and doing a proper British accent," he said. "I am trying to imagine my Papa in the last row. He is coming all the way from New York to see the play and I know he will want to hear me."
Ashley King plays the role of Fred's wife, who she describes as: "A very loving, caring, and devoted wife who admires her husband's positive outlook on life." She said a challenge was adapting her physicality to the time period. "I tend to slouch or pop my hip out but through repetition I am now able to stand up properly," she said.
In his first role, Lucas Trueblood plays the role of Boy Cratchit, the son of Bob and the brother of Tiny Tim. "I am a fun character because in one scene I get to decorate a tree while my brother and sister set the table," he said. "Speaking in an accent and being loud enough are hard for me."
For audience takeaways, he said: "I hope that people feel glad and joyful. I want them to go home with a smile and want them to feel like Christmas is a time for people to be giving with each other."
Daria Hoobchaak plays the role of Lillian, the life of a party even if she is a bit ditsy. "She wants everyone to have fun and wants to play games. She is also sisters with Fred's wife," she said. "I hope audiences can bring back the meaning of Christmas to their homes. I hope that they can appreciate everyone being together instead of just focusing on the presents."
Eva Jaber plays the role of Belle's Child #1, a playful, free-spirited young girl with a lovely family. "The child soloist opens the show with a verse of 'In the Bleak Midwinter.' The soloist is a spirit from the past who has come to the theater to remind people of the true meaning of Christmas," she said.
The hardest part was learning how to sing in a British accent and how to project her voice, she said. "For my part as Belle's child, the hardest part has been trying to remember my lines and anticipate the other actor's lines. Also, I have to be pretty silly, but that part was easy for me," she said.
Tameka Taylor plays dual roles of Parishioner #2 and the Narrator. "I would consider my Narrator as a mystical being, taunting and toying with Scrooge's mind. My narrator is reminiscent of The Fates of Greek mythology with a dash of Ariel from the 'Tempest.' I set the dark, dismal tone and atmosphere for 'A Christmas Carol.' The Parishioner (Mrs. Templin) is a symbol of kindness and sincerity," she said.
Pat Jannell plays the role of the Ghost of Christmas Past and Narrator. "As a narrator, my goal will always be to help advance the story by filling in missing information to improve the audiences' ability to understand the story line," he said. "As the Ghost of Christmas Future, my purpose is to direct (intimidate/scare) Scrooge to make positive changes in his behavior, ultimately in the hopes of his salvation."
Brendan Quinn plays the role of Fred, the nephew of Scrooge and the son of his beloved late sister Fan. "Fred wants nothing more from Scrooge than a friendship, and sees Scrooge as a connection to his mother. Despite Scrooge's eagerness to avoid contact, Fred is convinced he can turn him around," he said.
Meredith Endres plays the role of Martha, the Spirit, who she describes as independent and a role model for little kids. "The younger ones look up to her," she said. "When Tiny Tim is dead, a real challenge is trying to be sad yet supporting the younger ones and her parents," she said.
The Little Theatre of Alexandria (LTA) is staging "A Christmas Carol" from Dec. 2-17. Tickets are $17. Show times are Wednesdays through Fridays at 8 p.m.; Saturdays at 3 p.m. and 6 p.m. and Sundays at 3 p.m. and 6 p.m. The venue is located at 600 Wolfe St., Alexandria. Visit www.thelittletheatre.com or call the Box Office at 703-683-0496.