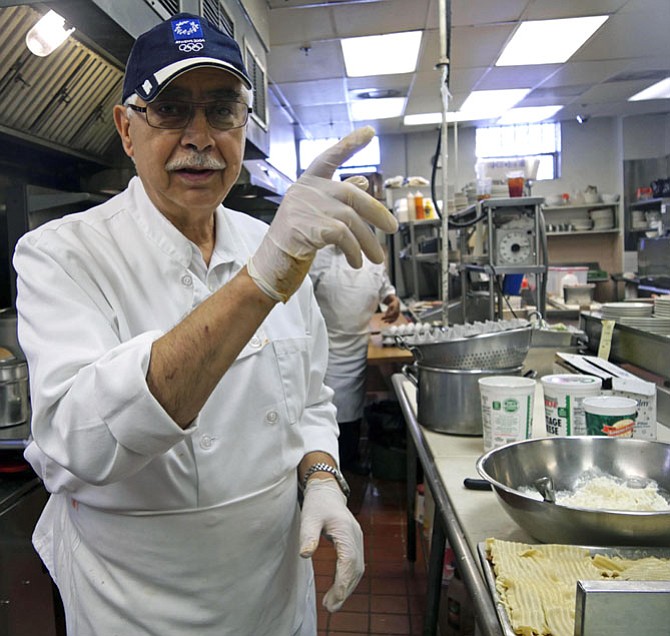 Richard Euripides, chef at the Royal Restaurant on N. Asaph Street, has boiled two packages of ribbed Zerega lasagna noodles for a customer favorite. "I boiled them slowly for 30 minutes because I've found if you cook them slowly, the noodles don't stick." Euripides spreads a thin layer of marinara sauce in the bottom of a large, heavy aluminum pan. "We make everything homemade here. This pan will make enough to cut 20 squares of lasagna," he adds.
He has made the marinara sauce. "I sauté chopped celery, green pepper and crushed garlic." He pinches his fingers together. "Then I add diced tomatoes and tomato sauce and simmer the sauce for two hours. I make marinara sauce every day and spaghetti sauce and alfredo."
Finally he adds salt and pepper and Italian seasoning. He fits the first layer of cooked lasagna noodles into the pan over the marinara sauce. Another layer of marinara is topped with shredded provolone. He repeats the layers, and then adds the first layer of meat. When the lasagna is finished it will have five layers and nearly spill out the top of the pan. "I like to put on a lot of cheese; it makes the lasagna rich."
Euripides says his favorite version of lasagna is Florentine. He says the Bar Association and the American Legion always order this version. "I squeeze the water out of the spinach and sauté it in olive oil. The spinach is mixed with feta cheese." Again many layers of noodles, spinach and cheese. He adds some shredded carrots for color and tops with a layer of ricotta mixed with cottage cheese and a sprinkle of cinnamon.
Euripides peers into a container of the soup of the day. "Today it is cream of broccoli. Yesterday it was cream of potato and tomorrow it will be clam chowder. We've had beef stew on Mondays for the last 100 years. Tuesday used to be Greek day." He says on weekends they have a big buffet brunch with a crowd out the front door. "I make two gallons of my homemade salsa every weekend." He heads for the refrigerator and juggles around 25-pound bags of panko crumbs to pull out a sample. "All gone. People say I should make it commercially."
"It is a long story how I became a cook. I have been here at Royal since 1974. I lived in Cyprus where I worked in a bank. Then we had a war." He says, "I became a refugee. I came here with $100 in my pocket." His brother, Charlie, who owns the restaurant, was already here. "My mother was a good cook at home in Cyprus, and I liked to cook so I came here and started cooking. I remember the first time I made my mother's meatball recipe for the family at Easter time in America." His eyes light up. "They loved it." He says he uses pork and the secret ingredient is found high on a shelf in a large plastic container of dried mint from the garden.
He walks back to the counter to finish the lasagna. Large containers of ricotta are mixed with cottage cheese. He sprinkles a scoop of sugar into the mixture. "Makes it rich." One- handed, Euripides cracks four eggs, one at a time, on the side of the large bowl, opens the shells and lets the yolks drip down the side. Finally a sprinkle of cinnamon. He spoons a thick layer of the ricotta mixture on top of the lasagna and reaches into a bag of shredded Parmesan for the final touch.
Euripedes heads for the oven that is warmed to 400 degrees. The oven door is already crusted with many other lasagnas. The lasagna will cook for one hour and be ready just in time for the lunch crowd. Over time the menu has changed but the "eat healthier" trend has not changed the Royal Restaurant. "Not here," he says. And the recipe for lasagna goes back to 1904 with the original owner of the restaurant.