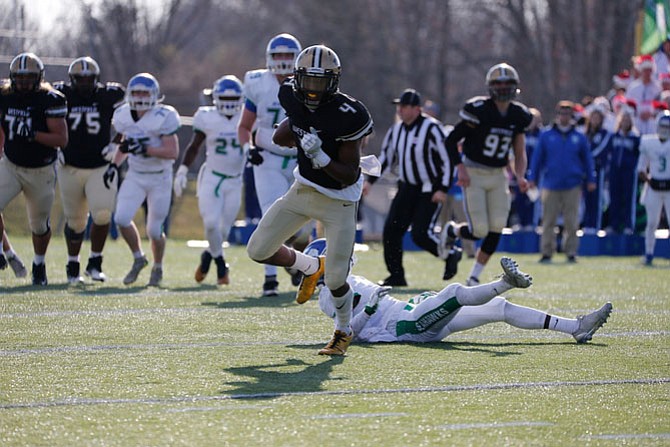 The Westfield Bulldogs and South Lakes Seahawks battled in the 6A North Regional Final — with Westfield securing the trip to Hampton University, on Dec. 10 for the Virginia 6A State Championship.
In the 1st quarter Sean Eckert opened scoring with 7:44 remaining in the quarter when Rehman Johnson connected with him from 7 yards out. After Brian Delaney's point after, Westfield took an early 7-0 advantage. Johnson would throw his second touchdown pass with 5:41 to play in the 1st when he hit Ivory Frimpong for a 35-yard TD. Westfield now led 14-0 after another Delaney PAT. Later, with: 24 seconds to play in the 1st, Johnson would score from 2 yards out and Westfield's third touchdown in the opening quarter. Delaney again was successful with his third PAT of the opening quarter.
In the 2nd quarter Johnson went to the air again. Once again it was Eckert. The score covered 80 yards. With 7:22 to play in the quarter. Johnson had now thrown his third touchdown pass of the first half. Following another Delaney PAT, Westfield was up 28-0. Eckert and Delaney were not finished. The duo would once again connect for Johnson's fourth TD pass of the game and Eckert's third TD reception, this one from 8 yards out with 19 seconds to play in the 2nd.
Now leading 35-0, Westfield would score their final points with just 2:07 to play in the 3rd when Saadiq Hinton crossed the goal line, and Westfield would go up 42-0.
In the 4th quarter South Lakes continued to battle even with Westfield resting many of their starters. Albert Mensah burst for a 45-yard touchdown run just 52 seconds into the 4th. The extra point was blocked by the Westfield special teams and the score was 42-6. South Lake's Mensah would score once again on a 2-yard touchdown run with Westfield then leading 42-12. On the ensuing 2-point conversion, it was Kevin Petrillo who put a hit on Tre Venable on the 1 yard line, thwarting the Seahawks 2-point conversion. The hit could be heard throughout the stands and resonated in the crowd's reaction. Petrillo also intercepted a pass earlier in the game.
Statistically, Westfield was led by QB Rehman Johnson who ran for a TD, completed 11-14 passes with four TDs and one interception. Eckert caught six passes for 176 yards and three scores. Ivory Frimpong, caught three passes for 84 yards and a TD. Westfield used five players to account for just over 100 yards rushing. Devin Miles, QB for South Lakes completed 9 of 19 passes for 80 yards and two interceptions. Spencer Alston and Albert Mensah together carried the ball 22 times for 141 yards and two touchdowns. South Lakes ends the year with a (12-2) record. Westfield improves to (12-2) and will play Oscar Smith (13-1), of Chesapeake, whose only loss came in week 1 when DeMatha defeated them, 42-7. This will be the second consecutive year that Westfield and Oscar Smith will play for the Virginia 6A title. Westfield won last year's meeting 49-42 in three overtimes.
Westfield's basketball team also won the state title last season, defeating Oscar Smith 74-56. Oscar Smith will travel 27 miles to Hampton while Westfield will travel 180 miles. The 6A Championship will be played on Dec. 10 at Armstrong Stadium at 4:07 p.m.