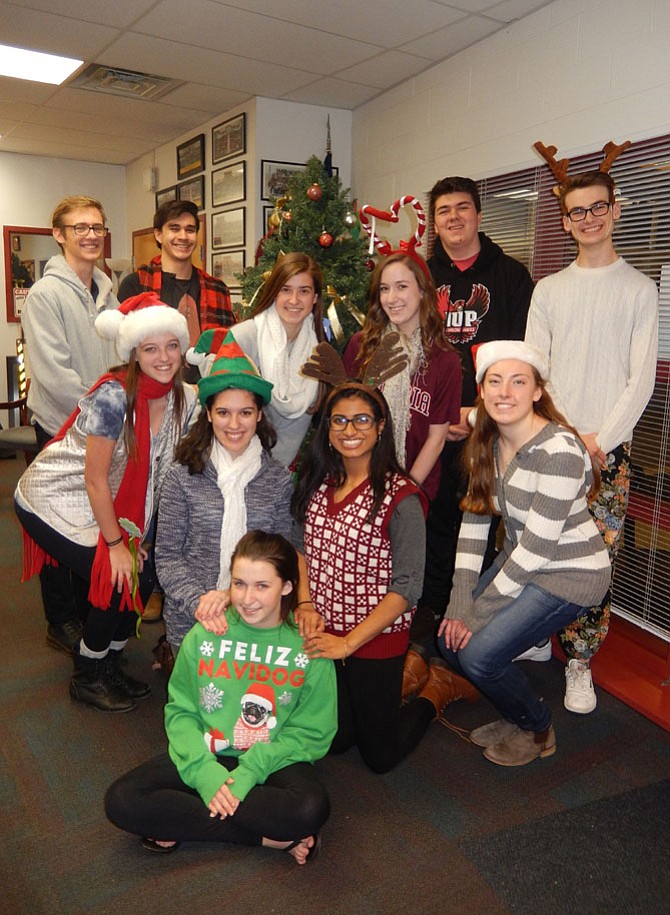 Sugarplum fairies, the Grinch, Charlie Brown, the Muppets and even "Back to the Future's" Marty McFly are all in Westfield High's upcoming "Ho Ho Holiday Show." Student-directed, it's comprised of five short plays and takes the stage Friday, Dec. 16, at 7 p.m., and Saturday, Dec. 17, at 11 a.m. and 2 p.m. Tickets are $5 at the door, and attendees are encouraged to bring new, unwrapped toys for Toys for Tots. Here's what's on tap:
'Hanukkah Story – Back to the Maccabees'
Directed by Miles Josephh, Marty Bernier and Nate Riester, "Hanukkah Story – Back to the Maccabees" is based on the movie, "Back to the Future," except that the characters will travel to 200 B.C. to the time of the Maccabees and the first Hanukkah.
The cast of nine features John Henry as Marty McFly, Nathan Marshak as Doc Brown, Josh Moore as Biff Antiochus, Aja Rene as Lorraine, and Braeden Anderson as George. "When they go back in time, Marty runs over Mathias and Judah with the DeLorean, so Doc and Marty have to pretend to be them," said Josephh.
"They're trying to save Hanukkah from the Greek oppressors," said Bernier. "Marty drops and loses a copy of the Torah, and Biff picks it up and uses it to try to prevent Hanukkah from coming." Bernier and this play's stage manager, Pressley Johnson, co-wrote the script.
"Every year, we try to do something different with the Hanukkah story," said Josephh.
"After last year's show, we joked about what it could be for the next year, and we realized that 'Back to the Future' could actually work," added Bernier. "We have a great cast, and the actors are really figuring out and getting into their characters."
"This is a comedy, and we wanted to appeal to the whole audience, not just kids," said Josephh. "The parents will be familiar with the movie, and we'll also introduce it to a new generation, while teaching them about Hanukkah."
'The Muppets' Christmas Carol'
With a cast of 16, seniors Charlie Parsons and Maya Hossain are directing "The Muppets' Christmas Carol." The story is told by Muppets Gonzo (Kaili Fox) and Rizzo (Nora Lewis). Harry Schlatter portrays Kermit the Frog as Bob Cratchit, Hayden Cutler plays Scrooge, and Cassie White is baby Kermit as Tiny Tim.
"I really appreciate how open they are to trying new things and making strong character decisions," said Parsons. "A lot of the cast are underclassmen, but they've gotten right into being Muppets."
Although it's his first time directing, he's in his fourth year of theater at Westfield. And, said Parsons, "It's nice to pass down that knowledge to others, as well as to be on the other side of production. Directing is a lot about how you interact with people. And you have to think about the process as a whole — for example, how the costumes and set will fit into the scene — and not just directing the actors."
This show is the traditional "Christmas Carol" story by Charles Dickens, but portrayed by Muppets. "That makes it funnier and more entertaining to kids," said Parsons. "People will like the genuine good time the cast members are having playing Muppets, and that really translates to how much fun it'll be for the audience to watch."
'Merry Christmas, Charlie Brown'
Featuring the characters from the "Peanuts" comic strips and TV cartoons, "Merry Christmas, Charlie Brown" is co-directed by Kaley Haller and Ruby Tippl. The cast of 17 includes Ryan Kirby as Charlie Brown, Diana Witt as Lucy, Anna Krelovich as Sally, Paul Lee as Linus, and Sean Egan as Snoopy.
"The cool thing is that we have a lot of underclassmen, so this show gives them an acting opportunity," said Haller. "It's good to see fresh, new faces, and they each have at least one line to speak. They're really excited about being on the Westfield stage."
This play is the familiar story of "A Charlie Brown Christmas," but condensed. "But it still has the iconic theme song and the football kick," said Haller. "The audience will like the energy the actors are bringing to it, and there's always something going on onstage."
Calling the storyline "heartwarming," Haller said it will "bring people back to their youth. And it's fun to watch because, this time, it's all right for the actors to be cartoonish onstage — because that's the essence of Charlie Brown."
As a director, she's been making sure that each actor gets his or her moment to shine. "I've also learned how much wiggle room there is in directing a play while, at the same time, staying true to the story," said Haller. "I'm also Westfield's thespian [chapter] president, so I'm happy to give some of our underclassmen their start in their theater careers here."
'The Grinch'
It wouldn't be the holidays without the story of "The Grinch," and co-directing it are Allie Bush and Ian Balderston. The cast of 10 features Valerie Spiegelthal in the title role; Hana Hossain plays Max the dog, and Lauren Levine is Cindy Lou Who. The Whos of Whoville sing "Dahoo Dores" and Drew Tobin sings "You're a Mean One, Mr. Grinch."
"Things are going well," said Bush. "The cast is very easy to work with and are happy to be part of this show, so I'm excited to see how it's all going to work out. And Valerie's doing a great job acting like a person she wouldn't normally act like in real life."
Bush has acted in the Ho Ho show, the past three years, so she's enjoying getting to direct now. "I learned that you think you're organized, and then things happen that you don't expect and have to adapt to," she said. "So you have to listen to the ideas of the other directors and the members of your cast."
"This is a very fun show," said Bush. "The Grinch has unique ways of moving around the stage, and this is a classic Christmas show, so many people have watched the movie and are familiar with the story. All the Whos wear pajamas and have their own personalities, which will be reflected in the types and colors of their pajamas. We also have fun props, such as Christmas packages, a chimney and a Christmas tree. And when the Whos eat 'Who Pudding,' they'll eat snack packs."
'Twas the Night'
An all-dance production, 'Twas the Night' is co-directed by Aubrey Cervarich and Sara Bresnahan. The 20-person cast features freshman Keeley Rogers as the Sugarplum Fairy, sophomore Bridgette Carey as Rudolph the Red-Nosed Reindeer and junior Gene Kim as the Nutcracker.
"It's a great cast, and Nik Glover narrates the story," said Cervarich. "He reads the poem, ''Twas the Night before Christmas,' while the children are dreaming of the Nutcracker and act out that story with the fairies and the mice. And then Rudolph and the other mice join in."
Cervarich is also happy to be directing. "The students who've played the Sugarplum Fairy and Rudolph get to direct this show as seniors, so it's something Sara and I have both been looking forward to and carrying on the tradition."
"We do ballet and jazz dancing and use the same choreography every year," she continued. "But each director puts their own spin on it and tailors the choreography to the strengths of the dancers. The actors are also making this story their own, and it's cool to see the different generations do this story at Westfield. They play different roles each year as the legacy of this show here lives on."
She said the audience will enjoy seeing this production. "It's really fun," said Cervarich. "They'll get to see ballet and jazz, beautiful fairies, scary mice and lovable reindeer — and it's all very high-energy."