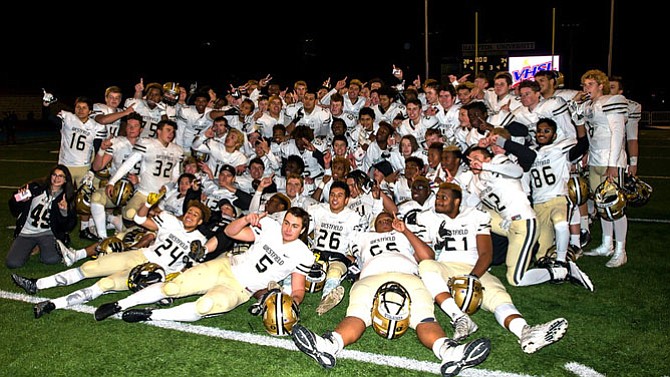 Before perennial powerhouses Westfield and Oscar Smith met for the Virginia 6A State Championship, many expected another close game. Just one year ago, the two schools battled for the 6A Championship in Charlottesville. A game in which Westfield prevailed in four overtimes, 49-42. In March of last year, the two schools met for the 6A State Basketball Championship in Richmond. Again Westfield defeated Oscar Smith, 74-56.
Westfield came into this match 12-2, while Oscar Smith came in at 13-1. Leading up to Saturday's game in Hampton, Westfield had a huge challenge — to take down another opponent with only one loss. Three weeks ago Westfield defeated Madison (11-1), followed by South Lakes (12-1), and now Oscar Smith (13-1).
In the 1st quarter it was Oscar Smith who put points up first when Thomas Woodhouse took a Shon Mitchell pass 68 yards to put Oscar Smith up 7-0. Later in the 1st quarter, Nolan Cockrill put Westfield on the board with a 7 yard pass from Rehman Johnson.
In the 2nd quarter Sean Eckert scored on a 6 yard pass from Johnson. Following a Brian Delaney PAT, Westfield had its first lead 14-7.
In the 3rd quarter Westfield's Nathaniel Chung rushed in from 4 yards out to put Westfield ahead 21-7 following another Delany PAT. Westfield appeared to be cruising with 21 unanswered points.
However, in the 4th quarter Khalik Perry took a Shon Mitchell pass 33 yards for Oscar Smith's second TD. The ensuing PAT was blocked by Westfield and the lead was down to 8, 21-13. Then with seven seconds to play in the 4th, Oscar Smith QB Mitchell would run in from 1 yard out. Oscar Smith was now within a 2 point conversion of tying the game. Deangelo White would do just that as he did his version of a Statue of Liberty. The score was now 21-21. After the ensuing kickoff, Westfield elected to send the game to OT and kneeled down the final seconds of the 4th.
In overtime Oscar Smith won the coin toss and elected to be on offense first. On the first play, Oscar Smith QB Shon Mitchell hit Camron Kelly for a 10 yard pass and which gave Oscar Smith the advantage 28-21. Westfield would not be outdone, Nolan Cockrill would score his second touchdown of the game on 10 yard touchdown reception. Brian Delaney's PAT knotted it up at 28 which forced a second overtime.
In the second overtime, Westfield would have the ball first and Johnson would throw his 4th TD of the game, when he connected with Ivory Frimpong from 10 yards out. However, a missed PAT gave hope to Oscar Smith when they took the field. Westfield defense as it had done many times stopped the high-powered offense at the 3 yard line on 4th down and Westfield had repeated as state champions.
Prior to the Westfield's 34-28 victory, the last time a 6A State Champion was able to accomplish this was in 1998 and 1999 when CD Hylton did so. This was Westfield's fourth 6A State Championship, the others coming in 2003, 2007 and 2015. For the third time in four years, Oscar Smith fell just short in the State Championship game, the other in 2013 to Centreville and last year to Westfield.
Westfield was led by QB Rehman Johnson who completed 14-26 for 221 yards and 4 TDs and 1 interception. Nolan Cockrill scored twice on three receptions, Sean Eckert caught 3 passes for 29 yards and a TD, and Ivory Frimpong caught 5 for 95 yards and 2 TDs including the game winner. Nathaniel Chung and Matt Cirillo each rushed for a TD. Chung would carry the ball 15 times for 60 yards.

Oscar Smith was led by Shon Mitchell who completed 17-30 for 320 yards and 3 TDs, and rushed for another. Khalik Perry, Camron Kelly and Thomas Woodhouse each had TD receptions.