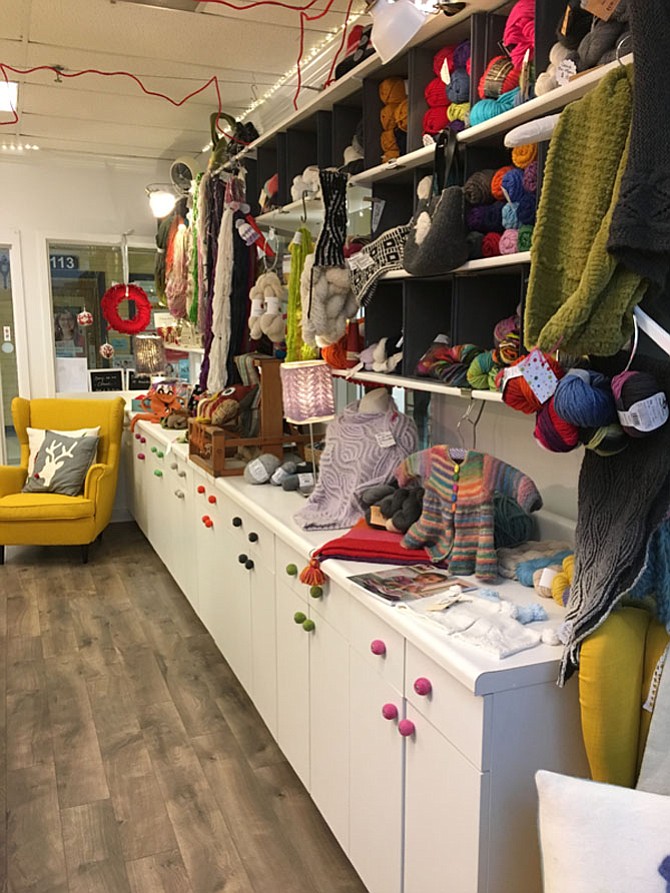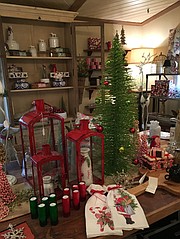 Potomac residents have several shops right in or near The Village where they can find gifts for just about everyone. Whether checking your list once or twice, local shop keepers can help find just the right something special to give this season.
Decorator Terri Downs of JT Interiors at Potomac House, 9906 River Road, decorated her home accessory showroom for the holidays with gifts and ornaments. Several Christmas trees help shoppers get in the spirit of the season, especially the glittering silver and white tree just inside the door.
This is Downs' fourth Christmas at Potomac House and she said business is good.
"This Christmas has been the best in two years," she said. "It has been a phenomenal Christmas so far. Election years typically aren't good for small retail," she said, adding that she can't explain why this year is different.
She said she thinks people are relaxing after the tension of this year's elections and ready to enjoy the holidays.
West of Potomac Village, Isabel Chiotti and her daughters Alessandra and Cristina, just opened Sonoran Rose, a boutique clothing and gift shop at 12211 River Road.
Though they opened the "brick and mortar" store Nov. 10, Cristina Chiotti said they have been in business for two years.
"We've been around since 2014 online and doing trunk shows and corporate gifts," she said. "My mom always liked this space and when she saw it was available she said, 'let's call.'"
Cristina said the barn-like space works perfectly with Sonoran Rose's boho chic look and feel.
"It's very much our aesthetic," she said.
Besides women's clothes, the store offers home décor items, jewelry, soaps, candles, chocolates and a line of shaving needs for men.
Many items are from local and small businesses, Alessandra said.
"We like to support smaller businesses too, because we are small," she said.
If it's a do-it-yourself gift or something for a child, FiberArt.Studio, 9812 Falls Road, in the Potomac Promenade Mall is the place to go.
The studio features traditional fiber arts instruction, supplies and gifts. Anja Caldwell opened her studio in January of this year with a mission in mind.
"I'm from Germany and we learn this stuff [knitting, crochet, and sewing] in school," she said. I feel it's a dying art. Like vocational classes are missing from schools, so are the crafts. I set out to change that."
There is no glitter or glue in her studio, she said.
Children as well as adults can find one-of-a-kind yarns, patterns and the help they need to create fiber arts at the studio. Caldwell also teaches wet and dry felting techniques and hosts children's parties where guests make craft items to take home.
Over the years, Caldwell said she has taught at Glen Echo and the German School but decided to open her own shop so she would not have to carry supplies around.
Also, she said, she likes teaching and the classes and open studio times give her that opportunity.
For the holidays, she has a few Danish-made toys, tote bags made from antique fabrics and some of her knitting samples for sale. But her real desire is to sell the makings and let people learn as they go and create their own gifts.
That may not be easy during this busy time of year because, she said, "The main ingredient in fiber arts is patience."
Still it's something to think of for those long winter night ahead.
Another source for holiday decorating and gift giving is Potomac Petals and Plants, 9545 River Road. From Christmas trees to poinsettias, wreaths and centerpieces, Potomac Petals and Plants provides fresh greens for every need. The store also has a florist shop, a wide variety of gardening gifts and holiday specialties.
Details
JT Interiors at Potomac House, 9906 River Road, 301-229-0485. Open 10 a.m. to 6 p.m. daily, noon to 5 p.m. Sunday.
Sonoran Rose, 12211 River Road, 301-983-0231. Open 10 a.m. to 6 p.m. Monday, Tuesday, Wednesday, Friday and Saturday; 10 a.m. to 8 p.m. Thursday and noon to 5 p.m. Sunday.
FiberArt.Studio, 9812 Falls Road, 240-600-0170. Open 10 a.m. to 1 p.m. daily except Sunday. There are also special studio and craft hours, call for more information.
Potomac Petals and Plants, 9545 River Road, 301-765-7670. Open daily 10 a.m. to 6:30 p.m.