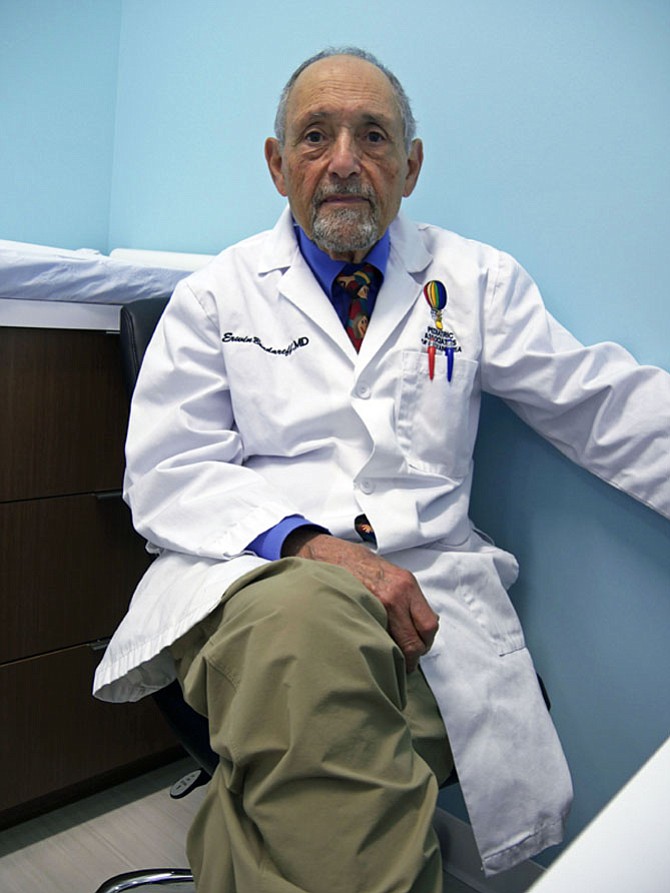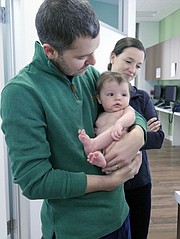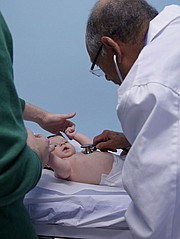 Four-month-old Quinn Doran wiggles her toes and squirms on the table in the nursing area at Pediatric Associates of Alexandria. The nurse measures her at 24-1/2 inches, and her father declares, "I'm getting bigger." Onto the scale and still smiling, Quinn weighs 13.5 pounds.
Pediatric Associates has been open barely a week in its new location at Potomac Yard. Dr. Erwin Bondareff, one of the two original doctors who joined Dr. Robert Bregman in 1963, said the recent expansion resulted because they could see a lot of patients coming to their Alexandria location on Walker Street from Arlington, and also the new location is just a mile away from Del Ray. Today they have 11 doctors, 11 nurse practitioners and a couple of PAs between the two offices. Bondareff, who is 86-years old and has been practicing for 53 years, says he remembers when there was nothing in the Del Ray area where he grew up. "I remember seeing National Airport built."
He has seen his practice change over the years. "For one thing you have to take away their electronics; even 2-3 year olds have them. And now with Obamacare and young adults on their parents' insurance, a pediatrician can cover through age 26."
In addition, he sees a number of patients whose parents refuse vaccines or who want to spread them out. He said they still see these patients because they can be in contact with the parent and can assure stability for the child. He said, "Without vaccines we have seen reemergence of some diseases such as whooping cough and measles." Quinn's mother adds that she got pertussis in her first year in college just after her vaccine had worn off, "and it was terrible."
The demographics of Bondareff's patients have changed as well. Bondareff says the practice used to be community-based with a lot of railroad workers at Potomac Yard and white-collar government workers. After World War II he started to see people from all over the country. "Now we have a large number of Hispanics, Middle Easterners, West Africans, Ethiopians, Pakistanis."
He added, "A lot of the foreign patients are more demanding. They over coddle and over indulge their children."
"We used to make house calls three times a day in the early '70s. Now the office hours are 6 a.m.-8 p.m. to accommodate working families. Today a working mother came in at 6 a.m. for a regular well-baby checkup and then headed to drop her child off at day care." Outside the exam room you can hear a weak cry, a deep breath and a continued complaint. A parent can be heard to say, "It's OK, buddy."
It's Quinn's turn to move from the nursing station to exam room 5. "Peeing and pooping OK? Still breast feeding? Have you started the vitamin D drops?" Bondareff said, "While she is quiet, let's turn off the lights and look at her eyes."
So far Quinn seems to be enjoying her visit to the doctor. Bondareff moves to listen to her heart. "The heart rate can be over 110 at this age, " he explains. Next he rolls Quinn over on her stomach, and she begins to complain. Her mother interjects that Quinn's newest trick is to roll over so she wants to do it herself.
Her mother asks about sleep. Bondareff said, "The top two things I recommend are to establish a good sleep program and read to your child." He said, "You would be surprised how often I see a bad sleep pattern, kids still sleeping with their parents." Her mother says Quinn sleeps at night but naps are touch and go. "She is afraid of missing out." Bondareff recommends putting her in a dark room. "She will find her own pattern."
Today Quinn will get her DPT (diphtheria, pertussis, tetanus) vaccination. "If her leg swells a little, you can wrap up an ice cube and put it on for a little while. If she has a fever under 100, don't do anything. If it is over 100 she can have Tylenol."
"Now," Bondareff said, "the worst part is coming, but we let the nurses do that."