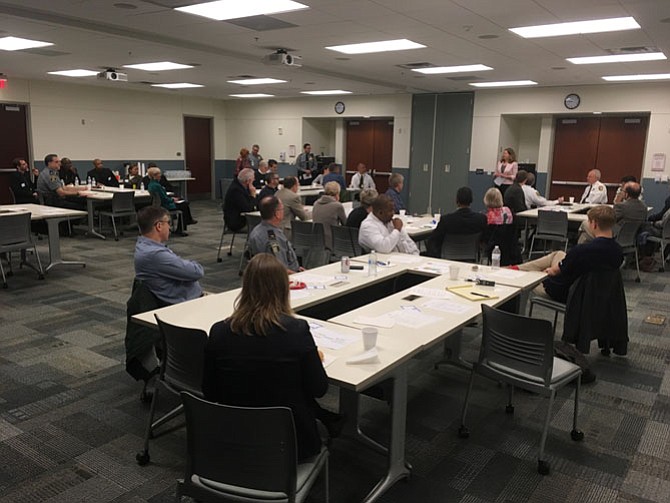 Public and religious leaders in Alexandria met Nov. 30 for a second Police-Clergy Breakfast seeking to bridge a disconnect between local law enforcement and religious institutions.
"A gap is developing," said the Rev. Dr. David Gortner, associate dean of Church and Community Engagement at Virginia Theological Seminary. Gortner and Deputy Police Chief Shahram Fard organized the meeting.
Gortner believes many clergy and congregations nationwide are not well connected to one another and to their cities. "[O]ver decades, the threads of connection have broken; priorities have shifted; congregations have become increasingly internally concerned with survival, or taking care of their own." Even in Alexandria, "[w]e don't have a good map with each other.…"
There is a "growth in demand on first responders — police, sheriff's office, firefighters — with increasing attention to family issues," he said. "[I]t's stepping into the realm of social work."
For example, Lt. Scott Patterson says residents may call upon police to assist in a parenting role, such as disciplining their children to go to school in the morning. "For whatever reason," he said, "I think that people tend to gravitate towards calling the police department [as] kind of a one-stop shopping solution." He says more resources from clergy could help in such situations.
For their part, police frequently interact with religious institutions in the normal course of their work, according to Crystal Nosal, the department's public information officer. Though there is no "set" way that this happens; much falls to individual discretion.
Police acknowledged a broad "need to know what services and groups they could potentially have access to" in religious institutions, according to an email from Gortner summarizing input given at the first meeting, held April 21. The report also indicated a lack at present of "some sort of mechanism whereby police can recommend people to a faith community."
Religious institutions are "a great asset for the police to tap. If they're not well connected to the faith communities, they're really losing out on a huge asset of organization within the overall [city]," said Tim Vandewalle, a concerned citizen who helped to initiate the meeting.
Organizers asked attendees at the meeting to brainstorm about how to close the gap.
Participants sat at tables corresponding to the police department's three geographic patrol sectors. Organizers and various public officials offered a few comments, asking attendees to spend much of their time discussing common issues and sharable resources with their tablemates. The room soon buzzed with conversations between people who, though from different organizations, serve the same neighborhoods.
Attendees principally included over 40 clergy, representing nearly 30 local congregations, and about 20 police officers. Public officials included Acting Police Chief David Huchler, Sheriff Dana Lawhorne, Mayor Allison Silberberg, former Mayor Bill Euille, and Deputy City Manager Debra Collins. More than 70 people participated in all.
Organizers prioritized the need to establish personal relationships across organizational boundaries. They pointed to Capt. Shannon Soriano, commander of the West End patrol sector, and Lou Whiting, pastor of My Father's House Christian Church on Eisenhower Avenue. Soriano and Whiting met at the first meeting and have since developed a positive working relationship.
"It was a pleasure meeting her," said Whiting, "and to be able to cultivate and develop a relationship with a community officer — it's fantastic. And I would encourage all the houses of faith to do the same thing. To have that relationship is very, very beneficial. It adds credibility to … who I am as a leader in the community [and] with my church congregants .…"
In case "community issues or tensions develop"—such as in Ferguson, Mo. — Vandewalle wants "a good forum … where people have enough trust in their counterparts that they can sit down and really make progress."
Organizers and officials particularly emphasized bridge-building activities that religious institutions could pursue.
"This meeting is great, and we're starting to get to know one another. But between this meeting and the next meeting, I'm very hopeful that you will invite us into your homes — your workplaces — and there's many ways you can do that," said Huchler to the clergy.
Numerous possibilities were suggested. Clergy might go on "ride-alongs" with patrol officers. Congregations could help first responders with local recruitment, especially in minority and immigrant communities. Community police officers could engage congregations' youth groups in roundtable discussions. Police might hold "roll calls" and other meetings on religious institutions' premises. Clergy could communicate directly with law enforcement liaisons, including Officer Charlie Lloyd, the police department's crime prevention officer; Officer Bart Bailey, commander of the department's Community Policing Unit; Officer Bennie Evans, the department's community homeless outreach coordinator; and Deputy Valarie Wright, the sheriff's community relations deputy.
A primary long-term task is to catalogue all the religious institutions and their community service-related ministries.
"The biggest thing to start with is to find out what is available out there that you don't know about," said Sgt. Joe Green.
Gortner has already begun such a reconnaissance. His latest effort is an online survey asking congregations to identify their "public outreach ministries" and connections with "social care and advocacy" organizations. "We hope to put together a thorough list of the resources and services our communities of faith provide, for the Alexandria religious leaders, and for the Alexandria Police as well."
Gortner is also connecting with other coalitions. "I'm trying to listen across several venues, as are some other clergy. Some of us are tapped into Hunger Free Alexandria. Some of us are tapped into VOICE. Some of us are tapped into the [mayor's] clergy council. And then other interesting networks are forming."
"The services that are provided here in this city are exceptional," said Huchler to the clergy. "And so to join our services with the services that you all can provide, there's nothing we can't achieve.
"This is an effort to change the tide," said Gortner. "This is a significant opportunity. And what's nice about the police-clergy relationship is, there's good will that's emerging. There's interest in continuing this. There's interest in taking it to the next level so that there's mutual education and benefit."
Clergy who want to attend or send lay representatives to future Police-Clergy Breakfasts, or to obtain a link to the online survey of congregational ministries, should email Virginia Theological Seminary's Emily Riley at eriley@vts.edu. Clergy who want to pursue any of the collaborative activities should call the Alexandria Police Department at 703-746-4444.