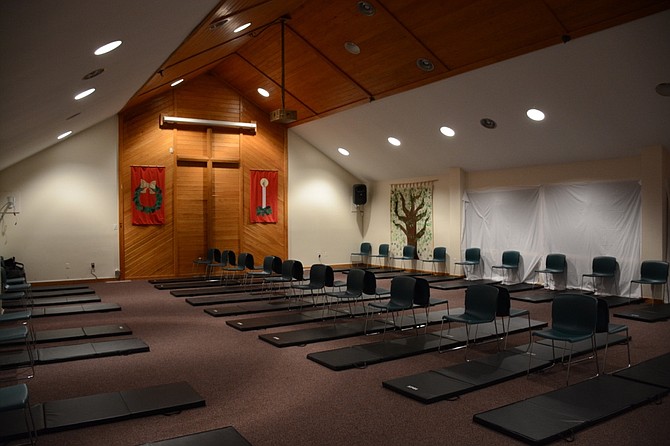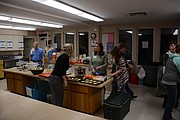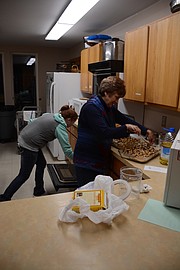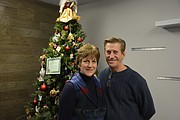 Just before five p.m. on Dec. 14, the Burke United Methodist Church kitchen is bustling with volunteers. They're preparing soup, snacks and dinner meals for between 25 and 30 homeless guests who will spend the night at the church.
The church hosted homeless guests all week as part of Fairfax County's hypothermia prevention shelter program that runs from the end of November through March.
During that time, emergency homeless shelters managed by nonprofit organizations and the faith-based community will have a no turn-away policy. Around 40 churches participate in one form or another.
Gerry Staudte and his wife Barbara Nowak of Burke are Burke United Methodist members and have coordinated their congregation's hypothermia shelter week for the last seven years.
Staudte said it takes 175 volunteers to either man shifts or make donations to make the operation run each year.
"Our hearts go out to these people," he said. "The generosity of the people in this church is unbelievable."
Staudte said the heavy emphasis on missions was the reason he joined the church in the first place.
"You look around and see people get warm – there may have been events in their lives that caused them to become homeless, that wasn't their fault," said Staudte. "In the past four years, there's not been a single death due to hypothermia. The system is working."
Last year across Fairfax County, around 1,000 different or unique individuals took advantage of Fairfax County hypothermia prevention services, according to Abby Dunner, singles program manager for the county's Office to Prevent and End Homelessness.
Dunner said the homeless population has come down over the last eight years, "but there's still a long way to go."
That's why case management has been a central part of the hypothermia prevention program for the last decade.
The county provides health services, basic medication, rapid rehousing and permanent supported housing programs through representatives who visit one site each week during the hypothermia shelter program.
Each shelter site also has a case manager from one of four non-profits on hand as a facilitator and counselor.
At Burke United Methodist, the Fairfax-based non-profit FACETS provides a counselor-case manager to meet with clients, many of whom come to Burke on a bus or van from the Lamb Center, a day-time drop-in shelter in Fairfax. At 7 a.m. the next morning, most head back.
Other non-profits helping manage hypothermia shelters around Fairfax County are Cornerstones, New Hope Housing and Northern Virginia Family Services.
In addition to the case management, guests at BUMC are able to choose from donated clothing, hats and gloves, all of which comes from the congregation.
"This prepares our hearts to celebrate Christmas," said Nowak. "Christ asked us to donate, to reach out to those in need. It's so cold and this is a need. We're glad to be able to contribute."
Those seeking shelter can call Fairfax County coordinated services planning at 703-222-0880. Anyone who sees or knows of an individual in need of shelter can call the Fairfax County Police non-emergency number at 703-691-2131 and an officer will be sent to pick them up and transport to a shelter.
For more information on the Fairfax County Hypothermia prevention program, visit www.fairfaxcounty.gov/homeless/hypothermia-prevention.