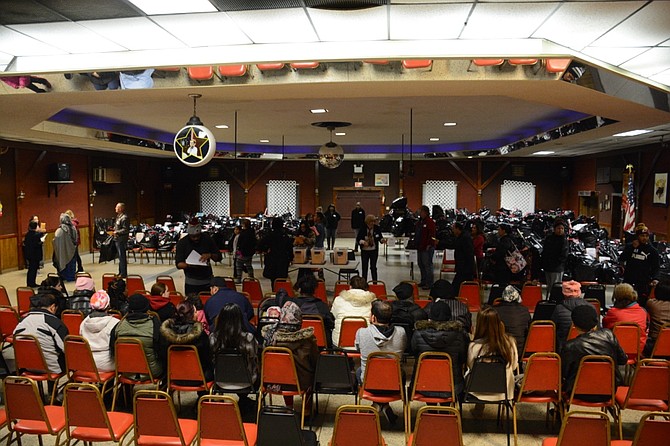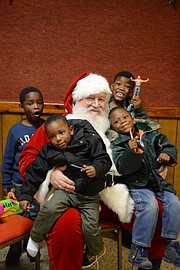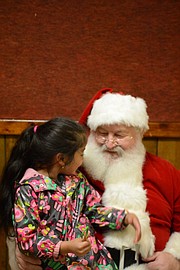 As Shareada Murray of Fairfax shepherded her four sons Ja'lil, Zion, Angelo and Avery around the Moose Family Center in Lorton, she could feel Christmas was coming.
The Murrays were among 254 families that would come through the center in the late afternoon on Dec. 18 to receive Christmas packages of donated food, toys and gift cards -- all organized by the Lorton Community Action Center (LCAC).
"It means the world, we wouldn't be able to get these things without them," Murray said.
The Murrays also make use of the LCAC food pantry and donated Thanksgiving baskets. They were able to get a live Christmas tree through another local organization.
"This means everything to me," said Murray, "that my boys can have a regular Christmas. I don't know if we'd have as much otherwise."
In 1999, LCAC executive director Linda Patterson said they served just 65 families in need.
"I think there is more need," she said, "and more people know about us."
Many of the LCAC clients who sign up for Christmas packages are not homeless and are working, "but not working enough," Patterson said.
"If they use their funds to pay rent, utilities, keep their families fed," she continued, "if this is the one thing they can't afford, if it fills in the gap, I think that's awesome."
Minnie Ponce of Lorton was all smiles as her daughter Mikiala Reyes sat beaming on Santa Claus' lap in the Moose Center.
"I don't have much work, I can't afford a lot of presents," Reyes said. "I come every year for this program; we're so thankful for it. It's really great for my children."
Patterson said volunteers from LCAC delivered packages -- each contains at least two gifts per child, one to two boxes of food per family, two gift cards per teenager and grocery store gift cards -- to an additional 168 families earlier in the day on the 18th. And they helped another 18 military families with food and gifts as well.
In total, Patterson said, they helped more families than with their Thanksgiving baskets program, and beat last year's Christmas baskets. LCAC received around $80,000 in non-cash donations to make it all work.
"I don't know what it is about the Lorton community," Patterson said, "but they always seem to come through, they're always very generous."
Patterson said the Friday before the baskets pickup, she knew she was short on gift cards for senior citizens they were planning to help. She sent out an email blast to LCAC supporters for help. Immediately, the gift card problem was remedied.
"We're really grateful," Patterson said. "This community always astounds me, it's heartwarming."
Jimmy Noone, current Herndon resident but formerly of Lorton, has been volunteering with LCAC and the Christmas baskets program for more than 15 years. On the 18th, he helped carry the black trash bags of presents and food to clients' cars.
"When the clients see us, they're shocked by the work we do," he said. "To see the smiles on kids' faces when they see the bags of gifts, today makes the months of planning and preparation make sense, to see the end results."
For more information, visit www.lortonaction.org.