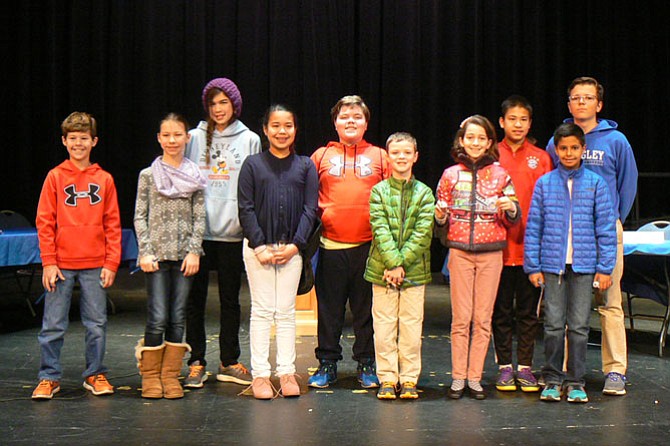 Ten students in grades 4-8 at The Langley School tested their geographic knowledge during the first round of the 28th annual National Geographic Bee on Jan. 14. After the students tackled a series of challenging questions, Langley crowned its 2016 winner, seventh-grader Chris Stewart, who won the school's competition for the second straight year.
Sponsored by the National Geographic Society, the opening round of the National Geographic Bee is held in thousands of schools across the country and is the first step toward naming a national champion. During Langley's competition, contestants were challenged with oral and written geography questions, ranging from the locations of national parks to the names of European cities.
As Langley's winner, Chris advances to the next level, a written examination to determine state competitors. The top 100 scorers on this written exam from each state will then face each other in their statewide Geographic Bee, with state champions eventually competing for a $50,000 college scholarship in the national competition in Washington, D.C. in May 2016.
Last month, all of Langley's fourth- through eighth-grade students were given a preliminary qualifying test prepared by the National Geographic. The two top-scoring students in each grade were then selected to participate in Langley's school-wide Bee.
Students who competed in Langley's Geography Bee on Jan. 14 included: eighth-graders Manu Kini and Jackson Merrick; seventh-graders Bela Aguilar and Chris Stewart (champion); sixth-graders Soud Al-Saif and Keira Cornwell (runner-up); fifth-graders Adrianna Leckow and Jack Nelson; and fourth-graders Nasma Doyle and Tom Weed.