Ox Road Estates
Adare Drive
An infill project of ten single-family homes is under construction.
Park Pointe Subdivision
East side of Gambrill Road, near the Fairfax County Parkway
Development has started on 18 single-family homes spread across 7.7 acres. Paving should be taking place this spring, weather-permitting.
Corbet Manor
Around 7717 Gambrill Road
Seven single-family homes are going into 4.5 acres of what were previously unconsolidated parcels of land. The project has been approved, but construction is pending.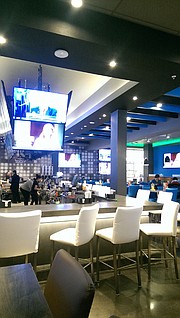 Laurel Hill Adaptive Reuse Area
8400 Lorton Road
A mix of elected officials, county staff, community leaders and project managers broke ground on a $188 million two-phase redevelopment project of the Laurel Hill area, formerly used by the Lorton prison system. The 80-acre site is set to be built up with 165 apartments, 107 homes and increased infrastructure in the first phase, and additional condos, apartments, and 110,000 square-feet of retail space in the second phase.
Monopole in Clifton
Around 12895 Clifton Creek Road
The Clifton Creek substation of Dominion Virginia Power already has a monopole on a 95-acre site around 12895 Clifton Creek Road, however Dominion and Verizon Wireless have applied to move the pole to a different location with more height. The plan was recommended for approval by the Planning Commission on June 17. The Board of Supervisors approved the plan July 28.
Springfield Town Center
6500 Springfield Mall
Since January 2015, another 30 shops and restaurants occupying 87,000 square-feet have joined the 1.35 million square-foot retail space of Springfield Town Center, according to owner Pennsylvania Real Estate Investment Trust. Some of the newest tenants include Nordstrom Rack, Francesca's, Finish Line, New York and Co., Wood Ranch BBQ and Grill and Dave and Buster's, which opened Dec. 21, 2015. The renovated shopping destination reopened in October 2014 after years of decline as the Springfield Mall. Later stages of redevelopment planning for the area include residential, office and hotel space. But their execution will be dictated by market performance of the Springfield Town Center market. A release from PREIT said another 73,000 square-feet of space is already committed for 2016.
New Retail at 9027 Silverbrook Road
Adjacent to the CVS-anchored shopping center on Silverbrook Road, a 12,000 square-foot space for additional retail is under construction at 9027 Silverbrook.
Vulcan Materials Graham Quarry
10000 Ox Road
Vulcan and the Fairfax County Water Authority have proposed repurposing the quarry as a reservoir to hold between 16 and 17 billion gallons of water. This requires a rezoning and zoning exception, which the Board of Supervisors approved at the group's June 2 meeting.
Woodglen Lake Dredging
Southeast of Sideburn Run and Zion Drive
The project began with fish relocation to Lake Accotink in November 2014 and is now mostly complete, save some additional planting and clean-up work.
Sources: Supervisor John Cook (R-Braddock) and land use aide, Supervisor Pat Herrity (R-Springfield) and land use aide, Supervisor Jeff McKay (D-Lee) and land use aide.