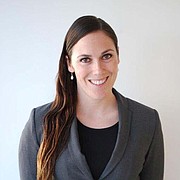 Meghan Trossen, a native of McLean, is the new programs director at Tysons Partnership.
She will lead the management of Tysons Partnership Sustainability Council, Emerging Leaders Council and Community Responsibility Council.
Her professional experience includes service as director of U.S. Operations for the Economic Growth Initiative-Haiti, a business accelerator and community development organization in Port-au-Prince; and seven years managing philanthropic partnerships for global nonprofits, including The Pew Charitable Trusts and the United Nations Foundation. She holds a B.S. in Business Administration from Virginia Tech, and an MBA from the University of Notre Dame, where she served as chief administrative officer for the Mendoza Business School's Business on the Front Lines program in Indonesia.
Tysons Partnership is the association of civic and business leaders working with County Government to transform Tysons into a 21st-century downtown that is sustainable, pedestrian friendly, and rich with live-work-play amenities. www.tysonspartnership.org.