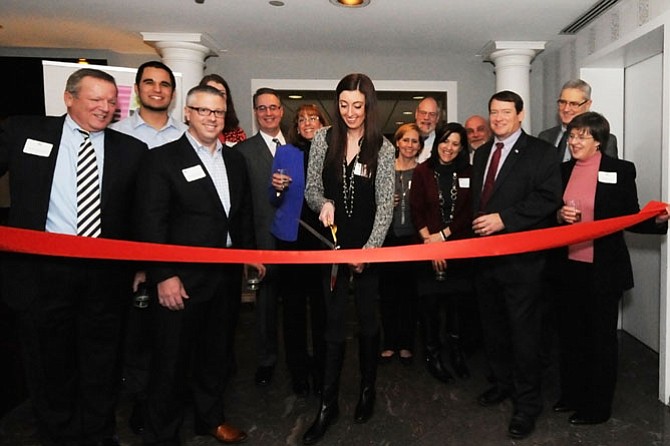 When Nikki Ferraro was just 17, she was diagnosed with a rare form of thyroid cancer. Since then, she's fought it hard while also reaching out to help other teenagers battling the same disease.
While still a student at Chantilly High, she organized a Relay for Life team and raised $20,000 for the American Cancer Society. Later, she and her parents formed the nonprofit Bite Me Cancer Foundation (BMC), www.bitemecancer.org, to support teens with cancer and raise money for thyroid cancer research grants.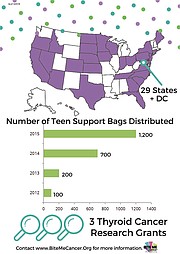 That organization has grown so much and become so successful that it's outgrown her parents' home in Chantilly's Armfield Farm community. And on Jan. 21, Nikki Ferraro and others cut the ribbon on BMC's new headquarters in the AFCEA building in Fair Lakes. The ceremony was also part of the group's observance of Teen Cancer Awareness Week in Virginia, which BMC initiated in 2014.
"I'm so happy and proud that we now have an office space of our own," said Nikki Ferraro, now 23 and a resident of Arlington. "We've been successful since we began in 2010 and have been growing quickly, especially with our Teen Support Bag program. We needed a storeroom, an assembly room and a more efficient shipping system. We get all of that here."
According to the National Institutes of Health, thyroid cancer is the third most diagnosed cancer among children ages 15-19 in the U.S. So BMC has also raised more than $160,000 to fund three, thyroid cancer research grants. It's partnered with the American Thyroid Association which directs the grant program. The first two recipients were doctors at the M.D. Anderson Cancer Center in Houston and at Memorial Sloan Kettering Cancer Center in New York; the third grant will be awarded this spring.
Throughout her own diagnosis, surgery and ongoing cancer treatment, Nikki Ferraro discovered there were several programs for children and adult cancer patients, but little geared specifically toward teenagers. So since September 2010, BMC has donated support bags to hospitalized teen cancer patients. They each contain a stress ball, Bite Me Cancer baseball cap, journal for writing and drawing, water bottle, iTunes gift card, USB drive, game book and a Bite Me Cancer car magnet.
Since its inception, the support-bag project has served more than 2,200 teenagers in 70 hospitals — including Inova Fair Oaks and Inova Fairfax — in 29 states and the District of Columbia. With about 50 volunteers total, BMC sends as many bags as each hospital requests.
"In 2013, we gave out 200 bags," said Nikki Ferraro's mother, Sharon, a BMC board member. "So in 2014, we expected to deliver 400 — but we did 700. Our goal for 2015 was to deliver 1,000, but we did 1,200 and outgrew our house. We assemble the bags and then pack 10 per box. With all those packing boxes, bags and 10-15 volunteers at a time putting them all together, the house was just a big assembly line."
BMC also doubled from serving 35 hospitals in 2014 to 70 by the end of 2015. "We call the hospitals or send informational postcards to their Child Life departments to tell them what we have to offer," said Sharon Ferraro. Noting how much the support bags mean to the teen recipients, she said, "One family told us their daughter was in the hospital a month and never smiled until she got our bag."
Meanwhile, a chance meeting at a Greater Reston Chamber of Commerce event early last year led to Sharon Ferraro meeting Nancy Temple – who's in charge of finding tenants for AFCEA's building. "She mentioned they were looking for tenants, and I told her we'd been daydreaming about a room where we could assemble the bags," said Sharon Ferraro. "So she suggested my husband Michael and I come see what they had available."
AFCEA International works with military, government, industry and academia to advance global security, and its local headquarters is at 4400 Fair Lakes Court. There, Temple showed them Suite 40, which has an office, kitchenette and small storeroom.
"She also showed us their board rooms, huge mailroom and their community lounge where we could assemble the bags on weekends and at night," said Sharon Ferraro. "We didn't think we could afford it, but Nancy worked with her staff and was able to offer us a discounted rate because AFCEA really wanted us there."
"AFCEA is delighted to have Bite Me Cancer as a tenant in our headquarters building," said Temple. "We're impressed with their outreach, growth and many volunteers who participate on their committees, as well as all those who help create the bags for distribution. AFCEA appreciates the opportunity to facilitate this wonderful cause. Nikki, Sharon and Michael have an incredible passion for what they do, and it's wonderful to witness the efforts of the team that supports them."
Thrilled with BMC's new digs, Sharon Ferraro said, "We have tons of requests for the support bags, but we have to raise the money to buy the items for them and then to pay for shipping by UPS. Each bag costs about $65 to fill and ship, and AFCEA is giving us its corporate discount on shipping and letting us use its mailroom."
"It makes us more efficient, saves us money and keeps our inventory secure because it's now shipped to the inside of an office building, instead of to our front steps," she added. "AFCEA even allows us to use its board rooms for meetings, so we can do everything all in one place. It's very community-oriented and really wanted to help us."
As for Nikki Ferraro, after graduating from Chantilly High in 2011, she got a degree in marketing last May from JMU. She is employed with HITT Contracting Inc. in Falls Church. And she's also attending the Leadership Arlington Young Professionals Program, which trains young leaders.
Since there's currently no cure for thyroid cancer, Nikki Ferraro always has to be on some form of treatment. She's been on oral chemotherapy for the past 14 months and is feeling good. She's also delighted with BMC's continued success.
"It means the world to me that I can help other teenagers get through such a challenging situation," she said. "And if I can be an inspiration to any of them, that's great."
To learn more about Bite Me Cancer or opportunities to volunteer, see www.bitemecancer.org or email info@bitemecancer.org. Written correspondence, donations and requests for Bite Me Cancer Teen Support Bags may be mailed to Bite Me Cancer, 4400 Fair Lakes Court, Suite 40, Fairfax, VA. 22033.