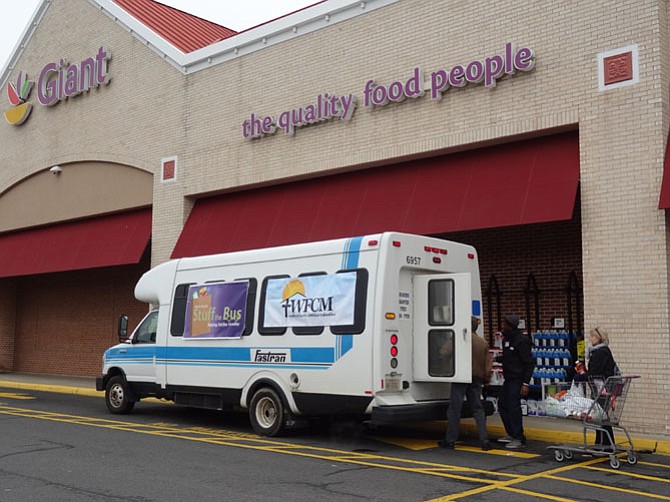 Western Fairfax Christian Ministries will be a recipient of the "Stuff the Bus for Fairfax" food drive which will be held Saturday, Feb 6, 9:30 a.m.-4:30 p.m. at the Clifton Giant, 5740 Union Mill Road.
Hunger is not just a problem during the holidays — one in five children struggle with hunger in Fairfax County every day. During the fall and holiday season, Western Fairfax Christian Ministries' food pantry is overflowing with donations from the community. By February, its supplies are often running low, even though the need for food is still great. Stuff the Bus will help WFCM keep its shelves stocked for those who need help feeding their families.
Last year, shoppers donated many items of food and personal care items most urgently needed food for WFCM clients. "We received many items that are staples on our shelves year round including oil, sugar, canned meats, canned fruit, rice and dry beans, peanut butter and jelly," said Terri Kelly, WFCM's Food Pantry manager. Additionally, the Clifton Giant store managers and employees pre-bagged some items for sale during the event to make it easier for shoppers to donate food.
"We are very thankful for our community's support of WFCM. We could not do this work without the generosity of our community and the support of so many who partner with us to serve families needing assistance," said Jennie Bush, WFCM's community outreach manager.
Fairfax County's Neighborhood and Community Services and Office of Public Private Partnerships (OP3) and MV Transportation, Inc. helped to create the Stuff the Bus Food for Fairfax food drives to address this great need in the community. Chantilly High School SGA and Centreville Baptist Church Relevance Community Group have recruited volunteers to help with the drive.
Suggested items to donate at the Stuff the Bus food drive include: canned fruit, canned meats (tuna, chicken, beef stew, salmon), rice (1-2 lb), dry or can beans (kidney, black, pinto, etc.), oatmeal or cereal, baking needs: cooking oil (24-48 oz), sugar (2-5 lb), and flour (2-5 lb), juice (64 oz or less), canned tomatoes, peanut butter and jelly/jam, and canned vegetables (potatoes, beets, spinach, mixed vegetables).
For a full list of food and personal care items needed for the food pantry, visit www.WFCMVA.org and click on the Stuff the Bus link.