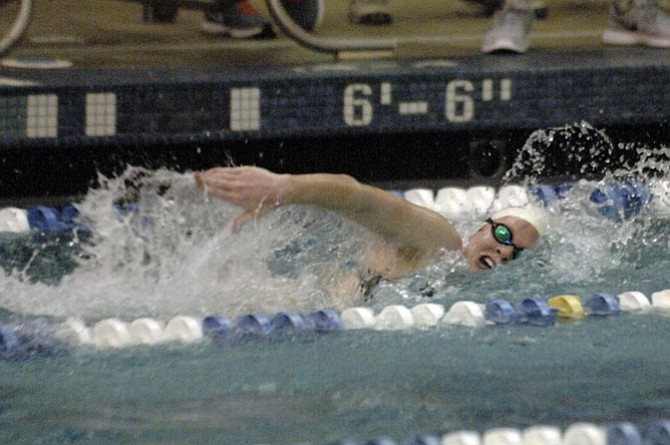 For years, the Yorktown swim program dominated the National District, piling up championships against inferior opponents.
Prior to the 2013-14 season, the Patriots moved to Conference 6 as part of the VHSL's six-class re-alignment. The transition meant Yorktown would compete against some of the top program's in the region.
After two years of coming up empty, the Patriots on Monday took home a title.
The Yorktown girls' swim and dive team won the Conference 6 championship on Jan. 30 at Washington-Lee High School. The meet was condensed into a one-day timed finals format due to snowstorm-related school closures.
The Patriots had enough depth to win the team title despite not winning an individual event or relay.
"On the girls' side, I think it was an overall group effort," Yorktown head coach Claire Shreeve said. "A lot of kids just ended up scoring points throughout. I don't think we had any first-place wins, but it was the fact that every girl went out and got us points for the group win."
Defending state champion Langley finished runner-up, followed by McLean (third), South Lakes (fourth), Fairfax (fifth), Madison (sixth), W-L (seventh) and Hayfield (eighth).
"It's different dominating the National District and being handed it every year [and] kind of expecting it," Shreeve said. "... It's more exciting ... beating teams that ... are legit powerhouses, like Langley and Madison."
Senior standout Suzanne Dolan placed fourth in the 200-yard freestyle (1:55.65) and third in the 100 backstroke (59.62). She helped the 200 free relay (freshman Kayle Park, sophomore Emily Brooks, senior Katherine Lundy, Dolan) place second (1:39.08), finishing two-tenths of a second behind Langley, and the 400 free relay (Park, Brooks, senior Elizabeth Romano, Dolan) finish fifth (3:42.77).
Dolan (no relation to Olympic gold medalist and 1993 Yorktown graduate Tom Dolan) is the defending state champion in the 50 free and the 100 breaststroke. Shreeve said Dolan decided to swim different events at Saturday's conference meet.
"She's a hard worker and naturally talented," Shreeve said about Dolan. "She takes the sport seriously, but she ... also has fun with it."
Park placed fourth in the 200 IM (2:10.29) and third in the 100 free (53.8) for the Patriots. Sophomore Hannah Karlin placed third in the diving competition with a score of 314.7.
Washington-Lee senior Bryn Edwards won the 100 breaststroke championship with a time of 1:04.34, providing the Generals with their lone title of the evening.
"Bryn really gets excited to swim at our championship meets," W-L head coach Kristina Dorville wrote in an email. "She did outstanding, breaking her own W-L record, qualifying for states, and getting an All­American consideration time cut. Overall, she's a standout in the 100 breast and will have a strong presence at both regionals and states." In boys' action, Langley repeated as conference champion, followed by McLean (second), South Lakes (third), Madison (fourth), Yorktown (fifth), Washington-Lee (sixth), Hayfield (seventh) and Fairfax (eighth).
Yorktown senior Brady Almand placed third in the 100 breaststroke, setting a school record with a time of 58.01.
The Yorktown 400 free relay team of sophomore Jonathan Day, sophomore Nicholas Pasternak, senior Jacob Larsen and Almand tied for third, setting a school record with a time of 3:17.75.
The Yorktown 200 free relay team (freshman Sam Ellis, Pasternak, Larsen, Almand) placed second (1:29.68).
Day placed third in the 200 free (1:47.2) for the Patriots, and junior Jacob Kreider finished third in the dive competition (497).
W-L sophomore Jayapraka Kambhampaty took second in the 100 butterfly (51.81) and third in the 100 backstroke (51.56). Freshman Kai Green finished third in the 50 free (22.31).
Langley won each of the three relays and took home five individual championships.
"Fantastic," is how Langley head coach Ryan Jackson described Langley's performance. "The boys really showed up, ready to compete to defend their conference title from last year. They were really motivated, really excited and they did a great job across the board, every event."
Senior Carter Bennett, who signed a letter of intent to swim for the University of South Carolina, was a major contributor for the Saxons. Along with helping Langley win the 200 medley relay (1:35.19) and 200 free relay (1:27.96), Bennett won individual titles and set conference meet records in the 50 free (20.96) and 100 free (47.31).
"He's swimming great," Jackson said. "He's doing really well. This has been a really strong year for him. ... He's really, really stepped up his game the past couple years. It was funny, a couple years ago, he and I were talking and he's like 'You know, I like swimming but I don't know if I'm going to do it all the time' and now he's swimming Division I next year. He really has committed himself."
The 6A North region swim finals are scheduled for 5:30 p.m. on Saturday, Feb. 6 at Oak Marr.