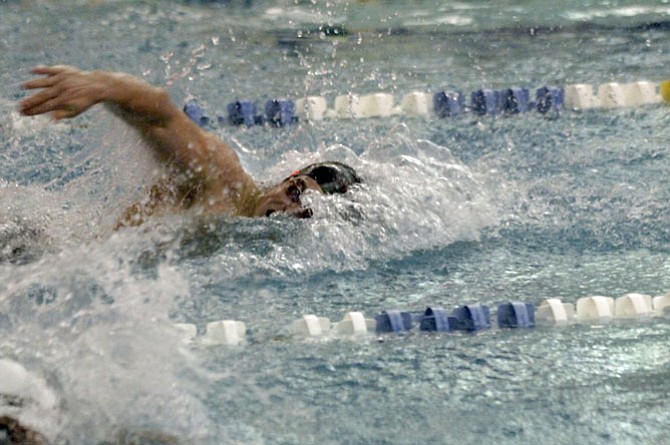 Carter Bennett's performance at Saturday's Conference 6 championship swim meet began with helping the Langley boys' 200-yard medley relay take first place.
After producing a pair of record-setting sprints and helping capture another relay victory, Bennett's evening ended with the celebration of a team title, as well.
The Langley boys' swim and dive team repeated as conference champion on Jan. 30 at Washington-Lee High School in Arlington. The meet was condensed into a one-day timed finals format due to snowstorm-related school closures.
The Saxons posted a score of 442.5, more than 80 points ahead of second-place McLean (357).
Langley won each of the three relays and took home five individual championships.
"Fantastic," is how Langley head coach Ryan Jackson described the Saxons' performance. "The boys really showed up, ready to compete to defend their conference title from last year. They were really motivated, really excited and they did a great job across the board, every event."
Bennett, who signed a letter of intent to swim for the University of South Carolina, was a major contributor for the Saxons. Along with helping Langley win the 200 medley relay (1:35.19) and 200 free relay (1:27.96), Bennett won individual titles and set conference meet records in the 50 free (20.96) and 100 free (47.31).
"He's swimming great," Jackson said. "He's doing really well. This has been a really strong year for him. ... He's really, really stepped up his game the past couple years. It was funny, a couple years ago, he and I were talking and he's like 'You know, I like swimming but I don't know if I'm going to do it all the time,' and now he's swimming Division I next year. He really has committed himself."
BENNETT has high expectations for regionals and states.
"I'm looking for hopefully first place in the 50, around 20.3 [seconds]," he said, "and then whatever I can do in the 100 ­­­ hopefully first place."
Langley also won the 400 free relay (sophomore Chase Bradshaw, junior Devin Truong, senior Justin Rose, sophomore Casey Storch) with a time of 3:11.83. Junior Ryan Ha, Storch and Truong swam with Bennett in the 200 medley relay, and junior William Wingo, freshman Adam Fischer and Rose swam with Bennett in the 200 free relay.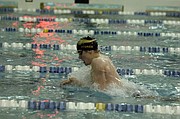 Storch won the 200 IM (1:50.69), Rose took home the 100 butterfly title (51.44) and junior Duncan Proxmire finished first in the 500 free (4:49.94).
Jackson said the Saxons are aiming for a top-three finish at regionals and states.
"Regionals, we're certainly going to try to give Robinson a run for their money," he said. "They're definitely the clear favorites."
The McLean boys finished runner-up, with strong performances by senior Christopher Murphy and junior Dorje Wu.
Murphy finished first in the 200 freestyle (1:42.89) and won the 100 backstroke title with a conference meet-record time of 51.33. Wu won the 100 breaststroke championship and set a conference meet record with a time of 56.57. He also placed second in the 200 IM (1:53.35).
The South Lakes boys finished third, followed by Madison (fourth), Yorktown (fifth), Washington-Lee (sixth), Hayfield (seventh) and Fairfax (eighth).
McLean (Murphy, junior Carter Flint, junior Peter Byman, sophomore Sam Gollob) placed second in the 200 medley relay (1:37.62), South Lakes (senior Johnny Micka, junior Benjamin Gryski, junior Tyler Ellis, junior Gianmichel D'Alessandro) finished third (1:38.91) and Madison (sophomore Jack Galbraith, sophomore Ian Cobb, junior Abraham Zimmerman, junior Jackson Ayers) took fourth (1:39.22).
McLean (Wu, senior Andrew Carro, Flint, Murphy) took second in the 400 free relay (3:14.86). Madison (freshman Kyle Wu, freshman Cole Dyson, Galbraith, Zimmerman) tied Yorktown for third (3:17.75) and South Lakes (sophomore Jack Edgemond, sophomore Matthew Beach, junior Michael George, junior Tyler Ellis) finished fifth (3:21.71).
In the girls' competition, Yorktown won its first Conference 6 championship. Langley finished runner-up, followed by McLean (third), South Lakes (fourth), Fairfax (fifth), Madison (sixth), W­L (seventh) and Hayfield (eighth).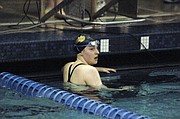 Langley junior Isabella Rongione won the 200 free (1:51.26) and 500 free (4:53.11). She won state titles in the two events as a freshman in 2014 and finished runner-up last year.
"She's about at that same (freshman) level," Jackson said. "She really had a breakout year her freshman year but she's been sort of very consistent from that point."
Langley junior Michelle Owens finished third in the 200 free (1:51.67) and second in the 500 free (5:00.27). Junior Joanne Fu won the 100 butterfly title (56.09).
The Langley 200 free relay (senior Micaela Grassi, junior Celeste Pace, Rongione, Owens) finished first (1:39.06).
The Saxons graduated a pair of now-collegiate swimmers, Amy Owens (Army) and Fiona Muir (Emory), from last year's state championship team.
"We've got a lot of youth on the girls' side and we certainly have some talent on the top end, like in the [200] free and the [500] free ... but after that it kind of drops off," Jackson said. "We just definitely don't have the depth on the girls' side that we do on the boys' side to be so dominant. The girls swam well, just not well enough."
MCLEAN won the 200 medley relay (senior Veronica Wolff, junior Claire Wolff, junior Elizabeth McCulla, senior Sinead Eksteen) with a time of 1:47.48, and won the 400 free relay title (McCulla, Veronica Wolff, junior Elena Summers, Eksteen) with a time of 3:33.2.
McCulla won the 200 IM championship with a time of 2:06.33. Eksteen broke the conference meet record in the 100 backstroke with a time of 57.78, but finished second to Madison sophomore Madeline LaPorte (57.71).
McLean senior Delaney Gallagher finished runner­up in the diving competition (385.05).
"After all the canceled practices because of the blizzard, the team really responded well and exceeded expectations," McLean head coach Kyle Drake wrote in an email. "It isn't easy with the number of days off to be able to get in and compete at a high level, but we pulled it off. Over 75 percent of our swims were season bests and a number of athletes achieved personal bests. I am really proud of their effort and performances on Saturday."