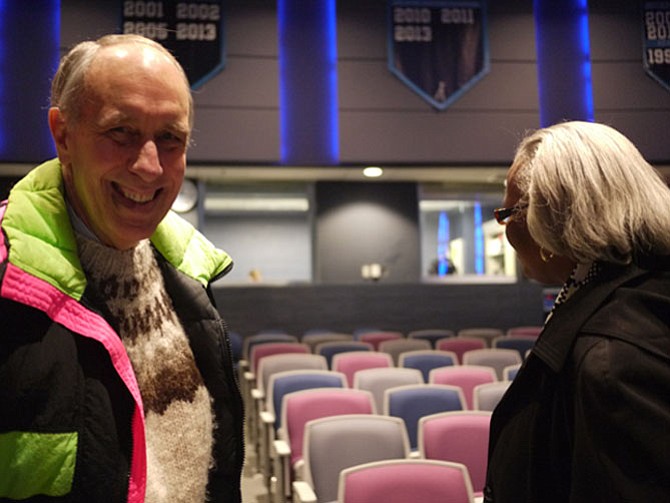 What Can Residents Do?
Comment on the draft.
Show up at upcoming meetings.
Start a shop local campaign or join a civic association.
Get involved in the historic preservation for the area.
For more information about the Lee Highway Visioning Process go to: arlingtonva.us/leehighway. The draft "Vision Study Document" is on the Lee Highway Community Visioning Study website, at arlingtonva.opencomment.us/lee-highway-draft-community-vision.
The concepts of "Complete Streets," "New Urbanism," pop up parks, and TDR's were new to many of the 183 residents gathered at Yorktown High School on Saturday, Feb. 6. But the biggest single hot button for the residents who sat for more than two hours reviewing the draft plan for upgrading the Lee Highway corridor was the idea that Lee Highway would have less than its current two lanes of traffic in either direction. It was not just the loss of a lane, it was the concept of increased density of population in areas where no Metro Station is within walking distance. One recently married couple said they were debating whether to live in Arlington or Fairfax: this meeting had swayed them heavily towards Fairfax.
"Who likes change?", asked Bill Blaswell, of the Neighborhood Conservation Advisory Committee. "No one."
Representatives of the firm Dover, Kohl, & Partners, town planning consultants based in Florida, spent most of the morning going over the draft plan. Cautioning that this was an initial draft, they noted they had made recommendations based on previous charettes and public input, and that they were presenting the draft as an empowering document for citizens to use. Any major change to the Lee Highway corridor would come in the form of an "ultimate public/private partnership" because there would not be federal money or other large pots of dollars to make it happen.
Rick Hall, one of the presenters who specialized in transportation and who called himself a "recovering traffic engineer," said residents bemoaned the loss of walkability and livability in Arlington. The concept of "complete streets" is therefore one of the "asks" of the local community, and that means bringing all modes of transportation back so the car is not the only option. To add bike lanes and trees, he noted, there would have to be a reduction in the Lee Highway car space, proposing in the draft a three-lane road which used the center lane for turns and therefore cut part of Lee Highway's current four-lane profile. Electrical distribution would either have to be moved back from the street by a block, or go underground, a more expensive option.
In another review of one of the major "asks" of local residents during the charrette, one planner reviewed the need for more parks and gathering spaces. Residents had complained it was a long walk to get to the places they want to be: the goal is therefore to add more such public spaces closer to where people live.
Another issue was how to get to those spaces. Biking and circulator buses were options.
Another speaker addressed how to create a "complete community" as well as complete streets? Improving the look of Lee Highway should not come at the expense of affordability for small businesses and housing.
Planners noted that at the rate Arlington is growing, 23,000 units of affordable housing would be needed by 2040. Eleven percent of those are expected to be in the Lee Highway corridor. Some properties currently owned by the county or by local churches could be used for more high-density housing, including some age-in-place developments, using the concept of "bonus density" where a portion of units built by developers must be affordable.
The planners said they had heard a strong priority voiced by local residents who value the affordable commerce in the area. They believed the increased walkability of the area will favor local business but they would also use the concept of bonus density, again, to keep low rent for local business.
Presenters stressed the commitment any future design would have to keeping local businesses in the corridor. They noted parking was at its maximum in the shopping centers around the corridor right now, and a public/private partnership for constructing a parking garage might be a good option to enable more parking on less space. They also encouraged residents to consider a shop local campaign keeping money in local businesses, along the lines of the "Austin Weird" campaign.
Economic vitality and long-term sustainability were invoked during the morning, along with improved infrastructure, mixed use buildings, and walkability. Alternative zoning approaches were recommended to streamline the development approvals process. The current site plan process is too onerous for small properties who should be able to bypass such a costly process. And again, they urged exploring the need for direct incentives for building upgrades, and evaluating TDRs to protect small business.
Arlingtonians, according to the planners, were most interested in multimodal transportation, walkable streets, open spaces, gathering places, affordable housing and economic vitality. Historic preservation was less of a priority, according to their data.
In an electronic poll of the attendees, the planners asked if residents thought they were on the right track (60 percent did), 27 percent answered "probably", and 10 percent were not sure. Three percent answered "no." Asked how they liked the draft vision, 87 percent liked it, four percent were indifferent, and nine percent said they didn't like it. Planners acknowledged there is more work to do, and that they need to hear from those who don't like the plan.
When the meeting opened up for questions, John Holder, a resident, asked whether the plan was to turn Lee Highway into another Connecticut Avenue. "Lee Highway is not pretty, but it is functional," Holden said. "People can drive up to where they need to go. They can park. Are there any reliable estimates on how much additional traffic will be generated by this kind of extensive development? Why not just plant some more trees? What is in it for us to create density in these areas?"
Dave Gelman, of the Yorktown CIvic Association, said, "I like it a lot; but not sure you are on the right track: this is an exercise in balance. Lee Highway must remain two lanes on both sides."
Jim Hurysz, of Fairlington, weighed in on his concern that Columbia Pike was developed using the same principles: the mixed use mess that resulted has not been what he and his neighbors wanted.
Other residents reiterated a concern that development might be a replication of Columbia Pike. "Ivy Welding is the only welding shop in the county; would it survive?" If "New Urbanism" is the only tool in the toolbox, this sounds just more of the same kind of design and development, and just an opportunity for out of town real estate developers to make money, said Hurysz and others.
Kerry Johnson, who said she goes to Lee Highway a lot, mostly to spend money, felt a facilities study needed to be incorporated in this planning process. The county's needs for public infrastructure have to be included. Except for a fleeting reference to Fire Station 8, no one has addressed bigger parks, medical services, and schools for a denser population. And if Lee Highway turned into a bottleneck for traffic, those who shop there now would stop. Edith Gravely said the plan was impressive, but pointed out Lee Highway is the emergency exit corridor for any ordered evacuation.
Ginger Brown, of the Lee Highway Alliance, noted Lee Highway would grow, whether it's planned or not.
And Bill Blaswell, returning to the idea that people don't like change, noted that some of the buildings which had sprung up in Arlington recently, like the Avalon and Mom's Organic Market, were built outside the "planning process" because they could be done "by right", meaning, if they met the zoning and code requirements, they could be built. Blaswell advocated for a more comprehensive plan like the one being presented, rather than continue to let Arlington evolve "by right".
Other residents said they were impressed with the process, the fact that 15 civic associations were at the meeting, and that this is just a draft proposal and is still open for comment. Molly Lowndes of High View Park said she was disappointed in the low priority put on historical preservation but felt it was because people are not educated about what those potential historical spots are.
Nancy Iacomini, head of the Planning Commission, reiterated the strong feelings of residents about the history of the area, including Fire Station 8, which was a "turning point" for the community, a building around which much of local social community had turned.
The meeting was attended by County Board members, including Libby Garvey and John Vihstadt. Community Planning, Housing, and Development Director Steve Cover, and most of the planning commissioners, were also there.
Residents filed out into the hallway after the presentation to look at graphics, and once again, leave sticky notes with their comments on the poster boards. Residents, aside from being wary about the Lee Highway traffic and whether their house would be affected by moving electrical lines back a block, also talked among themselves about the need for a more aggressive, green approach to the planning process. Solar energy panels were not incorporated into the design, for instance. Several noted the jargon of "New Urbanism" has gotten old. Edith Gravely noted the the need for younger planners: "Let's get some younger people involved in planning this area; we won't be around in fifty years, but they will."
Residents have until Feb. 18 to comment on the draft plan.