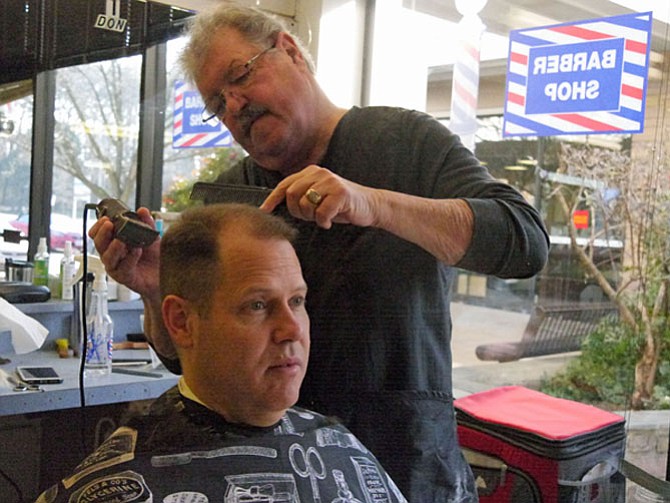 Fred Murphy walks through the door of the barber shop on his way to the post office and sits in the first chair by the window. Barber Don Eden says, "usual trim?"
"Oh yeah, it has been bothering me in the eyes." Eden says it takes about 10 minutes to do a haircut and he does 30-40 on a weekend. Shaves are different. He can have a couple of customers in a day or in a week. "It just depends. You never know."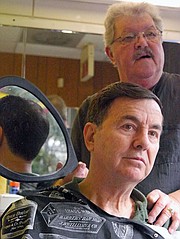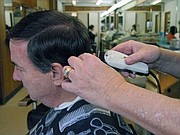 Eden flips the black plastic cape stamped with a barber tools design around Murphy's shoulders and fastens it around his neck. Eden runs his long black comb through Murphy's hair and cuts it off section by section with the clippers. He says, "Times have changed. Men used to get a haircut once a week before the Beatles came in and all that. Now it's more like every 5-6 weeks." Appointments at Bradlee Barber Shop are just "stop in," no appointments. "Appointments give us trouble because people can be running late and then the person behind them gets mad because they have to wait."
Eden has been a barber for nearly 50 years. But he says it's hard to stand all day now since he had his recent knee replacement. He adds that his two younger brothers were barbers, too. Eden says he wasn't doing too well at Groveton High School in Alexandria "so they evaluated me for a trade. They said I could do anything with my hands and I didn't want to be a car mechanic." So he went to Alexandria Barber School on King Street in 1964. Eden adds, "they bought my tools and everything to get me started, probably about $100 back then. It helps a lot of people."
He has seen a number of hair styles come and go. Back in the '70s and '80's there was more hair styling with shampoos. Hair was a lot longer, halfway on the ear. Then there was the crew cut. "Those just take five minutes." Now most people just want a regular cut medium off the ears with square back. He lathers Murphy around the ear, then shaves the side with a straight razor, the "old-fashioned way."
Murphy comments, "I have had the same hair style for 50 years, low maintenance." He says he doesn't even need a comb, can just run his fingers through his hair. Murphy jokes with Eden, suggesting he should go back to the days where there was a fridge in back with beer and a pool table for people who are waiting.
Eden says he has some kids come in on weekends but "they don't get their hair cut like they used to. They want long hair so they can flip their head." Some of them want "the fade," short on the sides and long on top. They get ideas from TV and movies and want that style. "There aren't many barbers anymore. They are fading away."
Eden brushes hair off around Murphy's face with his neck duster. Sometimes he uses a vacuum. "Looks a little better, huh?" Five minutes later Brent McBurney sits in the same chair. He is on his way to two human rights conferences in Thailand and Australia and has come to get his hair cut before he leaves. "So 1-1/2 inches and a little bit off the top?" McBurney has a little finer hair than the last customer. McBurney says he has been coming to Bradlee Barber shop since 1995 when he moved to Alexandria. He recalls when his 7th grade son had his first haircut at 2-years-old. "He sat in the chair with tears running down his face, but didn't make a sound."
Eden and McBurney agreed that men don't come in to get Valentine's haircuts like women might have their hair fixed for the occasion. "Just give them flowers and a good dinner and you are set, " Eden says.