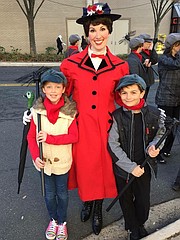 With magical playfulness and practical common sense all charged up with about 30 unforgettable musical numbers, such as "Supercalifragilisticexpialidocious" and "Chim Chim Cher-ee," be ready to welcome the next Reston Community Players production, "Mary Poppins, the Musical."
"Mary Poppins, the Musical" weaves together characters from the original children's books by P.L. Travers with the well-known Disney movie to tell the story of a charming nanny who changes the lives of the Banks family and their rebellious children by imparting valuable life-lessons. The original Broadway production of the Walt Disney and Cameron Mackintosh "Mary Poppins" with book by Julian Fellowes ran for over 2600 performances over six years finally closing in 2013. It received seven Tony Award nominations including for Best Musical.
The Reston Community Players production is directed by Wade Corder. Musical direction is by Northern Virginia's Dana and Jim Van Slyke with choreography by Andrew Heininge. Along with a cast of about two dozen performers, there will be a ten-instrument band that will fill Reston's CenerStage with delight and love.
Shaina Murphy is featured as the character Mary Poppins. For Murphy, her character is "eternal and magic, yet strong and principled. She likes to be silly and tease. Many of the times when the words coming out of her mouth seem stern or stuck up she is actually teasing those around her."

Poppins also tries to remind everyone "to not take themselves so seriously. That the world is much bigger than they are," according to Murphy

A jack-of-all trades in "Mary Poppins" is Bert, played by RCP newcomer Duane Monahan. "Bert is the character that helps tell the story of the Banks family and serves as a willing sidekick to Mary Poppins in her quest to mend the broken/disjointed family. Through Bert's interactions with the Banks' children and Mr. Banks, the audience will hopefully realize that anything can happen if you let it."
"Mary Poppins, the Musical" is an irresistible musical that can help everyone find a path back to the innocence, joy and the true magic of childhood, said Murphy paraphrasing Mary Poppins.
Richard Schneider, "Mary Poppins" producer and scenic designer wouldn't give away secrets, but said "the audience will be in store for plenty of magic from the sound, lights, props and costumes." It is show for everyone, children and adults.
Remember as Mary Poppins flies on Reston's CenterStage, "Anything can happen if you let it."
Where and When
Reston Community Players present "Mary Poppins, the Musical" at Reston CenterStage, Reston Community Center, 2310 Colts Neck Road, Reston.
Performances Feb. 19-March 12. Feb. 19, 20, 26, March 4, 11 at 8 p.m.; Feb. 27, March 5 and 12 at 2 p.m. and 8 p.m. and Feb. 28 and March 6 at 2 p.m.
Tickets: Adult $25; Senior/Student $20.
Call 703-476-4500 or visit www.restonplayers.org.
Note: The matinee performance on Feb. 27 will be sensory-friendly to create a performing arts experience that is welcoming to all families with children with autism or with other disabilities that create sensory sensitivities, especially for startling or loud noises; the freedom for guests to talk, leave their seats, or move around during the show; low level house lights throughout the performance; a designated quiet room adjacent to the theatre; trained staff and volunteers; and a judgement free environment that is welcoming to all patrons.
Note: In addition RCP will offer audiences the opportunity to join the "Mary Poppins" cast on stage to learn a dance from the show in a special master dance class to learn "Supercalifragilisticexpialidocious" on Sunday, March 6, immediately following the 2 p.m. performance. Dancers need not attend that performance to join the master class. Just $10 to join in.