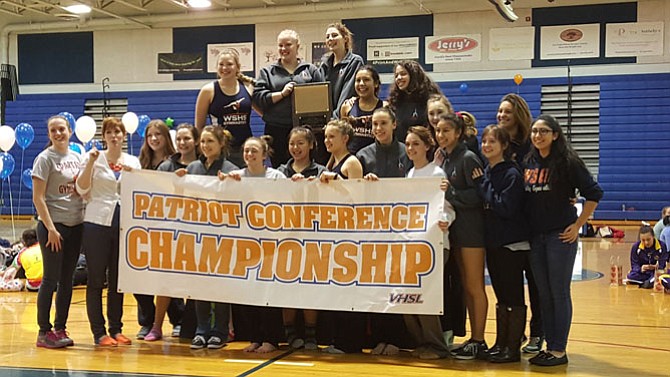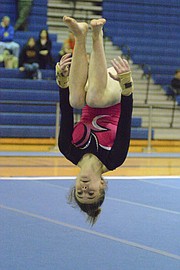 West Springfield sophomore gymnast Abbie Levine described her average vault performance as "kind of iffy sometimes." Freshman teammate Hannah Dotson was nervous about throwing a new vault during competition.
The Spartans' top two gymnasts entered the Conference 7 championship meet with uncertainties regarding vault. By the end of the night, however, Levine and Dotson each medaled in the event and helped West Springfield end an eight-year title drought.
Levine placed first on vault, Dotson took third and the West Springfield gymnastics team won the program's first conference/district championship since 2007 on Feb. 4 at West Potomac High School.
The Spartans produced a first-place score of 143.2 and qualified for regionals. Lake Braddock earned the conference's other regional berth, finishing runner-up with a score of 141.95.
"I knew day one when I saw this team that we could do it," West Springfield head coach Diana Edgell said, "and that has been the goal all year long, so I am thrilled."
LEVINE, a former Level 9 club gymnast at Capital Gymnastics, received a score of 9.5 on vault while throwing a Tsukahara pike. She said she was surprised by her performance, which turned out to be part of a stellar overall effort.
Levine won the conference all-around title, finishing with a score of 37.525.
"I had a really great meet, personally," Levine said. "I was surprised by it."
Along with her first-place finish on vault, Levine won the conference beam championship (9.2), placed second on bars (9.4) and tied for second on floor (9.425).
"Abbie is fearless," Edgell said. "She will go for it and the pressure just makes her better. She has risen to the occasion time and time again."
Dotson, also a former Level 9 club gymnast at Capital Gymnastics, placed second in the all-around with a score of 36.725. She finished third on vault, scoring 9.3 with a tucked Tsukahara despite throwing it for the first time in competition this season.
Dotson said she was "a little bit" nervous.
"I wanted to land on my feet," she said.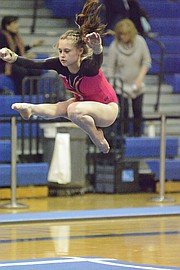 Dotson won the conference bars championship with a score of 9.55. She tied for second on floor (9.425) and tied for ninth on beam (8.45).
"Hannah is young and excited and driven," Edgell said, "and really has a confidence about her that is impressive for someone that's only a freshman."
West Springfield junior Abby Stout placed second on beam (9.175) and sixth on bars (8.4), tied for 15th on floor (8.425) and tied for 20th on vault (8.4).
"Abby Stout has been a leader of our team all year long and she really pulled through for us on beam when we really needed her to," Edgell said, "and that was an outstanding performance ­­­ her best of the season."
Spartans freshman Alex Marsden took fourth on vault (9.25), eighth on beam (8.65), tied for ninth on bars (7.7) and finished 10th on floor (8.85).
T.C. Williams' Cailyn Lager placed third in the all-around (36.275), followed by the Lake Braddock trio of Jordan Clark (36.075), Hannah Johnson (35.85) and Jordan Tautges (35.375).
The top four in all-around qualify for regionals, along with anyone who scores 35 or better.
Lake Braddock's Clark won the conference floor championship with a score of 9.525.
Woodson (126.525) finished third in the team competition, followed by South County (118.925), Mount Vernon (116.125), T.C. Williams (108.95) West Potomac (79.425) and Annandale (64.25).
THE 6A NORTH REGION championship meet is scheduled for Saturday, Feb. 13 at Patriot High School.
"I think we can do really well," Edgell said. "I know we have a lot of girls that qualify individually for state and I hope that we can come together as a team and do it again."