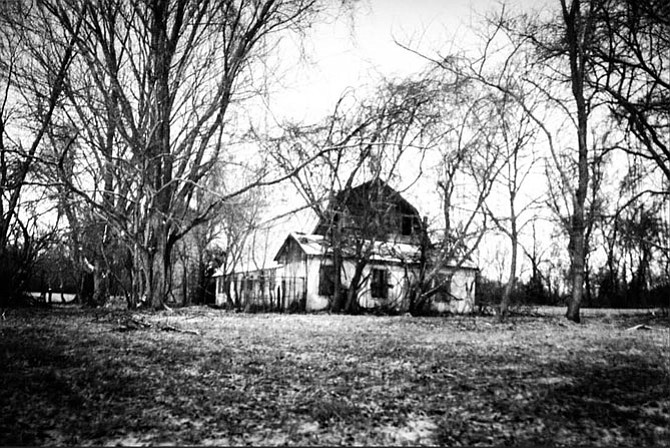 Betty Nalls Swartz rolls the windows down when she drives along Old Georgetown Pike by the Grange, Old Schoolhouse and Lift Me Up therapeutic riding program.
Marmota Farm, 22.78 acres and once a dairy farm, "still smells like a farm," she said.
"I'm in love with the land. I wish I could say enough from my heart to reach you," said Swartz. "I hope we can find some way to keep this investment. I hope you make your minds up to keep this property."
Great Falls Citizens Association held a Town meeting Tuesday, Feb. 9, to address attempts by Save Marmota Farm. SMF is a group that formed to investigate a proposal that the farm be purchased with funds from a 2016 Park Bond referendum that will be voted on this November election.
The Souhail El-Farouki Trust purchased the land in 1991; Stephen Moriarty of Chadwick Washington is the trustee for the family.
"Somebody sooner or later is going to pick this up. If anybody wants to keep it open space, that's fine with them. If any of you have a check for $16 million, the property is yours," said Moriarty.
"I'M A LITTLE SHORT right now," said Robb Watters, president of the HOA for the adjacent homes.
Although Watters believes developing the land will be difficult due to economics and storm water regulations, he and his neighbors are not opposed to new homes on the property. They are concerned about possible high-volume, active park uses, and are concerned about not having control on what ends up by their properties.
"While we'd love to preserve the land, we see no legal recourse," he said.
Negotiations by one developer to buy the land and turn it into a subdivision of the property into 11-houses are reportedly underway, according to Moriarty.
"We asked our 12 members what they wanted there. By a 12-0 vote, it was decided by families most affected … that it would be lovely to welcome in a new neighborhood," he said last week.
GREAT FALLS ACTIVISTS know what's at stake, and are at work.
"A lot of us in Great Falls have interest in this property," said Jack Nutter, Great Falls historian and member of Save Marmota Farm. "There is no substitute for its natural beauty."
"If the community stays very strong and says, 'Keep it as it is,' and stays very strong, I think you will prevail," said John Adams.
Great Falls Historian Kathleen Murphy retains her vision for homeowners of Great Falls to collectively pool resources and efforts. "If we could each give $100 a year, with 500 houses participating," she said, "Maybe we could take matters into our own hands to make our dreams happen."
The barn at Marmota, a 1925, 2,142 square foot dairy barn, is still intact, and beloved by many. Moriarty, the trustee, said he hopes the next owner will preserve the barn.
The Great Falls Trail Blazers will use the property with permission for a 5K run on July 4.
Lift Me Up Therapeutic riding program, adjacent to Marmota, is allowed to use the property for riding instruction.
"LONG STORY SHORT, they bought it as an investment," said Moriarty.
"They are not going to gouge anybody."
Bruce Winston of Fraser Forbes of McLean lists the property for sale at $16.5 million. Fairfax County's assessment is $3.48 million based on its present use, according to Save Marmota Farm documents.
The property is zoned residential estate. "Without coming in as a rezoning, what you have here is by-right property," said Ben Wiles, from Supervisor John Foust's office.
Moriarty said negotiations with a specific developer have been ongoing for a possible 11-house subdivision with entrance from Georgetown Pike that would be allowed by right, has preliminary approval from the county, according to Save Marmota Farm documents.
"Very detailed negotiations but there has been no contract signed," said Moriarty. "I would be the one to sign it, so I'm pretty confident in that."