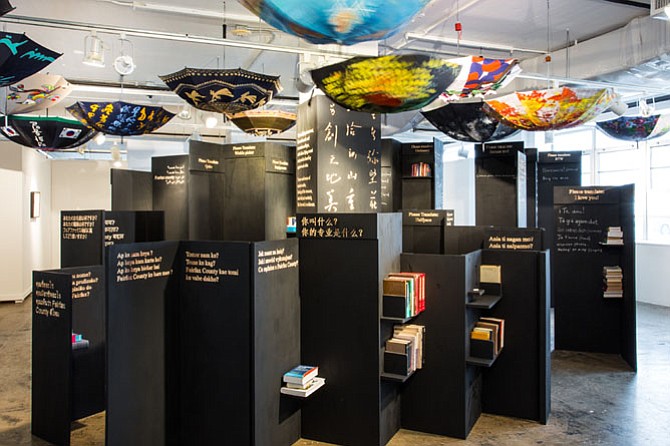 Where and When
"Culture House" exhibition by Foon Sham at Workhouse Arts Center, 9518 Workhouse Way Lorton.
Exhibition through April 3.
Gallery hours Wednesday-Saturday, 11 a.m. to 6 p.m. Sundays, noon – 5 p.m. Admission is free. Call 703-582-2900 or visit: http://www.workho...">www.workhousearts....
Arts Council of Fairfax County Strauss Fellowship recipient, and internationally-renowned artist Foon Sham, who lives in Fairfax County, has created the large scale detailed work entitled "Culture House."

"Culture House" is the first commission by the Workhouse Arts Center. Sham's "Culture House" provides a physical representation of the diversity of people and language represented in Fairfax County. There are 170 languages spoken at home by children in Fairfax County Public Schools.
"Visitors to the exhibit will enter the installation, built in part by donated objects, and interact with the sculpture by reading and writing in their native language on the structure creating an ongoing visual dialog challenging ideas about culture, community and langue," said Brett Johnson, director of visual arts, Workhouse Arts Center.
Foon Sham is a professor of Art at the University of Maryland, College Park. He has received many awards including from the National Endowment for the Arts (NEA). His works have been exhibited in the D.C. metropolitan area, throughout the United States and internationally.
Linda S. Sullivan, President & CEO, Arts Council of Fairfax County, stated, "Foon Sham's 'Culture House' installation is exactly the kind of work the Arts Council hoped to fund through our Global Arts Initiative.
The work is smart, engaging, and contemplative of Fairfax County's diversity. Kudos to both Foon Sham and the Workhouse Arts Center for bringing this work to the public."
Sham's "Culture House" will be on exhibit at the Workhouse Arts Center through April 3.