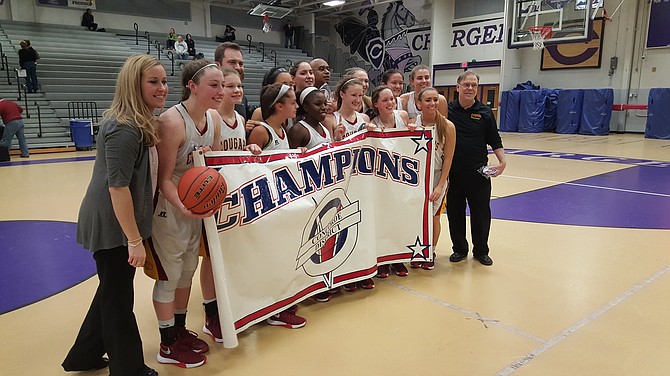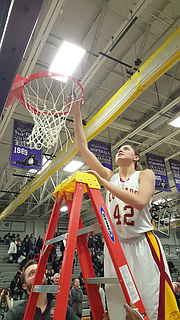 Fred Priester tried to exude a positive vibe prior to the Conference 5 tournament championship game against Herndon on Friday night, but an unusually quiet bus ride to Chantilly High School had the veteran Oakton girls' basketball coach unsure of what to expect from his undefeated team.
While Priester experienced pregame nerves, the Cougars quickly showed their level of play would be no cause for concern.
Oakton opened the game with a 17-0 run and cruised to a 67-45 victory, capturing its third consecutive conference title and 11th in the last 12 seasons.
The Cougars knocked down five 3-pointers in the opening quarter, including two each by senior Alex Marquis and junior Maddie Royle. At the defensive end, Oakton, the tournament's top seed, held No. 2 Herndon scoreless for more than 10 minutes before a bucket by Hornet forward Sabrina Tolbert with 5:52 remaining in the second quarter cut the Cougar lead to 17-2.
"We came out really hot; I was not sure if we would," Priester said. "We were very, very quiet on the bus --- this is not a quiet group. They were very quiet on the bus, so I didn't know. Actually, I was a little nervous myself, but I was trying to [be positive]."
What was the reason behind the Cougars' silent bus ride?
"I think we were all just trying to get in the zone," said Marquis, the Conference 5 Player of the Year. "We usually don't play early games, so we were all trying to rest a little bit since we didn't have that time we normally do after school."
Friday's Oakton/Herndon contest was part of a conference championship doubleheader and tipped off at 6 p.m. The early start didn't slow down the Cougars, who knocked down seven 3-pointers in the first half and 11 for the game.
"We came out ready to play," Royle said, "and we showed it."
Priester, the conference Coach of the Year, said there were times he wasn't pleased with Oakton's shot selection, but he relaxed his requirements during the Cougars' hot-handed first quarter.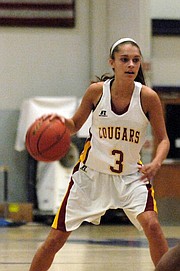 "We have some kids that can shoot the 3, but the thing is, I'm constantly telling them, 'Look, you don't have to shoot it on the first touch,'" Priester said. "But they were so hot I backed off of that."
Royle, a 6-foot-1 forward and first-team all-conference selection, buried four 3-pointers and finished with 24 points and seven rebounds. Her final 3 of the evening gave Oakton a 40-22 lead with 4:28 remaining in the third quarter.
"She's got so much talent," Priester said. "I was reluctant to even give her a rest tonight because she was doing so well."
Junior forward Delaney Connolly finished with a double-double, scoring 17 points and grabbing 14 rebounds. Connolly, a first-team all-conference selection, made a trio of 3-pointers.
Marquis scored 15 points and hit three from behind the arc.
Junior guard Kailyn Fee also knocked down a 3-pointer for Oakton.
Junior guard Indeya Sanders led Herndon with 14 points. Sophomore guard Devyne Newman finished with 11 points and junior guard Janiece Loney added eight.
Herndon's record fell to 17-5. The Hornets will host Madison in the first round of the 6A North region tournament at 7 p.m. on Tuesday.
The Cougars' record improved to 24-0. The last time Oakton was undefeated this late in the season, the team went on to finish 31-0 and win the 2012 AAA state championship.
Oakton will host McLean at 7 p.m. on Tuesday in the opening round of the regional tournament.
"Now, we have other things that we'd like to accomplish, but if we don't, they can't take this away," Priester said. "They can't take an undefeated regular season away. Those are benchmarks that they can hang their hats on and say, 'I was part of that.'"
*Editor's note: Times/dates for first-round regional matchups have been corrected, opponents have been updated.