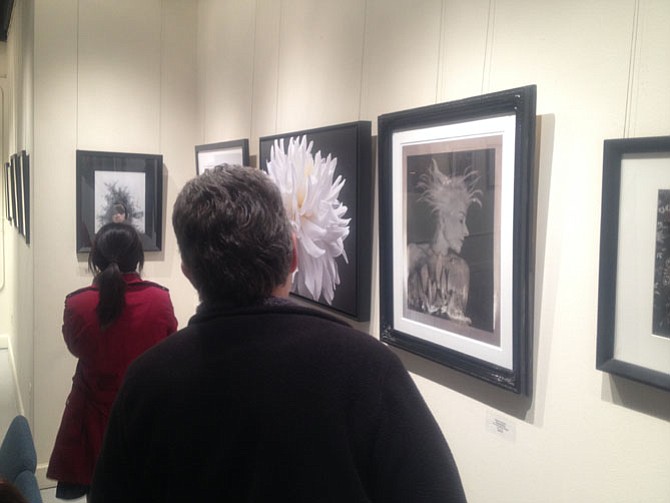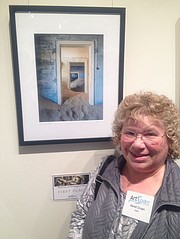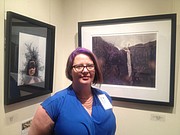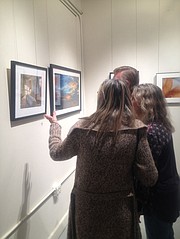 Each year ArtSpace Herndon invites photographers from Virginia, D.C. Maryland, and West Virginia to participate in their annual Fine Art Photography Competition. Competition judge and Sterling resident Rahshia Sawyer announced winners of the competition during the Feb. 20 Awards Reception. "It was an honor to judge this show. The challenge was to give homage to all the different types of photography," said Sawyer.
"I was impressed with the quality of the work and the audience," said Herndon resident and professional photographer Lee Love. Finalist photographers selected by Sawyer are: Marti Belcher, Sandi Croan, Larry Dean, Joe Ditchett, Gerry D'Onofrio, Anne Emerson, Erica Everhart, Willa Friedman, Aubrey Garwood, Sarah Huntington, Christopher Kagy, Robin S. Kent, Cathy Leaycraft, Benita Mayo, Maggie Morris, Judy E. Morse, Terri Parent, Martina Parsley, Jean-Pierre Plé, Andrew W. Rhodes, Gerard Rugel, Amy Salinger, Erica Szalkowski, James Torrenzano, Julia Tova Malakoff, Marisa S. White and Angela Witmer.
Winners in this event were: 1st Place "Kolmanskop" by Sandi Croan, 2nd Place "Ruminate" by Aubrey Garwood, 3rd Place "Cool Ice" by Gerry D'Onofrio, honorable mentions went to "Please Come In" by James Torrenzano, "Meat" by Erica Szalkowski, "Zen Who" by Angela Witmer and "Sikh Man in Purple" by Marti Belcher. "I can't tell you how blown away I am," said Croan, who has worked in photography since 2004.
The competition was open to fine art photographers working in any medium (digital or analog, color or monochrome), using any printing technique. Finalists in the competition make up the 2016 Fine Art Photography Exhibition at ArtSpace Herndon. This exhibit is on display at ArtSpace Herndon until March 13. "I thought the diversity of photographs is wonderful," said Herndon resident Andrew W. Rhodes.
Other events at ArtSpace include a mixed media course with Melanie Stanley on Tuesday, March 8. The ticketed event is a chance for patrons to paint and collage a one-of-a kind mixed-media under-the-sea masterpiece. This Design and Wine event is from 7 to 9 p.m. and is $30 per person. The fee covers supplies and two glasses of wine. Each event is limited to 25 participants.
On Saturday, March 19, 7-9 p.m. trumpet and electronic wind instrument player and bandleader Victor Haskins will make a one time show. Haskins is the originator of ImproviStory, a genre/concept of music where storytelling drives the creation of improvised music, derived from audience interaction. A recipient of awards from the National Endowment of the Arts and the Virginia Commission for the Arts, Haskins has been featured at the Richmond Jazz Festival and Elkhart Jazz Festival. He has also recorded and performed with Lonnie Liston Smith, Rene Marie, and The Temptations.
The evening of March 25, ArtSpace Herndon will host Best of FAVS Award Winning at George Mason University Indie Film Showcase Youth Media Event. The Best of FAVS Showcase spotlights award-winning films produced by students in Film And Video Studies (FAVS) at GMU from Fiction and Documentary Directing classes and Senior Thesis projects. ArtSpace Herndon will screen these films for patrons and film buffs at the gallery. Tickets are $10, and material may not be suitable for children under 15. Complimentary hors d'oeuvres and soft drinks provided.
In January 2016, the Herndon Town Council authorized creation of an arts district in the downtown area, a move designed to attract arts-related businesses into the downtown commercial mix. Businesses focused on performance art, art instruction, visual arts and more, as well as existing arts-related businesses that undergo expansion of at least 20 percent in gross square feet, will be eligible for arts district incentives, to include waiver of planning, zoning and building permit fees (up to $2,000) as well as special signage provisions. The district and related incentives go into effect July 2016.