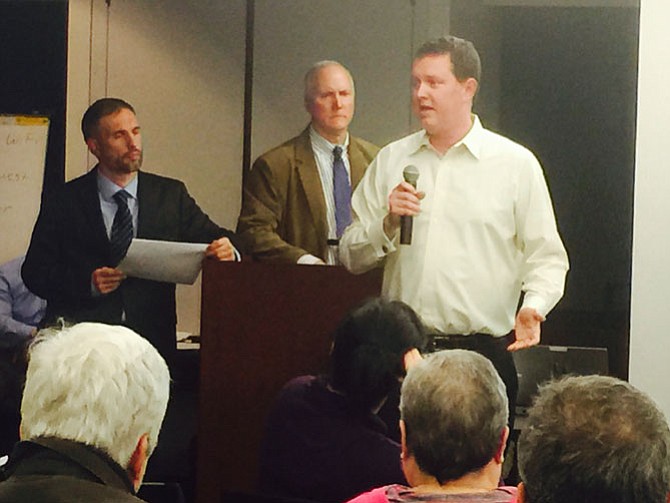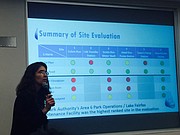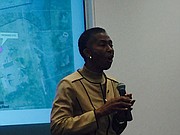 Reston's Richard Sheehe spent more than 90 minutes hearing engineers and county officials try to convince Reston residents why moving a Septage Receiving Site to a portion of Lake Fairfax Park would be ideal.
That's when Sheehe raised his hand.
"Will the county agree to suspend any work on preliminary designs and revise the next steps to review and expand the feasibility study?" Sheehe asked.
He held up and read verbatim from the last page of the Feasibility Study hand out, "Next steps: incorporate community input into preliminary design."
"Do we have that assurance?" said Sheehe.
"Yes," said Thomas J. Russell, director of the Wastewater Collection Division.
Fairfax County Wastewater Management held the community meeting Thursday, Feb. 18 at the Bechtel Conference Center in Reston to discuss the feasibility of moving the Colvin Run septage receiving site in Great Falls to a maintenance portion of Lake Fairfax Park accessed by Hunter Mill Road.
Moments before, from the audience, Dranesville Planning Commissioner John Ulfelder said to the engineers and officials, "It's clear tonight you have to broaden your feasibility study to look at non-public sites."
Russell agreed to expand the search.
ABOUT 21,000 customers in Fairfax County don't have access to public sewer and are served by individual household septic systems that require "pump-out" every five years.
Approximately 49 percent of the sewage generated in the county is from septic tanks.
Approximately 3,200 food service establishments require collection from grease traps.
The county's septage management program also collects waste from portable toilets at parks, construction sites, community events and races.
"County regulations say if it is generated here, it needs to be disposed of here and needs to be treated here," said Russell.
About 44 hauling companies and a total of 189 trucks are currently registered with the Fairfax County Health Department. About 22 trucks per day use the Colvin Run Site, according to the feasibility study documents.
The Colvin Run facility, located in Great Falls, serves north county. But it is an outdated facility with a substandard design, said engineers.
Community residents near the Colvin Run facility requested a change because of odor, noise, conflicting use of the access road with park patrons and flooding. The site is in the floodplain that has flooded in the past and contaminated Colvin Run park.
"It takes days for that sewage to get cleaned up," said Eric Lienhard, engineer with Hazen and Sawyer.
SIX ALTERNATIVE SITES were evaluated, including Colvin Run and Lake Fairfax. The I-66 Transfer Station and Tysons Pump Station were immediately determined non-suitable because they don't have 30-inch pipe capacity. Scotts Run Meter Vault and Dead Run Pump Station were less ideal than Lake Fairfax because they are located within the floodplain and can't be separated from public use.
Reston residents asked why the Colvin Run couldn't be updated and enhanced with larger pipes.
The problem is the connection to smaller pipes in the neighborhoods. "If there's not enough volume to push it along, it's going to get stinky. That water is going to sit there," said Lienhard.
Reston's Roland Smith said calmly, "You need to go to a place compatible with industrial zoning."
Rob Whitfield suggested locations around Dulles Airport that can handle the facility, not neighborhoods.
Tammi Petrine, of Reston, asked if one of the two sites of Meadows Farms, with convenient access along Route 7 could be looked at.
Nearly all objected loudly to hauling trucks meandering down Hunter Mill Road.
Another resident asked if the engineers knew how much a full sewage tank weighed.
"I looked it up," she said, saying loaded trucks weigh up to 56,000 pounds.
"That's more than the 19 tons allowed" on the one-lane bridge. "So it's not legal," she said.
SUPERVISOR CATHY HUDGINS redirected the meeting about 45 minutes in, when tempers rose and people shouted before officials could answer anyone.
"It's not an odor, it's a vomit-inducing stench," yelled one resident.
"I'm a bit appalled," said Hudgins.
"I'm a little concerned not of the position that you are taking but by the fact that you are not listening to the answer. Whatever your opinion is, I wish you'd allow them to talk."
More than 150 people attended the meeting, even though some said they just learned about it.
"Do respect that there are a lot of people here and we want to hear from all of you," she said.
Tim Greten announced that he is next door to the proposed site.
"You seem surprised that everybody is very angry," said Greten. "I got notified Tuesday that there is an industrial site going in my backyard. I didn't hear you all say one bad thing about it."
Greten said he has a septic tank, and he understands that a septage system needs a home somewhere in the county.
But his family's home is also on well water.
"I need to fight this until hell freezes over, and then I need to fight from the ice," said Greten.