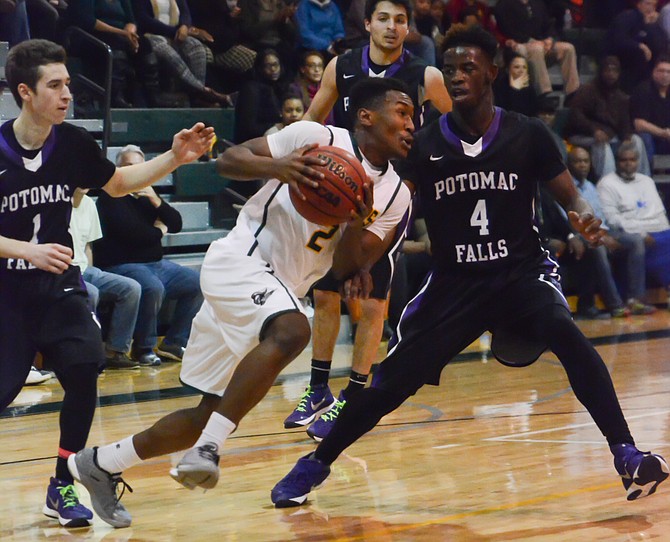 Sophomore forward Amari Cooper threw down a dunk late in Thursday's contest, head coach Tony Bentley raised his hands in celebration and the Wakefield crowd went wild.
The Warriors are headed back to the region championship game.
The Wakefield boys' basketball team defeated Potomac Falls 76-67 in the 5A North region tournament semifinals in Arlington. The Warriors will travel to face Potomac in the region final at 7 p.m. on Saturday.
Potomac Falls senior Danny Cox made a pair of free throws with 1:12 remaining, cutting the Wakefield lead to 71-67, but the Warriors scored the final five points of the game, including Cooper's one-handed jam.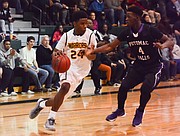 "When I saw Amari go up," Bentley said, "that's the first time I showed a little bit of emotion --- [put] my hands up --- because I looked at the clock [and] we were up enough."
For Wakefield, it will be the program's third region championship game in four years. The Warriors lost in overtime to Woodson in the 2013 AAA Northern Region final and defeated Potomac in the 2014 5A North championship game.
Last year, however, the Warriors entered the region tournament on a lengthy win streak only to lose to Freedom in the quarterfinals.
"Games like that … they're left [behind] but they're not forgotten," senior Deng Nhial said. "That game has always stuck [with] us ever since the beginning of the season."
This year's Wakefield team avoided another postseason meltdown. The Warriors defeated Halifax County 71-58 in the quarterfinals on Tuesday, which secured Wakefield a berth in the state tournament. On Thursday, the Warriors earned a trip to the region final, improved their record to 24-1 and extended their win streak to seven games, including a 50-47 victory over Marshall in the Conference 13 championship game on Feb. 20.
Many of this year's primary contributors are new to the Wakefield program, but Bentley said the Warriors' two prominent returners, senior forward Nhial and junior guard Alan Treakle, stressed the importance of not repeating last year's disappointing postseason performance.
"It means a lot," Bentley said about this year's postseason success. "Alan and Deng came back saying that we can't go out like we did last year. Every team talks about one game at a time, but we really had to buy into one game at a time and then the wins started racking up because no one thought we were going to be anything. Even Coach Bentley said: 'Life after [all-state performer and 2015 Wakefield graduate Dominique Tham], what are we going to do?' and these guys stepped up."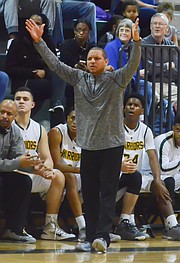 Three of Wakefield's starters for Thursday's game transferred to the school prior to this season. Senior guard Jonathan Adams, who transferred from Woodbridge, led the Warriors with 18 points. Junior guard Halil Parks (Washington-Lee) finished with 11 points and senior guard Eric Martin (Edison) added five.
"This is new to me," Adams said. "I've never experienced [anything] like this. I'm just here for the ride and to do my part."
Cooper, a 6-foot-4 sophomore who moved to the area from South Carolina, finished with 12 points off the bench.
"The sky is the limit for Amari," Bentley said. "Sophomore, two dunks tonight, excitement dunks, exciting blocks --- those were momentum swings. To see him emerging right in front of my eyes, it looks good when I've got to think about Deng leaving us next year."
Nhial scored 14 points for Wakefield and Treakle finished with 13.
A bucket by senior Dondrea Tillman gave Potomac Falls a 28-26 lead in the second quarter, but Wakefield responded with an 18-4 run that stretched into the third quarter, taking a 44-32 lead with an Adams jumper. The Warriors led by as many as 15, when a Parks 3-pointer gave Wakefield a 53-38 advantage in the third quarter.
Potomac Falls trailed by eight entering the fourth quarter and pulled to within two when junior guard Brian Sweeney knocked down a 3-pointer with less than 6 minutes remaining, cutting the Warrior lead to 59-57. However, the Panthers were unable to tie the score or take the lead for the remainder of the contest.
Tillman led Potomac Falls with 25 points. Sweeney finished with 19.