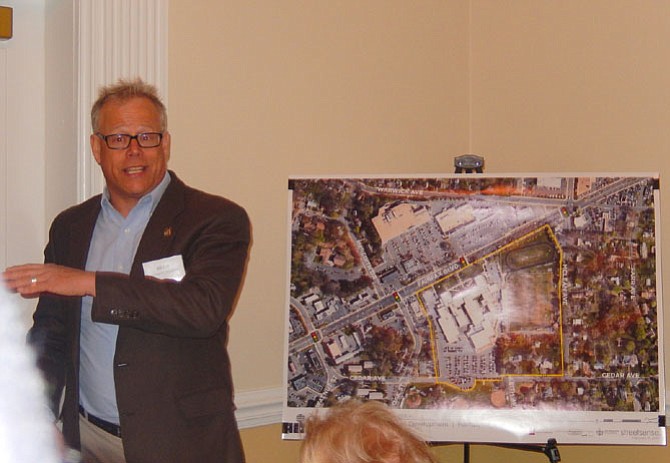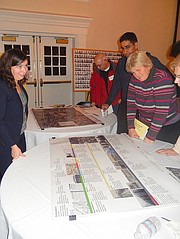 Seeking a larger campus with room to expand, Paul VI High School will move from its longtime home in the City of Fairfax to a 68-acre site in Loudoun County in 2020. But what's being discussed now is the fate of its 80-year-old building – once housing Fairfax High and GMU – and the 18.5 acres on which it stands.
Toward that end, developer IDI Group Cos. hosted a community meeting, Feb. 11, to gather input. Some 110 residents attended, including Mayor Scott Silverthorne and members of the Fairfax City Council. IDI executives and brothers Enrico and Carlos Cecchi presented few details of their plan, except to say they wouldd like to build a mixed-use community.
"It would have high-quality design principles and urban plazas," said Carlos Cecchi. "There'd be a variety of housing types, including market-rate, affordable and senior housing, plus bike and pedestrian access."
"In the past five months, we've met with several Fairfax stakeholder groups, plus City Council members and City staff," said Enrico Cecchi. "Our goal is to reflect their goals so our master plan will have a broad base of appeal and provide a signature project that will be a lasting asset to the City."
IDI'S TEAM consists of attorneys Blank Rome, design planners Streetsense, traffic consultants Wells & Associates, civil engineers Christopher Consultants and Thunderbird Archaeology. And at the meeting, attendees broke into groups and spent 20 minutes at each of four stations, hearing presentations by the team members (except for the attorneys) and asking questions.
Bill Zink with Christopher Consultants discussed the existing property and its topography. "The water drains in three directions from the site, and we'll provide water quality and water treatment as we develop [it]," he said. "Right now, the water [runoff] is unregulated."
Meanwhile, various City residents told The Connection what they'd like to see done with the site.
"I live just one block from the school," said Luis Morillo. "I don't want to see any condos or apartments there because there are already two, additional sites proposed for apartments within a two-block radius. Houses or townhouses would be fine. I just don't want high density because it would affect our traffic and schools."
Also concerned was Fairfax City native Lee Hubbard, who started school at Paul VI in 1949. "I'd like them to at least keep the original, center portion that opened in 1935," he said. "I realize the property is valuable – they're drooling over that 18.5 acres. But I'd like them to repurpose it for some community use; I just want it saved."
"I would love a community center to include a senior center," said Evie Ifantides. "And there's enough room for housing, too."
A Fairfax resident since 1986, Dave Gessert said he has "no problems" with the redevelopment. "My major concerns are increasing the density and the impact it'll have on traffic, City infrastructure – such as sewers and more students – and will the City schools be able to handle the growth?" he said. "What I find encouraging is that [the developers] are embracing the community residents surrounding the site and getting their input."
"I live on Cedar Avenue, right across from Paul VI, so it's going to affect me," he continued. "I'd like to see housing that's affordable and owned, because people take better care of homes and property they own – so no rentals. And I'm happy that so many of the Council members are here, as well. Our sense of community is very important to me."
Colin Greene with Streetsense said his firm is helping with the master plan. "The parcel's edges are all different in character from each other," he said. "So we need to treat them in different ways."
During his presentation, he pointed at a map showing the future site entrance off Fairfax Boulevard. A man asked if there's any plan to connect Cedar Avenue, and Greene replied, "Some neighbors said it's a horrible idea because of cut-through traffic."
"We've had 10 years of traffic-calming efforts on Cedar, which is the only left-hand turn off [Route] 123 north in the City," said resident Brian Cute. "So for us on Cedar and our neighbors on Oak [Street], the notion of X number of new residents coming out onto our streets would be a serious problem."
As for Ellen Brouwer, a City resident since 1972, she'd like to see the whole site City-owned and the current school building kept and used as a community center and/or senior center. "There's a theater there, an outstanding gym and full kitchen facilities," she said. "And I'd like to see the rest of the property used for parking for Pat Rodio Park for athletics."
"When the school got its special-use permit to locate here, a condition was that there be parking there for athletic events at Rodio Park – and it's well-used," she continued. "If that parking's not there, where will people park?"
Besides that, said Brouwer, "This is the only historic building of this size on this side of the City which could be public space. And this side also has no community pools, large parks or large gathering spaces. So it seems that this would be a perfect location for all of that; it has a lot of potential."
Chris Turnbull with Wells & Associates showed his group of residents a map illustrating the location of the traffic signals, buses, pedestrian crosswalks and bike routes near Paul VI. "A couple weeks ago, we did traffic counts and [collected data on] traffic volumes at the intersections," he said. "There are 1,600 vehicle trips eastbound in the morning and 1,600 in the afternoon, westbound. But when this use goes away, it'll dramatically change the morning-peak numbers."
DISCUSSING THE LOCAL ROADS, Turnbull said there's a possibility of extending Keith Avenue to Route 50. And resident Ed Calabria said, "At the three-way stop at Richardson Place and Cedar, you can't see traffic coming." Carlos Cecchi asked if people walk in that area, and Calabria said there are no sidewalks there and one is needed on Keith.
"If there were sidewalks, would people use them," asked Cecchi?"
"Absolutely," replied Calabria. "Along that whole perimeter, you need sidewalks." Regarding what he'd like to see happen on the Paul VI site, he said, "I live behind the school on Center Street. I wouldn't mind seeing low-density housing along the perimeter, with high density in the center and mixed-use, commercial [uses] along Route 50."
Anna Maas with Thunderbird Archaeology showed her group of residents photos of what was on that site throughout the years. Morillo asked if preserving the high school's façade is possible, and Maas said it's something the developers are "looking at."
Then, at the meeting's end, Enrico Cecchi thanked the residents for participating and said they received many good comments. This meeting was held at American Legion Post 177, at 3939 Oak St., and a follow-up one is set for March 10, at 7 p.m., at the same place. At that time, said Carlos Cecchi, "We'll present a framework for the master plan, including comments from [the first meeting]."