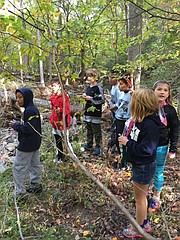 First-time campers had a fun experience at an overnight camp out at Wolf Trap National Park for the Performing Arts Friday and Saturday on Columbus Day weekend. In addition to setting up tents, and cooking their own meals using Dutch ovens and camp stoves, the campers were taught archery, fly fishing, gardening, yoga, and about insect pollinators. Wolf Trap Ranger Will Rifenbark took the campers on a backstage tour of the Filene Center.
Campers hailed from local elementary schools including Braddock, Bucknell, Colvin Run, Eagle View, Forest Edge, Harvester, Haycock, Lake Anne, Laurel Learning Center, Louise Archer, Neabsco, Poe Middle School, Rolling Valley, Spring Hill, and Vienna.
The camp out was run by youth leaders from Boy Scout Troop 55 and Girl Scout Troop 1146. The scouts were supported by Wolf Trap staff, adult leaders from the scout troops, Friends of Wolf Trap, and the Potomac Appalachian Trail Club (PATC).
They participated in hikes on the Wolf Trap trail built and maintained by PATC. The hikes were led by Ronalda Meson and Alan Day. Meson pointed out many of the natural features at Wolf Trap such as the farm pond, a turkey vulture that was feeding in Wolf Trap Creek, and locations where fawns hide during the day while the mother feeds.

PATC also provided planning, logistical support, and donated money and sleeping bags for needy campers. Nine campers were able to participate because of the availability of these camperships.
Wolf Trap Gardener Edgar Deskins guided campers who were planting in the Shade Garden behind the Filene Center. He also conducted a tour of the Dimple Meadow in front of the Filene Center.
Citizen scientist Sheryl Pollock showed campers the local pollinators that are, essential to healthy vegetation and conducted a tour of the vegetable garden behind the Filene Center.
Orvis Tysons Corner fly fishing instructor Jason Isaacs demonstrated the basics of fly fishing to the campers and helped them with the fishing tackle.
Campers practiced the basics of archery taught by Donna Kissane and her son on a range set up behind the Filene Center facing the hill.
Campers engaged in different yoga exercises after each was demonstrated by Eileen Kragie of yin and yang yoga.
This was the third Wolf Trap camp out, previous camp outs were in September 2014, and last April. As part of its effort to connect with underserved youth, Wolf Trap plans to sponsor these camp outs in the spring and fall outside the performance period. Registration for the spring campout April 22-23, 2016 will start after the first of the year.