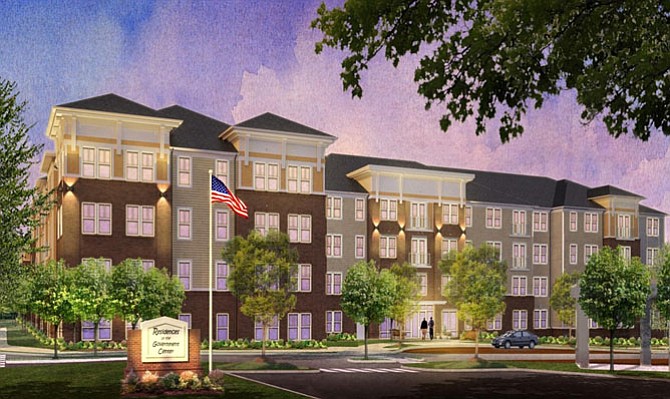 Several development projects are on the horizon in the City of Fairfax. Below are the details:
Oak Knolls
The Oak Knolls Realty Corporation will demolish the existing, 110-unit, Oak Knolls apartment complex and redevelop the site with 102 condos and 30 townhouses. It will also give money to the residents it displaces and contribute more than half a million dollars to the City of Fairfax toward affordable housing.
"Four years ago, there was no affordable-housing program in the City, at all," said Councilwoman Nancy Loftus. "This is the first time that a for-sale project is [making] an affordable-housing contribution – and that is a big step forward."
The site is 6 acres along Main and Oak streets in Fairfax. Planned are two, 32-unit condominium buildings with elevators; 38 stacked condo units and 30 townhomes, for 132 units total. None will be rentals; they will all be for sale. The four-story, 32-unit condo buildings will have red-brick, fiber-cement siding, metal railings, stacked siding and bay windows on the corners. And a red-brick, courtyard wall along Oak Street will offer privacy to the 22-foot townhome units.
Oak Knolls was built in the early 1960s and, by right, the developer could just tear it down and construct some 90 units without going before the Council. But it wanted to do something bigger and better and, to do so, it needed the City's approval for particular variances, a land rezoning to a Residential Planned Development district and a special-use permit allowing multifamily uses in that district.
In return, it will underground all utilities on site and in the adjacent rights of way on Oak and Main streets, construct a bus shelter, donate money for improvements in nearby Pat Rodio Park and contribute $550,000 toward affordable housing. It will also do streetscape improvements, provide a pedestrian connection to the park and reduce about 95 percent of Oak Knolls' currently unrestrained, surface water flow. The developer also promised to give $1,000 toward relocation to each family displaced by the new complex.
Residences at Government Center

With an eye toward providing workforce housing in the local area, Fairfax County dignitaries broke ground in May 2015 on a 270-unit apartment complex in Fair Oaks. The apartments are being built on county-owned land off Monument Drive, on the Government Center's perimeter, so they are named Residences at the Government Center.
On some nine acres across from the Fairfax Corner shopping center, they will offer a 5,800-square-foot amenity space including an outdoor pool, fenced playground, two courtyards and connections to walking trails. The apartments will be chock-full of green and energy-saving features and will be available to people making up to 60 percent of the area median income (AMI).
In addition, at least 20 percent of the units are geared for households at or below 50 percent AMI. Paradigm Construction Co. is the general contractor and will build studio, plus one-, two- and three-bedroom apartments. Site work began in April, and the first apartment is expected to be available for occupancy by October 2016.
Because the developer was able to lease land from the county, and federal low-income, tax credits were obtained, said Board of Supervisors Chairman Sharon Bulova, "This is being done at no cost to the county. By providing workforce housing, many young people, low-income families and those having long commutes to jobs here will be able to live here."
The Lamb Center
Since 1992, The Lamb Center in Fairfax has served as a place of refuge for the poor and homeless. It is a daytime, drop-in shelter providing hot meals, showers, laundry services, and recovery and employment counseling.
But as time went on, it needed more space. So on Oct. 20, 2015, it broke ground on its future, new home which will enable it to better serve its clientele in a larger facility in a more appropriate location. With the blessing of the Fairfax City Council, it will move from a rented site on Old Lee Highway to a new building on Campbell Drive.
"The continuation of the many services the Center provides ensures that the most vulnerable in the community have access to resources to rebuild their lives," said Fairfax City Mayor Scott Silverthorne during the groundbreaking ceremony.
The new site is in an industrial area on more than one-third of an acre. Planned is a two-story building, possibly done in phases, with a parking area and bike rack. It will be farther away from retail establishments, yet close to transportation.
There will be a great room where meals are served, plus rooms for classes, meetings, social workers and offices. And the kitchen, laundry and bathrooms will all increase in size. The center will also add a clothing closet and food pantry, and future plans include offering dental care and a nurse practitioner. The facility will be open Monday-Friday, 8 a.m.-3 p.m.; and Saturday, 8 a.m.-12:30 p.m., with four full-time staff members and four volunteers there at all times.
The Enclave
In September 2015, the Fairfax City Council approved construction of a residential development called The Enclave to be built at the Mantua Professional Center on Pickett Road. It will consist of 80 condos in two, four-story buildings, each above a one-level parking garage.
"This will develop an under-used parcel of land," said Councilwoman Janice Miller. "Our long-time residents are looking for this type of product so they can continue living here."
Some office buildings, the New School of Northern Virginia and 181 parking spaces are there currently, and IDI-RJL Development LLC will build The Enclave there, too. But first, it needed the site's designation changed from business-commercial to mixed use, which has now happened.
Although the City's Comprehensive Plan earmarked five more office buildings for that site, they are no longer economically feasible in today's market. So the applicant will replace them with condos; 16 of the units will be one-bedroom; 48, two-bedroom; and 16, three-bedroom. It will also donate $40,000 to the City's public schools, $30,240 to parks and recreation, and $275,000 to affordable housing.
The condo buildings will be constructed on 3.8 wooded acres, off Silver King Court, in the area formerly envisioned for three of the office buildings. The land on which the other two office buildings would have been built will, instead, be preserved as open space for a village green used by the residents, school and existing office community.
Indoor amenities will include a fitness center, community room and mail/packaging rooms. Among the outdoor amenities will be a fire pit with seating, patio with seats and gas grills, plus two lawn areas for socializing.
Fairfax Circle Plaza
In 2014, the Fairfax City Council took the first step toward revitalizing the aging Fairfax Circle Plaza by approving a huge, new, mixed-use project there, entailing a grocery store, retail businesses and multifamily housing. The goal is to attract new business and revenue to the City while turning a 1960s strip shopping center into a modern place for people to live, work and dine.
Combined Properties Ltd. will redevelop the 9.8-acre Fairfax Circle Plaza shopping center with a 54,000-square-foot grocery store, 34,000 square feet of retail and restaurants, plus 400 apartments. It also proposed a signalized intersection at Fairfax Boulevard.
Planned are residential units in a walkable design, with structured parking, instead of surface, and improved stormwater management. Building will be done in quick phases, with residential building construction concurrent with a phased occupancy. Harris Teeter is expected to be the grocery store, and its site must be turned over to it prior to any residents moving in.
Novus Fairfax Gateway

Novus Fairfax Gateway LLC intends to transform part of the Kamp Washington triangle between Fairfax Boulevard and Lee Highway into a modern, community-serving, mixed-use project.
Planned for the 8.33-acre site are 403 multifamily apartments – including 24 affordable dwelling units, 29,000 square feet of first-floor retail and commercial uses. There will be a 4,000-square-foot office space for use by the nonprofit CASA (Court-Appointed Special Advocates), plus a 5,000-square-foot restaurant and 11,000 square feet of residential amenities.
The commercial space and three- and four-story buildings will front on Lee Highway and Fairfax Boulevard. Five-story buildings will be centrally located and a seven-story parking garage will feature a half-story on top for a pool.
There will be a through street with a connection at the Bevan Drive signal at Fairfax Boulevard, plus a new, un-signalized entrance on Lee Highway. The community's road network could correspond to the future redevelopment of the rest of the Kamp Washington triangle, while treating the section connecting Lee Highway to Fairfax Boulevard with several, traffic-calming elements to reduce cut-through traffic.
Also planned are trails connecting to adjacent properties, plus open space including a 5,600-square-foot contemplative space next to the Jermantown Cemetery. Novus will maintain both this space and the cemetery.