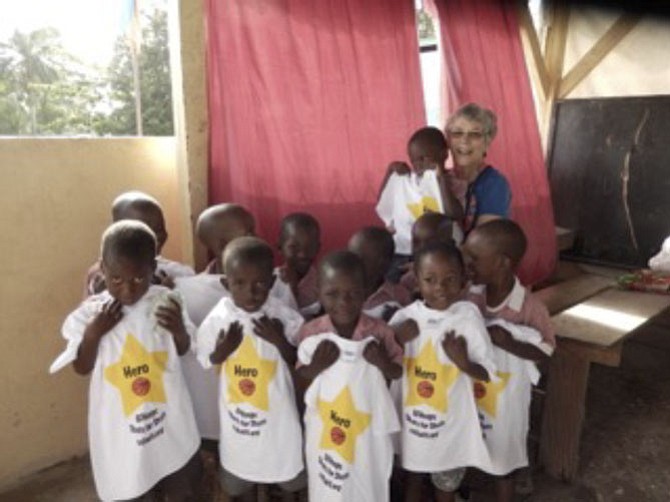 A long line in a grocery store can be tedious or lead to great things. Last year a chance meeting in one of those long lines allowed GFHoops the opportunity to change lives. GFHoops commissioner Michelle Claude met the Community Coalition for Haiti's (CCH) Emelie Parker in a long checkout line and the two began a conversation that led to GFHoops' first fundraiser, the Shots for Shots campaign.
The Shots for Shots campaign is a player shooting contest in which players compete against their teammates and then against other players in their age group. The winners in Great Falls receive a T-shirt and the children in Haiti are winners when they receive their vaccinations. Most children don't think getting a shot is much of a prize but for a child in Haiti that vaccination means they can go to school, which gives them a "shot" at a better future.
Through GFHoops' players' efforts CCH was able to meet its vaccination goal, but in a country where most families live on $2 per day GFHoops and CCH were able to do much more. With the funds raised by the Great Falls players CCH has been able to launch a multi-pronged wellness program. The program's goals include providing school-based health services involving mobilized wellness clinics to reach rural schools and provide curative and preventative health screenings; community health and wellness days to provide health education to communities where access to clinics is too difficult; and building parent to parent networks in which a core group of parents are identified and trained to identify health and wellness needs and train other parents on health and wellness interventions.

CCH has been working in Haiti since 1989. Their vision is to transform lives one by one through long-term community driven solutions in healthcare, education and community development. In other words, their philosophy is not to give a handout but rather give the Haitians a hand up. GFHoops is excited to host the Second Annual Shots for Shots contest the weekends of Jan. 23-24 and 30-31, and use lay-ups during the half times of the GFHoops basketball games to give a hand up to Haiti.