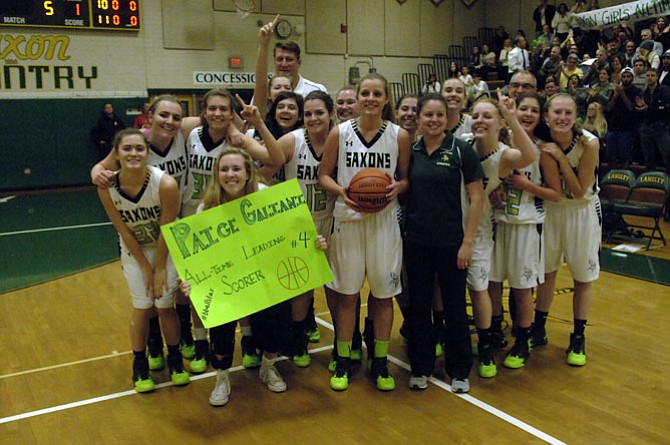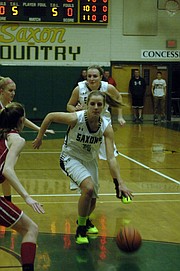 John Galiani crunched some numbers prior to the 2015-16 season and made a prediction for when his daughter, Paige Galiani, would break the Langley girls' basketball program's career scoring record. Saxons head coach Amanda Baker monitored her standout guard's point total, as well.
Galiani, a fourth-year varsity player, tied Kathryn Hemlock's record of 1,153 points during Langley's win over Hayfield on Tuesday, Jan. 5, setting the stage for No. 4 to break the record during a home game against rival McLean. She had to wait until Friday to do it, however, giving Galiani's friends multiple days to mention the impending achievement.
"There was a bit of pressure," Galiani said. "Everyone came up to me talking about it. I'm like, 'I don't know if I'm going to score, don't make any assumptions.' I try not to let it get to my head too much."
With 4:26 remaining in Friday's opening quarter, Galiani received an in-bound pass from teammate Lizzy Shamloo, turned toward the basket and laid it in off the glass, giving the Saxons a 2-0 lead and Galiani sole possession of the Langley scoring record.
The game was stopped briefly to honor her accomplishment.
"I originally didn't want them to stop, but I forgot to tell them," Galiani said. "... It was great, though."
The Saxons honored Galiani's historic achievement and then took care of team business as well, beating McLean 35-23 at on Jan. 8, Langley High School. On Jan. 12, the Saxons lost to Fairfax 51-39, bringing Langley's record to 11-2 overall and 4-1 in Conference 6.
While Galiani's performance Friday started in celebratory fashion, the rest of her evening was less than stellar. The Langley guard scored the Saxons' first four points and then failed to score for the remainder of the contest, putting her at 1,157 for her career.
"It's pretty nice," Galiani said about having the record, "but obviously basketball's not an individual sport. It's all teamwork. I really owe it to my team more than anything. ... Especially, as you can tell in that game, it wasn't my best. It was my team pulling it out."
The fact Langley won despite only four points from its primary offensive threat could be viewed as a positive for the Saxons. Langley relied heavily on Galiani to produce points last season, when the team won 21 games and finished conference runner-up.
"We are a lot more balanced," Baker said, "so I think there's less pressure on her to do too much, so she's able to kind of just do her thing. She doesn't have to worry about carrying the scoring load. I thought she's adjusted well to that role."
Junior guard Olivia Augustini led Langley with nine points. Sophomore guard Emily Shively and junior forward Ellie Buckley each had six, and senior guard Shamloo had five.
The Saxons continued to play well defensively, setting a season-best for points allowed. Langley surrendered 36.7 points per contest through its first 12 games, holding each opponent to 45 or fewer.
The Saxons will travel to face Madison at 5:45 p.m. on Friday, Jan. 15, for a rematch of the 2015 Conference 6 championship game.
Last year, Langley started 17-1 before suffering back-to-back losses against Madison and South Lakes near the end of the regular season. Led by Galiani, the Saxons have several key players back with an additional year of experience.
"We're definitely more understanding of our teammates and our abilities," Galiani said, "so it's definitely created better chemistry throughout the years ..."
Galiani will attend Lehigh University, but is undecided about her basketball future.
"She is a program­changing type player," Baker said. "The leadership she brings, obviously the scoring impact has helped us win a lot of games, but she just changed the culture overall. Everyone wants to work hard and be successful and she's kind of been at the forefront of that movement."
John Galiani's prediction: Paige would break the record on Jan. 8 against McLean.
"At the beginning of the season this year, my dad was like, 'If I calculated all the math right, you're going to break it in the McLean game at home,'" Paige Galiani said. "Somehow it worked out exactly that way."