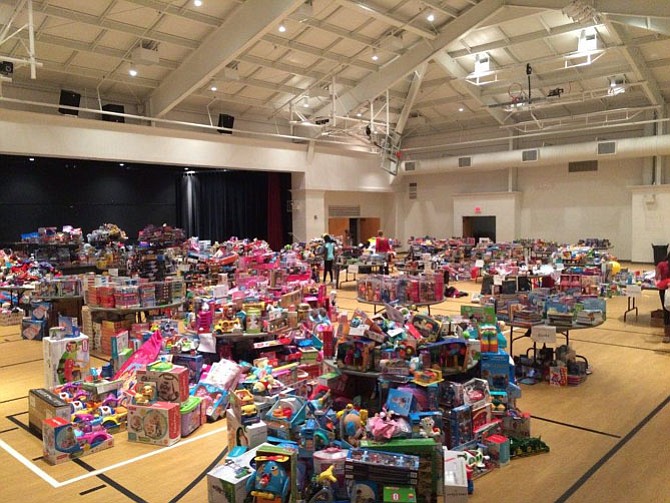 Thanksgiving and Christmas is always a time of God displaying His great love for us. God's love was expressed in many ways during our Saturday, Nov. 21 and Dec. 19 LINK Holiday Programs. We needed more groceries in order to feed the needy families who signed up for assistance. We required toys and lots of them to provide two toys for children newborn through 16 years of age. It was crucial to have more than 500 volunteers to help us distribute everything. We received the resources we needed and were able to provide food on both events for 3–5 days, $41,300 in grocery gift cards, and 2,900 gently used winter coats, scarfs, hats and gloves, and more than 4,200 new toys for 1,860 children.
Overall 1,425 families comprising 7,805 adults and children were provided with 78,000 lbs. of groceries.
LINK would like to thank each and every one of our volunteers for the generous time you gave; Trinity Presbyterian Church, Christ the Redeemer Catholic Church, Sterling United Methodist and Herndon United Methodist Church for the makeshift supermarkets and store space you gave, the custodial staff, and our church liaisons; and the businesses, schools, civic groups and individuals who conducted food, clothing and toy drives. God bless each and every one of you for this wonderful Thanksgiving and Christmas season!
I hope many of the volunteers who exhausted themselves during our programs have found some time to decompress and spend time with family and friends. When I think back on our November and December programs, it was crazy how we had such contrasting weather. November was quite warm and December found us with very cold overnight temperatures. Thankfully, the December winds died down and the winter sun came out and it turned out to be a beautiful day.
I must admit that we have some of the nicest volunteers of any organization I know. They smile, they enjoy our guest's company and they care about the community! At one church, a volunteer turned around to see which family they would be escorting next and found the same family as in 2014. They hugged and reconnected and spent the next thirty or so minutes talking nonstop as they shopped for groceries. Our outside volunteers couldn't have been more cheerful either. We had the Davis entourage at Trinity making sure everything went in the direction it was supposed to and we had the Sigma Mu Mu Chapter of Omega Psi Phi Fraternity at Christ the Redeemer who wore their purple and gold jackets with pride as they loaded food into vehicles and directed traffic.
Carrie Sawicki, the LINK business liaison was overjoyed with our business community's involvement this year. Here is an update from Carrie:
"I would like to thank everyone who so kindly and generously collected boxes and picked up food and toy donations to help me out this year. It gave me the flexibility to be with, enjoy, and help out my daughter with her 4 year son and infant twins.
All of our businesses do a terrific job of providing volunteer support and material goods. It has been my pleasure for 4 years now to meet and work with a majority of the business representatives. They make creative flyers, keep the momentum going, and share the fun they and their co-workers have during food, coat and toy drives. I wanted to share just a few special stories with you. I hope everyone had a wonderful Thanksgiving and Christmas and wish you and those you hold dear, a new year of many celebrations.
Airbus and subsidiaries - This long-time supporter always goes above and beyond providing food, warm clothing and toys...and lots of it! They also gave a good number of gift cards this year allowing us to make much needed purchases.

Dentistry for Children of No. VA - New to LINK this year, they contacted us with the plan to enlist the support of other children's' offices in the area. They were successful. They wrapped boxes, gave out candy incentives, collected donations from all participating locations, and then delivered the toys to HUMC.

Kids under Construction Preschool and church members stuffed my car to capacity this year! It's the biggest toy load I have ever picked up.

Liedos - It was suggested to employees and party invitees that they each bring a 5 cans of food to the event. They did that and more, filling 2 extremely large boxes. Paper goods and hygiene products were donated as well.

MicroPact - What a great office and fun group of employees. They are very competitive. One employee sent out some good natured ribbing to other members of his sales and sales engineering teams. His boss quickly responded and the next thing he knew, they'd raised a few hundred dollars. His boss arranged for someone at BJs to put an order together based upon our list, and they went and picked it up. Other team members collected food and monetary donations. Over $800 in food was donated along with $800 in checks!
*Polycom - These are extremely generous employees. They donate food, toys and their November snack cash allowance (ranging from $1000 to $1500) to LINK each year! Much good is possible because they care and care deeply.
The above list is just a portion of the businesses involved. Here are even more who gave and gave to help LINK - AIM, Inc., Airbus, Airbus Defense, Airbus Group, Airbus Spares/Satair, Ben Heisler's office at Keller Williams, CalAmp, Classical Ballet Theatre, Costco, Davida Dialysis, Dentistry for Children of Northern VA, Dept. of Defense National Geospatial-Intelligence Agency, DigitalGlobe, DocuSign, Fairfax County Motorcycle Police Unit, Gladstone Companies, GlobalDigital, Herndon Children's Center, Herndon Harbor House Association, Herndon High School FBLA, NJROTC and Leadership Class, Herndon Senior Center, Home Design Elements, IDirect, InfoVista, Kids Under Construction Preschool (SUMC), Leidos, Metron, MicroPact, NACHA, Naylor Event Solutions (McLean), NeoSystems, NVE Inc., Pay if Forward Project, pdvWireless, Polycom, REHAU, Reston Hospital Employees, SRA (did not do a special holiday drive, but donates regularly throughout the year), Technica Corporation, The Teaching Company, Thrivent, Town of Herndon- Turkey Trot, WSP Parsons Brinckerhoff and Zerion Software.
We had a number of public schools in Loudoun and Fairfax County conduct food/coat/toy drives, as well as Nysmith School. We had churches and scouting groups providing ample supplies to boost our resources. Community Lutheran Church held a Noisy Offering for new toys, Knights of Columbus Council (St. Veronica Council) donated new coats, Park Valley Church (Ashburn) donated hundreds of coats, Girl Scout Brownie Troop 3431, and Girl Scout troops (Senior 1255, Brownie 1105 and Daisy 4177) were involved in putting together gift bags for families without children and senior citizens. LINK received donations from local hotels (Washington Marriott, Holiday Inn Express, Staybridge Suites and Courtyard by Marriott), local stores gave gift cards that were then spent at their stores (Sam's Club, Safeway, Giant, and Shoppers Food) and other stores gave merchandise for the stockings (Harris Teeter and Trader Joes). LINK also received food gift cards from Firehouse Subs and Chick-Fil-A, and lots of toothbrushes/toothpaste/etc. from local dentists.
I am sure there are many others who contributed who have not been thanked, but as you can see from the information above, the community we live in cares deeply for the needy people who reside here. God tells us to love our neighbors and treat them as you would hope to be treated. Looking at this list of businesses, schools, churches and civic organizations, I feel honored to be living, working and volunteering in our blessed community.
Again, thank you everyone! Happy New Year!"