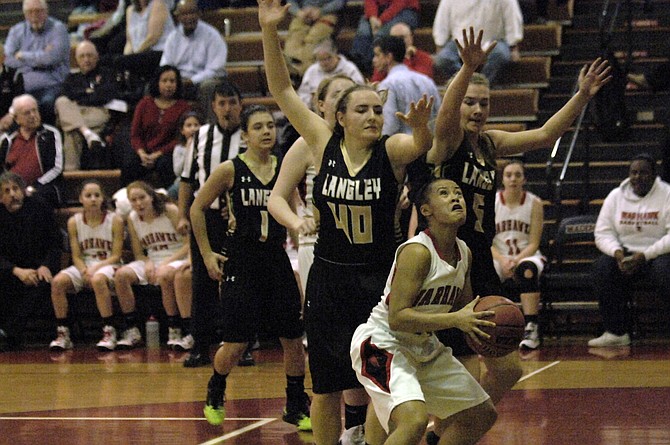 Members of the Langley girls' basketball team realized their defense stifled Madison during the opening quarter of Friday's matchup, but the Saxons knew there was more work to be done.
Langley held Madison without a field goal for the first nine-plus minutes of the contest and limited the Warhawks to just one point in the first quarter. The Saxons' defense held strong for the final three quarters, as well, and Langley bounced back from its second loss of the season with a 38-27 victory at Madison High School.
Aidan McWeeney produced Madison's first field goal when she dropped in a layup with less than 7 minutes remaining in the second quarter, cutting Langley's lead to 6-3. The Saxons led for the remainder of the contest.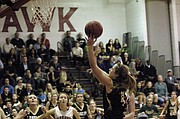 "We noticed, but we're trying to keep our defense up," Langley senior Paige Galiani said about the Saxons' defensive effort in the first quarter. "We're not really trying to give ourselves credit yet. We still have three more quarters left."
Madison twice cut the Langley lead to one, including when Megan Miskell's bucket with 7:37 left in the fourth quarter trimmed the Saxon advantage to 24-23, but Langley scored 14 of the game's final 18 points.
The win improved Langley's record to 12-2, including 5-1 in Conference 6. Three days earlier, the Saxons lost to undefeated Fairfax, 51-39, in a battle for first place in the conference.
Fairfax was the first team this season to score more than 45 points against Langley, which is allowing an average of 37 per contest. The Saxons have held opponents under 40 nine times and under 30 three times.
Langley excelled using the 2-3 zone Friday.
"It was good to be back in 2-3," Galiani said. "We played a lot of 2-3 last year, so we knew how to go about it, but this year we have been playing a lot of man. It was great to be back in 2-3. Two-three is my favorite defense, so I was really excited."
Langley senior Stephanie Sipple said the Saxons take pride in their defense.
"Especially when [opponents are] usually up in the 50s and 60s and we manage to keep them to half of that," Sipple said. "That's a really big thing."
Galiani led Langley with 15 points. Sophomore guard Jordyn Callaghan scored eight points junior guard/forward Ariana Aulisi added six.
McWeeney led Madison with eight points.
Langley will host Yorktown at 7:15 p.m. on Tuesday, Jan. 19. Madison (8-6, 3-3) will host McLean.
More like this story